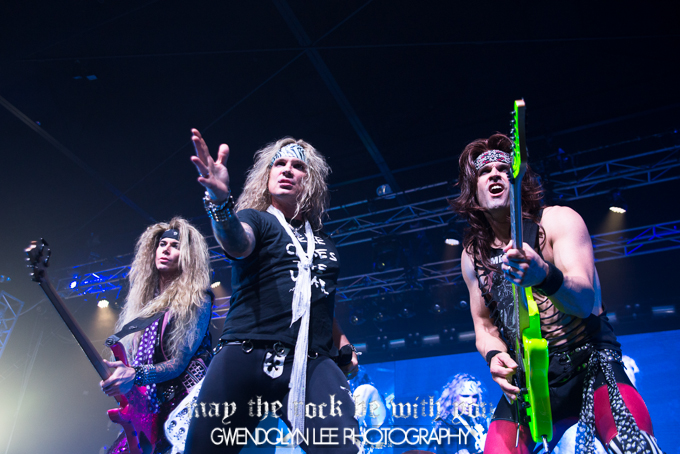 Tonight is going to be fun, plain and simple…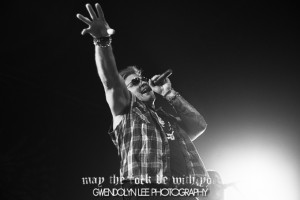 Fozzy who take the award for the creepiest intro music ever with a version of 'Incy Wincy Spider' that would give anyone nightmares but those nightmares turn into a dream as the always energetic band make their way to the stage and instantly make out like they're playing in front of 50,000 people which I've always loved about them. 'Spider in my Mouth' is a great opener and the cheers heard at the end of the first song indicate this is going to be a great night of rock and roll. Now, it's easy to focus on Chris Jericho as a front man, but with Fozzy they are more than purely Jericho and you see this during 'Sandpaper' which brings out some amazing guitar work from The Duke and Paul Di Leo who  are just as entertaining to watch. In fact, with a band like Fozzy, I actually don't know where to look as there's so much going on… 'She's My Addiction' and 'God Pounds his Nails' gets a chant going and it's funny that the Y2J chants are quickly turned to Fozzy as Chris tries to get away from it being all about him. I respect that.  'Enemy' it's fair to say is the bands best known song and the most 'commercial' of theirs but also their best followed by the brutality of 'Sin and Bones' which is so heavy but unfortunately marks the end of their set, although in that half hour, if you ever needed a band to open a night, you couldn't have a better choice than Fozzy.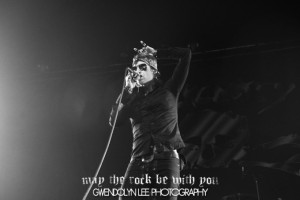 Buckcherry are up next, and although only here in April, they're back to give us a little more than we got back then. Well if they wanted to make an impact they sure have opening with 'Lit Up' which is a brilliant move. The band sound great and as the venue starts to fill up the message of 'drink beer, fuck bitches, fuck the system…' is given, which is an interesting way to think about it… Back to 1999 again with the tambourine shaking 'Dead Again' but you can keep your tambourine when you get a cowbell intro to 'All Night Long' you can just take home the prize. Man, Buckcherry just know how to write a down and dirty rock song and with Josh Todd's perfectly suited vocal style these songs are sleazy and just grand. Oh wow they're playing 'Everything' which I didn't expect at all. How this song wasn't a hit for them is beyond me as it was and still is better than a lot of stuff released today. Slowing it down even more for another that should've been big, 'Sorry' showcases the writing talent of the band and after each song it reminds me how much I like them. Then it's time for a new one, the radio friendly titled 'Say Fuck It' which sounds remarkably like that 'I Love It…' song by Icona Pop mashed up with Thunderstruck. But right now no woman here cares what is happening as Todd has taken his shirt off revealing his other shirt but this one of tattoos. A little bit of 'Big Balls' for some fun, before taking a cut from newest album 'Confession' and the catchy as fuck 'Gluttony' and Todd who rocks a tambourine like no other gives it a shake. Drawing close to the end of the set it's time for 'Crazy Bitch' and hang on, I'll be back in a minute. Ok, sorry, had to rock out and needed both hands…  oh wait, I love this bit coming up… 'You're crazy but I like the way you fuck me!!!' By far the best way to finish their set and best way to get those here that may not have known who Buckcherry were to take notice. Now let's get them back for a headline set.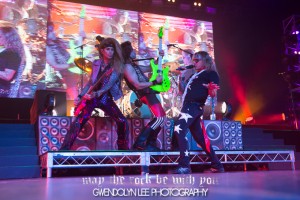 What can I say about Steel Panther that I haven't already said before? I think making note of their audience seems the best thing to do here, as I look around I see wigs, spandex and enough scarves to adorn Steven Tyler's mic stand for a whole world tour, it may seem silly, but that's what I love about this band, they're fun and those here know that. They're out for a night of entertainment and that's exactly what they're in for…
'Run to the Hills' blares over the sound system and it's time… after an amazing (if that's the word for it) video intro, there is less than no time wasted as 'Eyes of a Panther' is the opener and "Sydney you're not afraid to Rock are you?" Michael Starr asks and a resounding cheer is a firm no… they have the moves down pat and it's time for 'Tomorrow Night', well tonight, but the song tomorrow night as actual tomorrow night I think there's a cat show here, but I digress, this song is outstanding and had the best rock ending I've ever seen. As the banter begins the laughter follows and this is just a good time!! The production on this show is their biggest yet and the video screen is an amazing addition and will play a nice part throughout the evening. It's been almost ten minutes since a song and no one cares, this is entertainment and the laughter heard throughout the venue is testament to that. Oh man, 'Asian Hooker', hands down just the best rendition ever and a video that makes you forget the band is even on stage. It's so bitchin to see how far the band has come from their beginnings in LA to where they are now, and this being the tenth time I've seen the band they just keep getting better. 'Just Like Tiger Woods' is as good as ever and it's hard to pick a member to watch, as they're all doing something, oh ha ha Lexxi has a make-up mirror set up side of stage. Genius.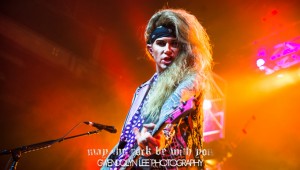 Time for their newest single 'Party Like Tomorrow is the End of the World' is up next and sounds so good in the live arena, and I for one can't wait until their new album is released. If this is a taste, then it surely will be 'all you can eat' see what I did there?!… Back to 'Balls Out' with a track making its Australian tour debut, 'Let me Cum In' is followed by some major showing off from Satchel in an outstanding guitar solo and as many of you may write Steel Panther off as a 'joke band', in terms of musicianship there are many bands out there that could learn a lesson from not only Satchel, but the other guys too. 'Turn out the Lights' and it's creative video was quality work and 'It won't Suck Itself' rocked it but it's time for another new one, this one is called 'Gloryhole' and it's I dare say the heaviest song the band has ever made, it's rifftastic goodness is something to behold. Lyrical wise you can figure out what it's about purely by the name but ha ha it's just broken down to an almost ballad with arms waving around and it's just testament to a well arranged song. Bring on the new album!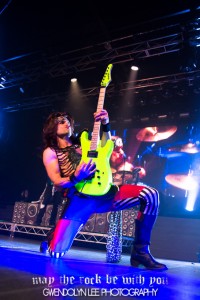 A grand piano makes its way to the stage, and 'Weenie Ride' is the reason for its appearance with Stix taking the keys and the delightful ballad had arms waving and lighters held aloft but after some more witty banter the volume makes it way back up to 11 with 'Eatin' Ain't Cheatin' which was good but without skipping a beat is 'Death to all but Metal' and always the best way to end that part of the set, this time with a video portraying the lyrics in visuals was genius. Now as we wait for them to return, oh here they are…
YES!!  The best power ballad of the last ten years is up! 'Community Property' and I don't know why I thought they may not play it, but I'm relieved, and I have to say, seeing the smile on Michael Starr's face when the crowd takes the opening was something pretty cool. The song though absolutely nailed by the band and then we get the girls on stage… 'Party all Day' is what brings them and with it's whoa oh's and it's hey hey hey's it would be the best song to go out on, but alas, I am incorrect, it's time for '17 girls in a row' and with confetti and riffs it is played to perfection and with a song like that, who needs another? Obviously not us, as the band leave the stage with beaming smiles, having played in front of their biggest headline show yet, and who knows what it will be like next time they return? Wyld Stallyns anyone?
Check out our FULL Steel Panther photo gallery HERE
Check out our FULL Buckcherry and Fozzy photo gallery HERE
Essential Information
Venue: The Hordern Pavilion – Sydney
Date: December 7, 2013
Supports: Fozzy, Buckcherry
Website: www.steelpantherrocks.com
Presented by: Soundwave Touring
Photos by Gwendolyn Lee
Set Lists:
Fozzy:
Spider in My Mouth
Sandpaper
She's My Addiction
God Pounds his Nails
Enemy
Sin and Bones
Buckcherry:
Lit Up
Dead Again
All Night Long
Everything
Sorry
Say Fuck It
Big Balls
Gluttony
Crazy Bitch
Steel Panther:
Eyes of a Panther
Tomorrow Night
Asian Hooker
Just like Tiger Woods
Party like Tomorrow is the end of the World
Let me Cum In
Turn Out The Lights
Gloryhole
Weenie Ride
Eatin' Ain't Cheatin'
Death to all but Metal
Community Property
Party All Day
17 Girls in a Row