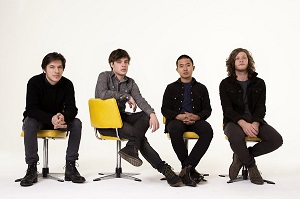 ARIA nominated Papa vs Pretty have unveiled their new single 'Smother' via a special hotline, ahead of its release this Friday 6th December.  Fans can call the Smother Hotline (1300-552-550) to hear the new single and in turn leave a message for the band. The video for 'Smother' will be revealed in the coming weeks.
'Smother' is the second single to be taken from Papa vs Pretty's forthcoming sophomore album 'White Deer Park' due for release in February, 2014.
"You know those kind of days where it's like your trapped in a shrinking glass box on a crowded train. 'Smother' is about the aggression in claustrophobia, like punching through a wall of frustration" lead singer Thomas Rawle explains. "And I guess it's a song about suddenly realising you don't care what anyone thinks."
To celebrate the arrival of summer and the single release, Papa vs Pretty will head to the coast for a special run of tour dates including some all ages shows in Sutherland and Newcastle and will give fans a taste of what to expect from 'White Deer Park.'
'White Deer Park' is the follow up to their critically acclaimed, ARIA award nominated, debut album of 2011, 'United In Isolation'. It is produced by Dave Trumfio (Wilco, My Morning Jacket, Grandaddy), recorded at 301 in Sydney and Forgotten Valley Studios and mixed at Kingsize Sound Labs in Los Angeles.
PAPA VS PRETTY TOUR DATES
Wednesday 4 December
Sosueme @ Beach Road Hotel, Bondi Beach NSW – Free entry, Over 18s
Friday 20 December 2013
Studio 6, Sutherland NSW  – All Ages
Tickets from: Oztix.com.au
Saturday 21 December 2013
The Racket Club, Newcastle NSW  – All Ages
Tickets from: Oztix.com.au
Thursday 9 January 2014
Moonshine Bar @ The Steyne, Manly NSW – Free entry, Ocver 18s
Saturday 11 January 2014
The Den, Wollongong NSW, Over 18s
Tickets from Oztix.com.au
papavspretty.com.au
facebook.com/papavspretty
twitter.com/papavspretty
PAPA VS PRETTY – SMOTHER – OUT DECEMBER 6
PAPA VS PRETTY – WHITE DEER PARK – OUT FEBRUARY 2014