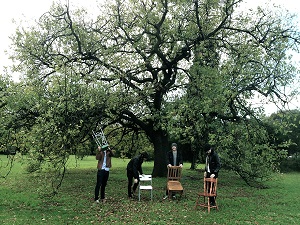 Fresh of their win at the Music Oz Awards for Best Rock Album, Melbourne-based indie, rock band July Days have released the video for their second single "Photos" from their forth-coming debut album.
The Video:
The video for "Photos" is the collaboration of Melbourne filmmaker Jack C Levitt, Lawrence Henry and July Days. Conceptualised by Lawrence Henry (frontman for July Days), the video is the band's not too subtle tribute to one of their greatest musical influences The Verve and their video for "Bittersweet Symphony".
"I'm sure our influences are obvious in our music, but it was exciting to pay tribute to one of our influences in a different way. The idea of doing a video in one shot was ambitious, but we really wanted to take on something that we would be proud of. It took a bit of trial and error but Jack (cinematographer), the cast and crew were all amazing and really took our vision and made it happen." – Lawrence Henry
Shot in one continuous take along the urban street scape of Melbourne's inner-north, the video is an intricately timed and crafted shot that ebbs and flows, rumbling along Brunswick St, North Fitzroy to the beat of July Days' second single "Photos".
The Story So Far:
It's been quite a journey for July Days, having played together since late 2008, they've won over legions of fans with their rockin', hook driven tunes that posses the heart of Neil Finn and the attitude of the Gallagher Brothers.
Their debut album 'Night is for Hunting', produced by Darren Middleton from Powderfinger and co-produced by David Kahne (Paul McCartney, The Rubens, Lana Del Ray, The Strokes) is out now and available on iTunes.
This Saturday 23rd November July Days will be sharing the stage with Australian rock legend, and Powderfinger lead guitarist Darren Middleton at his album launch at The Toff, Melbourne. For further event details and tickets CLICK HERE.
Download July Days' latest single 'Photos' from iTunes HERE
STREAMS:
Website: http://www.julydays.com.au
Twitter: https://twitter.com/julydaysband
Facebook: https://www.facebook.com/julydaysband
YouTube: http://www.youtube.com/julydaysband