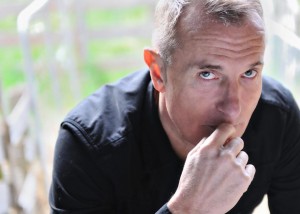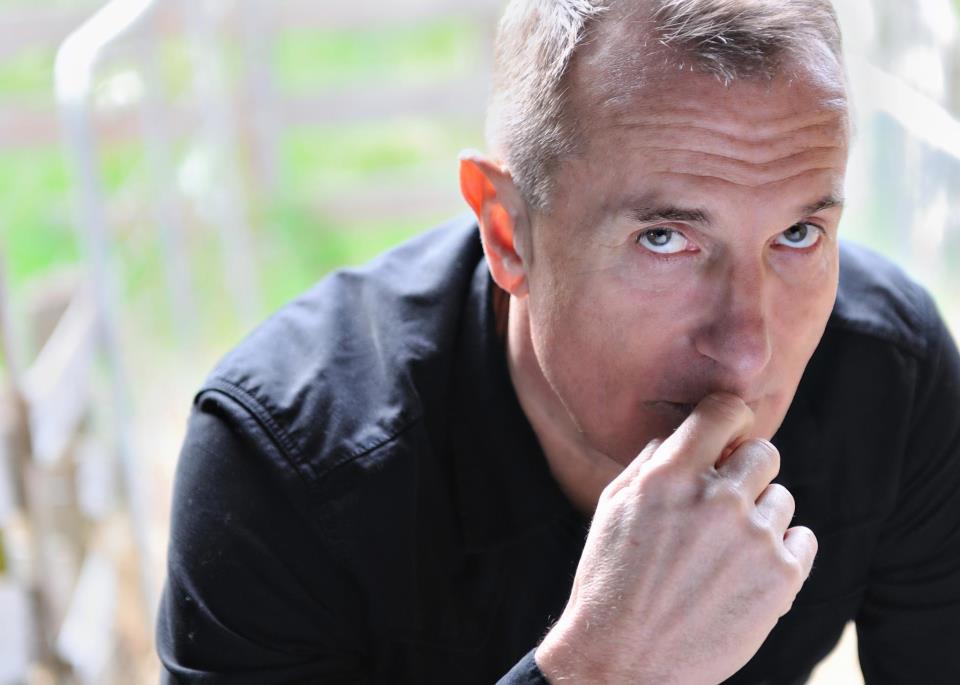 In what is somewhat of a special evening and a test, Australian music legend James Reyne is here to perform the first of his two 'A Crawl to Now' shows which will see James split his show into two sets, a set of his solo material and a set of Australian Crawl songs, some of which haven't seen the light of day for years.
Taking the stage solo and opening with 'pain in the ass' and this is a great start and those here are accommodating and you can tell there's a buzz here tonight. Bringing on the other two members of this acoustic 'trio' and 'Way out West' is performed with female vocalist Tracey taking on the Blundell parts and in a slightly sped up version it retains its groove and is good to hear after so many years. As is 'Hammerhead' that I hands down prefer in this acoustic medium, it almost takes on a different feeling and the twin acoustics just make it work. What's good about this show tonight is that these songs are getting a run, and a song like 'Heaven on a stick' is a prime example which was completely suited to this incarnation. Oh yes, 'Slave' I was hoping for this one as it's one of my favourites of his and obviously a favourite of the couple at the bar who just cheered extremely loudly when it began, and I have to say, there's a great crowd in here tonight to witness this. 'One More River' was always one of the more 'fun' songs of James' and tonight I loved the acoustic vibe but would've truly enjoyed hearing it this way with some drums and the brushes on the snare just to fill it out. In saying that I'm just being ridiculously picky as it sounded great tonight.
'Stranger Than Fiction' gives us the best Disney story in an almost Neil Young style song which is a cleverly written song and between bad dad jokes and tuning the tempo comes back up and 'Any Day Above Ground' does it perfectly and what I love is that this song stands up and stands the test of time. When you listen to it and its arrangement you can hear such a well-crafted track, not forgetting to mention the bitchin acoustic guitar solo from second guitarist Brett Kingman. Time to head to his newest album 'Thirteen' that was released last year and 'Capsize' got a case of the unfortunate 'ooh a newer song so I need to talk to my friends' syndrome but annoyingly this happens and I just don't get how hard it is to shut up and listen and appreciate?
Ahhh see, then when a song like 'Motor's Too Fast' gets a run as do the cheers and sing alongs which is good to hear.  A great almost flamenco intro leads us into James' debut solo single 'Fall of Rome' which I still have no idea of half the lyrics, but goddamn it's a good song, of course it loses a lot of its power without the band but it still sounded great and of course got the biggest reception of the night so far and leaves the first part of the night.
Now, the test… The 'Crawl' part of 'A Crawl to Now' and no doubt many are here to hear these songs they haven't heard for so long. In an acoustic vibe too, this'll be fun.  James Reyne will be back after these messages…
And… We're back… James starts this set solo once again, this time on a piano and opening this second half with 'Hoochie Gucci Fiorucci Mama' and it's obvious now that this is the part of the show that majority have been waiting for oh yeah ha ha 'Indisposed' proves that even more so, as this one even had the crowd clapping and 'hey-ing' along which was great to see. Thanks James, now I'll always sing 'Sweet Child o' Mine' to 'Unpublished Critics' as you were right, it's almost identical but regardless, cool song to throw in the set. 'Beautiful People' was one of those songs that took me almost twenty years to know what the hell the song was called but when I finally started to sing the right lyrics it made sense… I have to say that I look around and everyone is smiling, they love these songs and hearing them like this and after so long is something holding that buzz.
The album track was a bit of a curve ball but that other new song 'Reckless' or something I think it's called… I kid. This is the one I know I was waiting for and oh yeah, so was everyone else… including the couple dancing in front of me. The crowd taking the lyrics in that one was all class and in this room, it suited the song perfectly. 'Lakeside' is another crowd favourite, as is 'Downhearted' which wielded a much better sing along than its predecessor. 'Things Don't Seem' is another one loved by all and with a 'whoa oh' and a 'yeah eh' they are now totally warmed up… And as I feel we're getting to the pointy end of the set there are a few songs you know are absolute gimmes and this one, 'Errol' is one of them. Acoustically it's perfect and a gang sing along of 'oh Errol' is fun to be a part of I must say and it's fair to say that James is enjoying the night as are we.
Another album track… my downfall is that I didn't know this one either, I need to study up on my Aussie Crawl as this was a great track. Oh but this one I don't need to study up on at all, 'Oh No, not you Again' is a classic of their catalogue and there's not much more to say other than having Tracey take vocals in the later verse was a great balance. I feel we'll only get one more and we know what it's going to be and I'm predicting some love from everyone here and rightfully so. Oh and he leaves the stage… Encore? Surely… I mean, we haven't got the song yet, and everyone here knows that too… Oh phew… Here it is 'Boys Light Up' and as predicted it's a sing along ha ha. Not much to say about this one other than it's the only way the show could've ended and the smiles seen as people were walking out meant they got what they wanted and heard the songs they loved and may have heard for the first time in some time.
Tonight was great, for a first time doing this it may need a little tweaking set wise (hey James said it too) but overall these songs transcribe perfectly to the acoustic medium. Now that he knows it works, let's see it with a full band.
Essential Information
Venue: The Basement – Sydney
Date: November 1, 2013
Website: www.jamesreyne.com.au