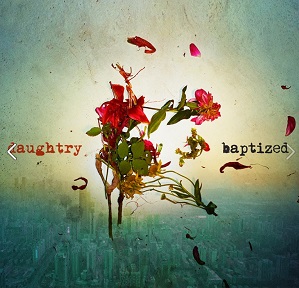 I've liked Daughtry since their first release and with each album they have grown and showed that they can make a great rock album each time and in the two years since Daughtry released 'Break The Spell' a revelation must have taken place and it's 'No Surprise' sorry, pun intended…
'Baptized' opens with the title track and a distinct different feel from the Daughtry of old, with somewhat of a twang in its step and less power throughout, and by that I mean the guitars are toned down yet the song itself carries a driving beat that is catchy and Chris' vocals are sounding better than ever. Well, obviously with a title like 'Waiting For Superman' up next, my interest is peaked, it's interesting that two songs in that it's somewhat of a slower track, oh wow, keyboards, that was unexpected…  but the song itself is good lyrically, and from the title you can get the idea of what you're in for, but musically it's probably not, although good, I get the feeling we're in for a different type of record from Chris and the boys.
'Battleships' is catchy as all get out and a favourite, but we'll revisit that one when the acoustic version comes up a little later, but 'I'll Fight' turns the guitars up a little that have been missing and is the best of the tracks so far and most like what you'd be used to as a Daughtry fan. Then 'Wild Heart' takes on more of a pop rock at times folky feel and with somewhat confusing arranged verses, the chorus is where this one shines, and is unmistakable Daughtry, good song, but may take me a second or third listen to get into. The next track is the one I'm most intrigued by… 'Long Live Rock & Roll' and what may come from it, so let's see… oh… it's a little acoustic ditty… unexpected. I am a sucker for a story telling song though and it's full of every rock and roll song / cliché possible, so far Journey, Def Leppard, and Kiss have got a run, and I'm waiting for a Bon Jovi reference… oh there it was. It's actually a damn catchy song, now it's full of 'whoa oh's' which is rock and roll in itself. I would've loved it to be a little more rock and roll musically, but what can ya do? Oh well this sounds delightful… 'The World We Knew' again an acoustic driven track, but has a certain groove to it that just works so well, and with a killer middle 8 for good measure, well you get me every time.
Production wise this album is really well put together, as this 'different direction' is embraced by the band, it may take a little while for fans to grasp it, but if you really listen to the album and songs like 'High Above The Ground' which gives Chris a chance to use his higher vocal register at times, and nails it. 'Broken Arrows' is a piano ballad and at a perfect point in the album, it's a great track, and then we get almost electro in 'Witness' and it's on the tip of my tongue what it reminds me of… ahhh 'Endless Summer Nights' by Richard Marx, that's it, listen closely and you'll hear it. That's not a bad thing, trust me, I actually really like this track, I imagine this one live would be a monster. 'Traitor' hmm… I don't know about it lyrically, and it's not my favourite, but '18 Years' is another story teller and I like the feel of this one, it has that authentic vibe to it which I want from a song like this, and the build towards the end is perfect for it. This is where the album normally ends, but I have the deluxe edition here, so let's see what the remaining three tracks have in store.
Sometimes I wonder why songs are chosen to be bonus tracks for a deluxe edition, and I'm absolutely amazed as to why 'Undefeated' is here… this is the only track on the album written solely by Daughtry and it makes me wonder if he'd done that himself what the entire album would've sounded like, as this song is probably the best of what I've just heard. It does have that very big '30 Seconds To Mars' production feel to it, but the song and its message are just exactly what I like, if only it was a big rock power ballad it would've been an astronomical smash. 'Hey, Soul…' hang on… this is Daughtry, right? Yep, sorry, thought Train had just come on… so 'Cinderella' and umbrella and oh wow, whistling… now this is an example of a bonus track. I'm just not sure about this one at all, I suppose I feel like it's been done, and that somewhat bugs me if you get what I mean.
OK, back to 'Battleships' and an acoustic version… ladies and gentlemen, we have a winner. If only the whole album was given this treatment it would've been absolutely amazing. This song almost gets a new life, even though it's the same tempo, same feel, but there is a dynamic here with the acoustic guitars and piano that give it depth. This is my favourite track on the album, actually, this version of it. I'm glad this was here.
I guess as artists grow, they evolve, I mean Bon Jovi have done it and they would be the closest you'd reference when thinking about Daughtry, but it's a case of how people react, and hopefully they'll see Daughtry as a band evolving and that the next chapter may even be different to this, but Daughtry aren't going anywhere in a hurry so let's see what happens when we turn the page… this is a good album, it's not amazing, but after a few more spins, I think I'll get exactly what the band is trying to do here.
Essential Information
From: Roanoke Rapids, NC, USA
For fans of: Rock
Release date: 22 November 2013
Record label: Sony Music Australia
Producer: Daughtry, Martin Johnson, Rock Mafia, busbee
Website:  http://www.daughtryofficial.com
Track Listing:
Baptized
Waiting for Superman
Battleships
I'll Fight
Wild Heart
Long Live Rock & Roll
The World We Knew
High Above the Ground
Broken Arrows
Witness
Traitor
18 Years
Undefeated
Cinderella
Battleships (acoustic)