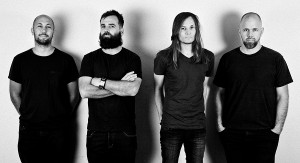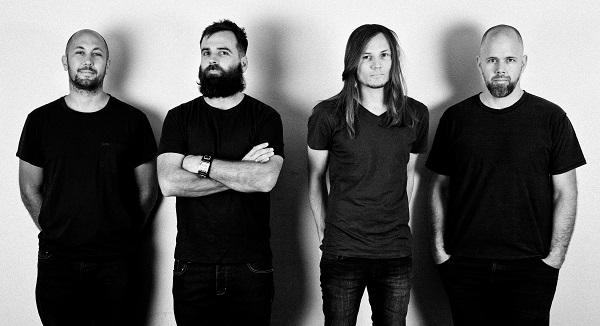 To think, it was only around eighteen months ago that I was at the 'farewell' shows for The Butterfly Effect, but how quickly things change as tonight we get to see the band with a new front man in the guise of Paul Galagher who steps into the shoes of Clint Boge who had left the band, so it's such a relief to see that the band is continuing, don't get me wrong, as they had always planned to after Clint's departure, but tonight there is a sold out sign on the door so there's obviously interest and let's hope they blow the roof off the place.
We have a couple of openers tonight being Teal and Sleep Parade. Teal are up first and it's always good to see a room start to fill up early as is happening right now and if judging by the reaction these home town boys got after their first song then this should be a good night for them. They're great to watch as the singer gets into his groove in an almost Ian Kenny type vibe. Musically they are tight and doing their job of entertaining and warming up this crowd. After each song the reception gets louder which is good to see, an impressive opening set from a band to watch out for.
Side note – Kudos to the DJ for his in between set tracks from Warrant, Def Leppard, Van Halen and Bon Jovi…
Sleep Parade take the stage and take it with gusto. This three piece have set a pace early and started running and much like Forrest Gump didn't stop. I've never seen these guys before and we've only just featured them on the site, so it's good to finally check them out live. Second song in and almost doing their best Muse impersonation they are absolutely killing it. Seriously, this band is super tight and they are hitting every break and stop spot on and it's good! Those here are enjoying their kick ass blend of rock as they continue to entertain as the songs build and are perfect for this environment. I'm stoked I got to see these guys tonight and always happy when there see two quality bands on before the main event. Some psychedelic guitar work in the last track and a balls out rocker was the only way these guys could leave the stage. Definitely a band to see live should you get the chance.
The room is now packed. The anticipation is there and the crowd eagerly awaits this new look Butterfly Effect. I'm sure everyone here is thinking the same thing I am which is, will Paul be able to step up and front this band? I already know the answer as I've been aware of Paul's vocal ability with his other band, so I can tell you right now, those here tonight will be in for a big surprise. I can't wait.
The all but familiar riff of 'Filling Silence' starts us off and vocally he's nailing it, if not giving the songs a different dynamic with his range, even with some early in ear monitor issues it's barely noticeable. What I do feel like is that the band is going play just that bit harder and louder tonight as they may feel they have something to prove… Ok, any doubts or concerns people may have had with this 'change' are shot down as 'One Second of Insanity' explodes into the set, it's always been one of my favourite TBE songs purely for the power it has and tonight this is quality. The reception it just got was insane and it just seems to be getting better after each song. Following that with 'Phoenix' which is as heavy as you'd want in the set is outstanding. Finally Paul is introduced to the crowd and the 'Paul Paul Paul…' chant begins. That must be such a buzz and a sigh of relief, but trust me, after three songs there was nothing to fear at all.
'Window and the Watcher' got plenty of love and was played to perfection and I look around watching the crowd who are just truly stoked to be hearing these songs live again when they thought just maybe they never would again, or not this soon anyway… Slowing down the groove a little 'Room without a View' lasts about thirty seconds as it gets insanely rockin'. Man, I have to say, I saw the last run of shows with Clint but there is a different energy here tonight in this band, a renewed energy and it's so fuckin' welcomed.
Here's the test… The new song… Surprisingly there weren't as many 'going to the bathroom' patrons as I'd envisioned which is great as people want to hear this. I have to admit, I dig it. Musically heavy and vocally the harmonies in the chorus are killer. If this is the beginning of what we're going to hear in the future, then please let the future be very soon. Paul fits this band like a glove, actually a pair of gloves, that's how much he's suited. It's truly impressive. "This one's much older than that one…" Paul says as they head back into the catalogue again with 'Gone' and there were fists being pumped all over the place. I'm going to sound like a gushing fan girl but this just keeps getting better and now they're moshing at the front 'Perception Twin' may have just gotten the biggest reception of the night and the audible buzz from those here is nothing short of electric.
'Reach' just wow. That's all I can say about that. Another new one and while I don't feel it is as strong as the first one we heard it is still pretty damn good. I can't wait for an album of new material, well hopefully… Balancing the new and the old so well the place erupts and 'A Slow Descent' is the culprit and back to a new one 'Eyes Down' which you may have already heard as this was released as the first taste of Paul out front. It's good to look around and see that more than a few people already know this one, and hearing it live it takes on the obvious heavier elements as a song does in this environment.
Leaving us with one more and a statement of no encore, it begins with a lengthy instrumental intro and there was an uncertainty, what's left? Then as 'Crave' kicks in I literally got goose bumps as the roar for this was insane. It really was the only way the set could end and it was a perfect end to an outstanding show. The omission of 'Always' which was the closer on the run of shows with Clint was in a way expected tonight, so to end with 'Crave' was something everyone could walk away remembering and have something to 'Hold On…' to indeed.
In summary, you know those gigs that people say 'Oh man, did you hear about The Butterfly Effect show at The Annandale?' to which you say 'Oh yeah, I was at that!' and the other person says 'Awwww man, seriously? I wish I was…' well, that happened tonight. This show will be talked about for a while. What a fucking amazing show, what a return and here's to the future!
Essential Information
Venue: The Annandale – Sydney
Date: October 19, 2013
Supports: Teal, Sleep Parade
Website: www.thebutterflyeffect.com.au
Set list:
Filling Silence
One Second of Insanity
Phoenix
Window and the Watcher
Room without a View
New song… (set list titles 15)
Gone
Perception Twin
Reach
New song… (set list titles 21)
A Slow Descent
Eyes Down (new song)
Crave