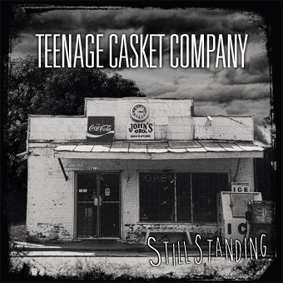 There are a few, but there aren't enough bands out there making the kind of music Teenage Casket Company or TCC for those playing at home, make, but thankfully a band like TCC are one of them and aren't scared to make an album that throws back to the bands they love, the bands of old that had fun making this kind of music, we're talking bands like Cheap Trick and The Cars mashed up with even the likes of Poison and the bands that write catchy, infectious music, powerpop is not a swear word. This is evident in the opener and title track 'Still Standing' with a chorus so full of hooks that you'd need more than one pair of pliers to get them out, and you just know that the album will deliver this blend of musical goodness throughout these eleven tracks.
OK all I need to say about 'First Night Of Your Life' is press play, sit back, smile and enjoy the groove, but ok, just stop it, stop already being so awesome, '(You Only Love Me) When You Hate Me' where did you come from? Firstly you have brackets in your name so you win already but excuse the French, but fuckin' hell, what a song! This track could very easily and will very easily be on high rotation here at the house of MTRBWY, with its 'na na na's' and just perfectly structured music, it's a win, oh ok, seriously, you're killing me, a key change?! Just give them the $10,000… this song has just won everything, thank you TCC, thank you, you get it.
A BALLAD?!?! Seriously, just keep going, are you trying to kill me? In four songs, this album has produced every musical aspect I enjoy and more, I truly love it when a band is on my wavelength and TCC most certainly are… 'Make It Through The Night' is the best ballad I've heard since Endeverafter's 'Next Best Thing' and could in fact be a direct continuation from it, and that is just outstanding! A simply magnificent song indeed. Now, 'Best Friend Is My Radio' has been around for a little while so I've had time to digest it and not only is it still kickin' ass, it slips straight into the album and may as well unpack as its staying.
We get back rockin' with 'Dead In America' and 'Takes A Little Time' oh and then first single 'Without You' which is a stand out with its early 80's riff throwback, in the guise of Bon Jovi's 'Fahrenheit' era or Motley Crue's 'Shout At The Devil' but this structure and progression here is what makes this one pop, the chorus resonates and the guitar solo emotes the feeling of the song, gotta lovethat! Seriously I am still so impressed with this album and YES, ok, 'Girl'… guys, you are legends, I have LOVED this song since I heard it on Erik Turner's 'Demos For Diehards' back in the mid 90's and they have done it every ounce of justice and it couldn't be more suited to TCC, what a stellar choice for an inclusion here, and seriously, stop kicking my ass, I won't be able to sit for a week at this stage!
A couple more to go, that always makes me sad as an album I've enjoyed so much starts to draw to a close, but it's going out on this constant high with 'Kings Of The World' and a reworking of one of TCC's songs 'Believe In You' which I always liked before, but even more so now as it is stripped down to a piano ballad, so hello, throw on the cuffs, you've got me! I'm almost glad they did this as the song has a new life and all I can picture is this being used in a movie, it's perfect for that… what a way to round this album out… seriously.
So, in closing, I present to you my summary of 'Still Standing' in an open letter to Teenage Casket Company:
Dear TCC,
Thank you, thank you, thank you for this slab of musical amazingness. All the best, stay in touch and May the Rock be with You.
Lotsa love,
Troy.
Essential Information
From: Nottingham, UK
Sounds Like: Pop Rock / Powerpop
Release date: 30 September 2013
Label: TrashPit UK / JamSync US
Website: http://www.teenagecasketcompany.co.uk
Track Listing:
Still Standing
First Night Of Your Life
(You Only Love Me) When You Hate Me
Make It Through The Night
Best Friend Is My Radio
Dead In America
Takes A Little Time
Without You
Girl
Kings Of The World
Believe In You 2013