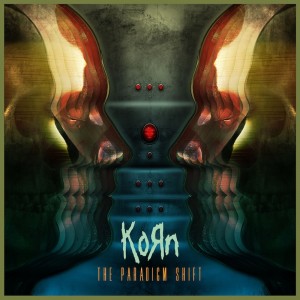 In Summary: "They may not completely be the Korn of old, but they're sure as hell on the way back…"
There are a couple of things I'm intrigued to get into about this new Korn album, firstly after their last album 'The Path of Totality' which was interesting to say the least, it can't be any worse, and the fact that this new album sees the return of 'Head' on guitars after his ten year absence from the band. So, let's see what Korn can come up with on this, their Paradigm Shift…
'Prey For Me' is an apt opener, as I'm praying it will be what we want to hear, that is the nu-metal band we all knew, and you know what? It is the goods, the riff kicks it off and lyrically 'I think I owe you an apology…' is that for us? Maybe… but if not, this song is worthy of the opening slot and I dare say the opener to their live set, as the riffs continue throughout it, it's great to hear that two guitar assault back where it should be. 'Love & Meth' should've been the theme song to Breaking Bad, but seriously this one has a great hook laden chorus and Jonathan Davis is sounding great on this album so far, and it's fair to say that three songs in the 'experimental' dubstep album could be put down to a phase as the guitars are back and 'What We Do' is the closest to old school Korn yet, it strays a little, but still the best so far. Ahh… here's a little dubstep, so it must be a slow phase out, but I must say the subtleness of it in 'Spike In My Veins' works, it's not over the top, and in fact this is a somewhat slowed down track throughout the verses but is well arranged and produced here, thanks to producer extraordinaire Don Gilmore who you may know from, oh I don't know, a little album called 'Hybrid Theory' by Linkin Park, so he's put his spin on this and it's working.
'Mass Hysteria' is just that, loud, in your face but nowhere near as much as 'Paranoid and Aroused' which is probably the 'heaviest' track on the album only to be followed by the single from the album 'Never Never' and in my opinion not the best reintroduction to the band, it's mellow… well for Korn anyway, there's no metal at all in this song, and in fact could've come straight off their last album, to me it may be a good track but it just broke up what I was enjoying in terms of riffs and a return to the Korn of old. See, no sooner typed than done, riffs are back in my face and it's 'Punishment Time' and I have to say, there are great hooks in some of these songs, and this one in particular as it breaks down only to build again to a monster rockin' finish.
Only a few tracks to go and ooh this one is a curveball, 'Lullaby For a Sadist' is another slower track, and not too bad, but I want riffs, I want 'Head' and 'Munky' to shine! It even sounds like 'Fieldy' has tightened up his bass strings; I mean what is going on? I guess after twenty years as a band, you grow, you make a dubstep album and then you come back to rock us again and rock us good. Operation phase out dubstep continues as we still get a whiff of it in 'Victimised' but again, toned back a little to let the guitars cut through and a chorus that should see many a fist raised and thrust towards the band on stage. Closing the album is a track titled 'It's All Wrong' and it's far from that, I can tell you right now, in fact as far as riffs go they are as fat as Albert and it's a great closer to an album I did enjoy. Sure a couple of tracks weren't my favourites, but find me an album these days where it's all killer and no filler… exactly, so I liked listening to this album and I'll happily do it again.
For shits and giggles here we have some bonus tracks, I didn't even know these were here! I am always somewhat sceptical of a bonus track, like why weren't you good enough to be on the main album? What's wrong here? In the case of 'Wish I Wasn't Born Today', nothing, easily could've made the final cut on the main album and close to my favourite song I've listened to tonight, and lucky last, our second bonus track, ahhh, see now this one 'Tell Me What You Want' vocally sounds like vintage Davis, and lyrically it's maybe a little bit of a 'Fuck You' to a number of things, and why not too, for a band who has attracted its share of haters over these twenty years as a band, they have every right, but fuck them, don't like it, don't listen…
So, it's been three years since Korn have been on tour in Australia and now with their return for Soundwave in 2014, and with this new album under their belt, let's just say, they may not completely be the Korn of old, but they're sure as hell on the way back and I for one can't wait to hear some of these songs in their set.
Essential Information
From: Bakersfield, CA, USA
Produced by: Don Gilmore
Release date: 4 October 2013
Label: Caroline / Prospect Park
Website: http://www.korn.com
Track Listing:
Prey for Me
Love & Meth
What We Do
Spike in My Veins
Mass Hysteria
Paranoid and Aroused
Never Never
Punishment Time
Lullaby for a Sadist
Victimized
It's All Wrong
Wish I Wasn't Born Today (bonus track)
Tell Me What You Want (bonus track)
Catch KORN at SOUNDWAVE FESTIVAL 2014 
SATURDAY 22 FEBRUARY – BRISBANE, RNA SHOWGROUNDS
SUNDAY 23 FEBRUARY – SYDNEY, OLYMPIC PARK
FRIDAY 28 FEBRUARY – MELBOURNE, FLEMINGTON RACECOURSE
SATURDAY 1 MARCH – ADELAIDE, BONYTHON PARK
MONDAY 3 MARCH – PERTH, CLAREMONT SHOWGROUNDS