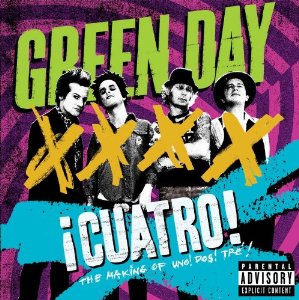 Green Day has announced that their documentary film ¡Cuatro! will be released on DVD on Friday 8 November.  ¡Cuatro! pulls back the curtain and takes fans inside the world of Green Day, from the various spontaneous live performances in select cities around the U.S. to the chronicling of their creative process while conceptualizing and recording their recent trilogy of albums: Green Day ¡Uno!, Green Day ¡Dos!, Green Day¡Tré!
¡Cuatro! was directed by Tim Wheeler and produced by Tim Lunch for Farm League. Highlights from the documentary originally premiered last fall on MTV2 and Palladia and the film premiered in full at the 20th Anniversary South By Southwest (SXSW) Film Conference and opened the Newport Film Festival.   Watch the trailer here.
"Over the last year while we were recording our trilogy, we posted multiple clips every week so fans can see parts of the recording process of ¡Uno! ¡Dos! ¡Tré!," said bassist Mike Dirnt. "¡Cuatro! brings our fans one step closer by giving them even more access and revealing what it was like for us to make these records."
Green Day spent the summer touring the world, including performances at the Reading and Leeds festivals in the UK and a show at London's Emirates Stadium that set a concert attendance record by selling all 60,000 of the venue's tickets for the first time.   Green Day will return to Australia in February 2014 to headline Soundwave nationally.
Green Day is vocalist/guitarist Billie Joe Armstrong, bassist Mike Dirnt, and drummer Tré Cool.  
###
ABOUT GREEN DAY
Green Day – vocalist/guitarist Billie Joe Armstrong, bassist Mike Dirnt and drummer TRÉ COOL – were kids from working-class backgrounds who came of age in the underground punk scene in Berkeley. Even though they had released two records prior (1039 / Smoothed Out Slappy Hours and Kerplunk), they announced their arrival with 1994's Dookie, a dynamic blast of exuberant punk-pop that sold 15 million copies and earned the band its first Grammy® Award for Best Alternative Music Performance.
Over the years, Green Day continued to top the charts with their subsequent studio albums Insomniac, Nimrod and Warning, while entertaining millions of fans with their frenetic live shows. But it was their landmark 2004 album American Idiot that launched Green Day into the stratosphere. American Idiot debuted at No. 1 on the Billboard chart, spawned five hit singles, earned seven Grammy® nominations (winning two, including Best Rock Album), and raised the bar for modern rock and roll. In 2009, Green Day released 21st Century Breakdown, which won the 2010 Grammy® Award for Best Rock Album. It spawned two hit singles: the gold Know Your Enemy, which was the first song ever to top Billboard's Rock, Alternative, and Mainstream Rock charts simultaneously, and the double-platinum 21 Guns, which earned them three 2009 MTV Video Music Awards including Best Rock Video. Green Day also took home an American Music Award for Favourite Alternative Rock Music Artist.
Later that year, Green Day collaborated with Tony Award winning director of Spring Awakening, Michael Mayer, for the stage musical of American Idiot. The play bowed at the Berkeley Repertory Theatre in September 2009 and set attendance records during its limited engagement. The play went on to Broadway and ran for a year at the St. James Theatre and won two Tony Awards Green Day's highly anticipated album trilogy kicked off with the release of Green Day ¡Uno!, (September 21, 2012) followed by Green Day ¡Dos! (November 11, 2012), and Green Day ¡Tré! (December 7, 2012). The band recently toured arenas around the world in support of the releases. For more about the band, visit www.greenday.com.
SOUNDWAVE TOUR DATES:
Saturday 22 February – RNA Showgrounds, Brisbane, QLD
Sunday 23 February – Olympic Park, Sydney, NSW
Friday 28 February – Flemington Racecourse, Melbourne, VIC
Saturday 1 March – Bonython Park, Adelaide, SA
Monday 3 March – Claremont Showgrounds, Perth, WA
GREEN DAY
OFFICIAL WEBSITE | FACEBOOK | TWITTER