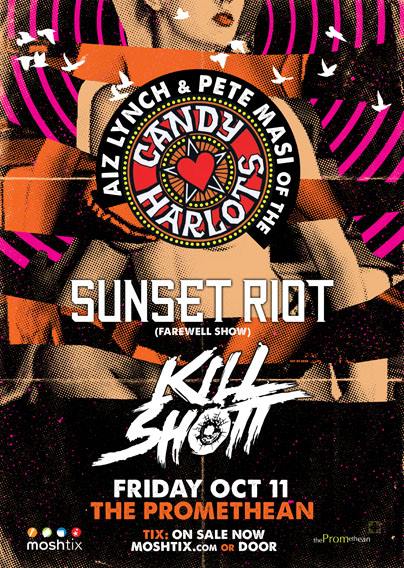 Adelaide, get ready to rock… On Friday Rocktober 11th at The Promethean, this is a one time, killer line up that is sure to be talked about for times to come, so fasten your seat belts, be sure to turn up for this night of nights…
Performing on the night is Melbourne's KillShott , Sydney's Sunset Riot and Aiz Lynch & Pete Masi from the Candy Harlots (Sydney). As you know Sunset Riot is currently on their farewell tour of Australia and this will be one of their last ever shows in Adelaide.
KillShott have just finished a two month residency at Melbourne's Cherry Bar and doing there filmclip launch on the night for their single 50 Sold from their debut self-titled EP. The headliners of the night are Aiz Lynch & Pete Masi of the infamous early 90's hard rock/sleaze band the Candy Harlots. The Candy Harlots have not performed in Adelaide in over 20 years. As you know they did a couple of reunion shows in Melbourne and Sydney back in 2009 but have no future plans to play together. Aiz & Pete will have some of Melbourne's finest musicians playing with them for this special one off appearance.
Tickets are available through www.moshtix.com or on the door on the night.
After this show, Sunset Riot's last ever show in Adelaide will be on Saturday October 12th at The Gaslight Tavern with support from KillShott.
Don't miss your chance to see these great bands on the same night!!