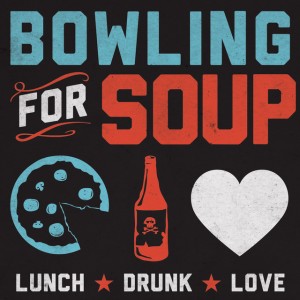 Bowling For Soup are one of my favourite bands and I've been there with them since back in 'Nam… mind you, I actually wasn't there when the honourable ones rocked on or when they did it for Johnny but I was there when they were drunk enough to dance and have been ever since, there for them, not drunk, well, actually, maybe… So when the band started a pledge music campaign to support the creation of their new album I was all over that and how. What I've always loved about BFS is the way they interact with their fans, and this allowed the fans to see into the making of an album, get updates along the way and even vote on the name of the album, which incidentally is 'Lunch. Drunk. Love.' and as I watched the pledges go up and up and even up, it's fair to say that there are many out there that love this band as much as I do. Anyway, enough gushing about the band from me, let's listen to the album (another perk, I got it early because I pledged!)
I'm reviewing this on my first listen, it's like Christmas, I woke up to an email that said I could download the album and I bounced out of bed to open my present. Sure my shitty internet connection took its time but here it is! Woo hoo! 'Critically Disdained' is the perfect opener and perfect BFS song, that signature style, quirky lyrics and even a Gin Blossoms mention, you just know what you're in for and I for one am happy straight away. 'Since We Broke Up' was one I was waiting for as this was a very early demo that the guys posted and sounded great back then, but the recorded version is 'Grant Park' for this era, you just need to sit back and enjoy these songs, they actually make you smile, if anyone was here they'd probably think I was a goof for sitting here smiling while typing, but hey, shut up… oh and a guitar solo? Yes… this band isn't scared of you music industry.
'Real' is a song for the any man, well the man that isn't Ryan Gosling… hands down, this is the best song that BFS have done since 'Val Kilmer' in my opinion, and what a chorus! This song has more hooks than they'd even need to fish for any woos, oh man, a middle 8, seriously, oh and an acoustic breakdown? Fuck man, this song wins everything right now. The gold star is in the mail. Here I am thinking, this project allowed the band to be who they are and do whatever they wanted and you know what, it shows, this album just sounds like they had fun and 'From The Rooftops' is destined to be a live song that will have us all 'Whoa oh oh ohing' but the meaning behind 'Follow your heart, fuck everybody else' is a tattoo worthy lyric and it's the truth and can be applied to this band and this project. Even if it's not related to that, it sure could be.
Ooh a nice acoustic intro, ooh I hope this continues to be a big ballad, as with songs like 'Turbulence' and 'When We Die' it's proven that the band know how to write a ballad, and so far 'Circle' is living up to that previous expectation. They waste no time though in rockin' it back up with 'Normal Chicks' which is your traditional BFS song full of famous names, and of course a Motley Crue reference, but you just go with it as they do it so well, and seriously, other bands, listen up, listen to a song like this, the structure of it, musically it is amazing, what's wrong with catchy songs? NOTHING, that's right! So, actually, other bands go away, leave it to Bowling For Soup. Whoa, hold the phone… 'I Am Waking Up Today' where did you come from? Tempo overload, fast, frantic, instant sing along and I just keep loving the album more and more as it goes along. 'Couple of Days' is a bop along song and then 'And I Think You Like Me Too' is just so damn cute… yeah, I know, cute… maybe not the right word but damn it, it is. This acoustic driven story teller would make Frank Turner proud, and is although different from all the above so far, this song is just great.
Volume, resume. 'Envy' well you just win instantly with a Poison reference in the first line, and another BFS structured gem, you kinda get the idea what to expect with these guys, but ha ha, love the ending to this one. Ooh ooh I have a feeling 'How Far This Can Go' is going to get another gold star, you ever get that feeling when you hear the opening bars of a song and you perk up? That's what this one did, ahhhh yep, there it is… thank you BFS, you've just written my favourite song of the last 4 minutes, I mean, year. I could listen to that one over and over and maybe even over. 'Right About Now' I love simply for the trade-off vocals with bass player Erik which balance it perfectly and not to mention this is the best song that Sum 41 or Blink 182 never wrote, and again, I can't wait to be down the front yelling this one back to band when they play it live, just let me get it out of my system '… Fucked Up Right About Now…' phew, thanks for letting me do that.
Awwwwww I'm up to the last song… that's not fair… 'Kevin Weaver' is another acoustic, hang on, you big trickers… I was hoping they wouldn't go out slow, and my hopes were realised, and a harmony guitar solo? Are you kidding me? Stop being so awesome, actually, no, don't. This was a most excellent way to end a most excellent album. Lather. Rinse. Repeat.  (that means I'm putting it back on from the beginning in case you missed that.)
If Bowling For Soup were any more fun guys, they actually would be mushrooms… so get out there and support a band you know you love and check out this rockin' slab of goodness. Seriously, go now and check it out. This is my album of the year. Take that every other release that's been and is to come.  Lunch. Drunk. Love.? More like So. Fucking. Awesome.
Essential Information
From: Denton, Texas, USA
Produced by: Jaret Reddick and Linus of Hollywood
Release date: 10 September 2013 (USA) 30 September 2013 (Worldwide)
Website: http://www.bowlingforsoup.com
Track Listing:
Critically Disdained
Since We Broke Up
Real
From the Rooftops
Circle
Normal Chicks
I Am Waking Up Today
Couple of Days
And I Think You Like Me Too
Envy
How Far This Can Go
Right About Now
Kevin Weaver
Catch Bowling For Soup in Australia in 2014 at the Soundwave Festival!
Tickets on sale NOW  www.soundwavefestival.com
SATURDAY 22 FEBRUARY – BRISBANE, RNA SHOWGROUNDS
SUNDAY 23 FEBRUARY – SYDNEY, OLYMPIC PARK
FRIDAY 28 FEBRUARY – MELBOURNE, FLEMINGTON RACECOURSE
SATURDAY 1 MARCH – ADELAIDE, BONYTHON PARK
MONDAY 3 MARCH – PERTH, CLAREMONT SHOWGROUNDS