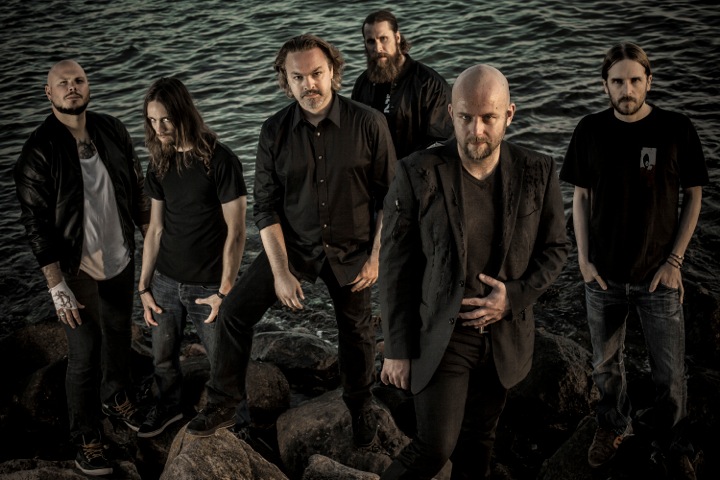 "In coming together it will always sound like Soilwork, but there's always something, so for that it's really exciting for me. So I'm grateful that I'm still excited about creating music and having to make that same damn album over again to be able to stay above the surface."
From Tour Release: Sweden's SOILWORK have long been regarded by many as pioneers of melodic death metal. Alongside fellow Swedish acts such as In Flames and Dark Tranquillity, the band's unique blend of melodic metal is a fusion of the classic Gothenburg Sound with power-groove riffs that were prominent in 70's and 80's British and European metal.
SOILWORK have been working from the ground up developing and honing their sound for close to 20 years now. Their latest album, the just released and first double album in death metal history, 'The Living Infinite' features soaring melodies via the identifiable dual gruff/clean vocals of Bjorn 'Speed' Strid, intricate guitar work and a supremely tight rhythm section that has became their signature sound. Often imitated but never duplicated.
We chatted to 'Speed' about Soilwork's upcoming tour of Australia as well as double albums and the evolution and enjoyment of being in this band…
You're heading back to Australia for the first time since 2010, have you got a set prepared for us or is this something you fine tune dependant on how you feel on the day?
Well we've been discussing it during the festival season and I'm not sure if we've come to a conclusion as to what we're having for those shows, but I mean it's obviously a headline show, so I guess around one hour twenty minutes so we're trying to make it a pretty good mix and have every album almost represented in the set list. Also we do have a double album out, so it's going to be a little bit more focused on that one, plus there are twenty more songs, so it's been really hard. Hopefully we will reach a decision about two days before we come to Australia.
With a little while to play it now, how has the new material been going down live?
I think it's been going down really, really good. I feel it's been a while since new sings or whatever have been sounding that good live. Even though it's really technical, the new album, at least in some parts, it's going over really well live, I think it's a very live oriented album.
For someone such as myself that has never seen you live before, can you give us three words that sum up your live performance?
Probably chaos, melody, Flink… that's our bass player because he's a one man show. *laughs*
Do you have a memory of a previous tour of Australia that stands out as the best?
Oh I mean of course the first time was extra special, that was back in 203 now, was it ten years? And if I remember correctly that was the one with Anthrax and Killswitch and I guess Killswitch were opening up for us, maybe it was Anthrax that opened up, I can't remember. Obviously that was very special for the first time, I think we went there twice on the same album, that's probably why I'm mixing it up, the first tour was with Anthrax and Killswitch or was it us doing a headline show with local openers? But it was really cool and I could never dream of coming to Australia to play, even when we started the band, coming to America was something that we never thought we could do, and Australia was almost too much, we were like 'What? Really?' and coming there and realising there are huge crowds for us was really cool and a great crowd at that, so intense, so amazing. But, I believe this is our fourth or fifth time, but it's special every time, it really is. Something that I'm not looking forward to is the flight over there, it's pretty damn long, it's probably going to be like twenty five hours, so there's that, but when you're actually there it's such a good time.
You released 'The Living Infinite' earlier this year now, I have to ask as it's a double album which is kind of rare these days, what was the idea behind doing that?
Well I think we really needed a special challenge, and after everything that happened and Peter not being sure if he wanted to be in the band or he wanted to tour at all, and we ended up not doing much touring for 'The Panic Broadcast', we did come to Australia so that's a good thing *laughs* but we felt that we needed to do something bigger, something more of a project and something more progressive. I think each and every member of the band are pretty high on the fact that they could maybe break the boundaries a little bit and introduce some of those personal stuff in there as well, that's really what happened, it became a band effort and turned out to be a very diverse album and I think that's exactly what we needed and wanted to make. A double album with twenty songs and to stay interesting, so I think it really shows the strength of the band that there's so many great songwriters in the band
Did you go in with a concept in mind or did it just evolve into what it has become when you started making it?
Oh well I did have a concept, when I presented the idea of making a double album to the band during the festival season in 2011, I did have a little idea and I also had the title 'The Living Infinite' and *laughs* it sounds really pretentious but I wanted to make the existential, kind of topic we haven't really touched before, and to me I just found the title, infinite, and I felt it was a description of the ocean and I thought that was really cool and descriptive because when I look out over the ocean I connect that to existential questions and I was raised by the ocean, I lived by the ocean, so I feel it was a natural way for me to look out and start thinking, and something I feel like I've been spending a little too much time thinking about existential questions, I need to reach some level of acceptance. So that's kind of the lyrical theme on the album and the connection to the title.
Did you find it in some way more challenging taking on this much compared to a standard release?
I thought it was going to be a lot worse, but it was kind of smooth… we spent two months in the studio and that is sort of what we normally do, but this time around we could work in different studio rooms at the same time, right? We were also hanging out in the studio all together and cooking together and building these from scratch and I felt it was going pretty smooth, and plus I started singing a lot earlier in the process this time around because in the past it's always been 'ok, everything else is done, you've got two weeks to do vocals and… go' *laughs* and it's really stressful, that could not work with a double album, so as soon as it was guitars even done for one song, I started singing in a different room in the same building. So I guess that was really nice to be able to focus on one song a day instead of oh my god, I need to do three songs today to be on schedule, that's a lot of stress.
How has the dynamic been within the band since Peter's departure and with David now a permanent member?
Well we've known David really well as he's toured with us before, first time he toured with us was in 2006, the North American tour and he did one more after that as well, he's also been touring Japan with us I think, so it was a pretty natural progression for us, and he came into the band, we're really hanging out again, we're drinking together which has been a while since we really partying together, usually we're like for a while there it was people sitting there doing their own thing, or maybe two and two or whatever, that's usually how it goes in a band. Now there's a better vibe, because Peter kind of felt depressed and couldn't handle the touring and seemed really stressed and that really affects everybody in the band and he made the right decision and he's probably way better off these day, he has a stable job and can be home with the family so he feels a lot better and I think it's also better for the band because David really wants to tour and he's really passionate about te music as well, so it's a win win situation.
It's almost like a new energy has been injected into the band…
Yeah for sure.
In the fifteen years since the release of 'Steelbath Suicide' what do you feel has been the biggest evolution in the Soilwork of today?
Well I mean we've become better songwriters, and I think in the beginning it was done with primal aggression, even though we did it in a pretty unique way, maybe not the first album which sounded like your typical Gothenburg sounding thing, but the second one 'The Chainheart Machine' I think you could already back then tell there was something pretty special going on, because we were influenced by Devin Townsend's music as well, especially the album 'City' by Strapping Young Lad and I think that was something that was there and we were going to take it to the Swedish Gothenburg style of metal to a new level and I think we really brought that with a 'Natural Born Chaos' that was something a little ahead of its time, you know. That's one of the few things that I regret that we didn't tour much for that album, because we didn't realised how much of an impact it would have later on to especially the American Metalcore bands, but that was definitely a milestone and I think this new one definitely brings us into a new era, to use an old cliché *laughs* it's something really special about this one and we're touching something new here.
At eighteen or so years as a part of the band now, has there been a career highlight you can share with us?
Well there's a few, it's really hard to point out just one thing… coming to Japan for the first time, coming to Australia are definitely milestones… obviously the day, and I was working as a teacher before, the day that I could walk into the reception and school and talk to the principal and say I'm going to do the band full time and I don't have to work anymore, I'm sorry but that's it *laughs* that was a pretty big day. I've been able to live off the music ever since then and it's pretty cool to be able to live off your biggest interest you know, and there are some sacrifices to be made as well when your hobby becomes your job, but still I'm really grateful for that day when I could go in and say that it's music full time now, 100%.
On the other side of that question, what is it that you still enjoy about being in Soilwork?
I think the playfulness that is there when we create music, it's really open and really objectives and there's no like set recipes of exactly how it's going to sound, we never really talk about that, and it makes it really exciting, you never know what's going to happen musically, even though we always have a mutual vision, it's never something we talk about. In coming together it will always sound like Soilwork, but there's always something, so for that it's really exciting for me. So I'm grateful that I'm still excited about creating music and having to make that same damn album over again to be able to stay above the surface.
It sounds like you're pretty inspired at the moment, are you constantly writing?
Yeah, well we are planning on maybe creating something new, what it's going to be we don't know, we're still pretty focused on the album, it's only been out for a couple of months, but I think we got really inspired from that recording, especially since it was so much fun, I think people are curious to see where the new album is going and when it's going to happen, so we're thinking of some ideas now that are pretty interesting, but we'll see what happens. For now it's pretty much all about the album.
You fans are very passionate and you do meet and greets with them and the likes, so what is it about the fans down here compared to those around the world?
I think the Australian crowd, and I've said this before, if you take a Japanese crowd and a European crowd and an American crowd and you tape them together you get an Australian crowd, because it's like the loudest Japanese fans and the rowdiest American fans and including the mosh pit and circle pits, it's so violent, and the European crowd doing the 'Hey Hey Hey' which you couldn't really find in America before, it was more European with the chanting and stuff, so it's everything you want, it's prefect. *laughs*
Besides Australia, what does the rest of the year have in store for Soilwork?
Well we are going to visit China for the first time directly after the Australian tour, we're doing five shows in China, that's pretty much what's on the table and also a European headline tour in November. We're also working on South America and heading to Mexico city for the first time in September.
Thanks for your time and we'll see you in October…
Sounds great
Essential information
From: Helsingborg, Sweden
Band members:  Bjorn "Speed" Strid – vocals, Sven Karlsson – keyboards/samples, Sylvain Coudret: guitar, David Andersson: guitar, Dirk Verbeuren – drums, Ola Flink – bass
Recent Release: The Living Infinite (Nuclear Blast)
Website:  http://www.soilwork.org

Catch Soilwork on tour in Australia this October
Wed 2nd-The Hi Fi, Brisbane
Thu 3rd– Manning Bar, Sydney
Fri 4th– Billboard, Melbourne
Sat 5th– The Gov, Adelaide
Sun 6th– Rosemount, Perth
Tickets only $59 + bf. On sale now from metropolistouring.com
Exclusive VIP Meet & Greet Packages available for each show