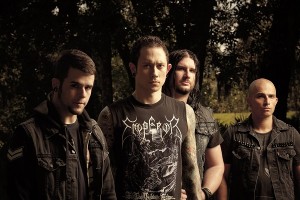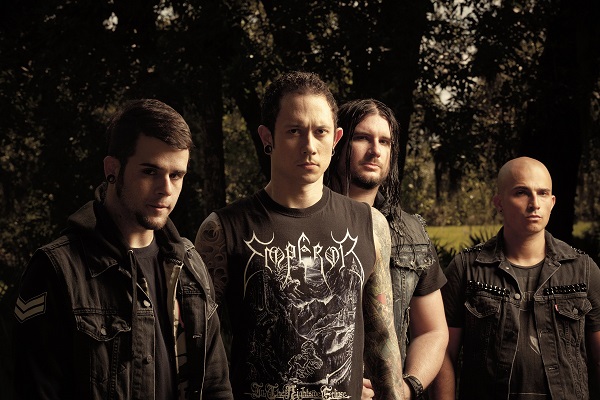 Trivium have announced the release of their eagerly awaited new album, Vengeance Falls produced by David Draiman (Disturbed, Device) on October 11.
The first single Strife will be available as an instant download with all pre-orders.   For fans who can't wait for a taste of new Trivium, the album opening Brave This Storm is available as a free MP3 download now at  www.Trivium.fm.
"Vengeance Falls is the culmination of everything we've gone through; the representation of struggle endured from within and experienced from the world. Every failure and every success has led us to this moment. Vengeance Falls is this moment in time…" said Trivium vocalist and guitarist Matt Heafy.
Producer David Draiman added, "Vengeance Falls is a masterpiece of metal. It is their finest work to date, and a record so strong that it will blow the doors open to a world they deserve to dominate."
Recorded earlier this year at Draiman's Austin, Texas home studio, Vengeance Falls sees the band pushing the envelope on their own distinctive sound, a sonic approach that saw In Waves hit #1 on Billboard's Hard Rock Albums upon its 2011 release, not to mention a stunning #9 debut on the ARIA chat and top 15 debut on the overall Billboard 200 – their highest chart rankings to date.
Founded in 2000, Trivium catapulted into the first ranks of modern metal with 2004's Roadrunner debut, Ascendancy, which was named Album of the Year by none other than Kerrang! 2006's The Crusade incorporated new melodic colors into the band's sound, resulting in widespread critical  applause  and  a  top  25  Billboard  200  debut.  Shogun followed  two  years  later  and received event greater acclaim and chart success, including a #4 debut on the ARIA chart.
Like any great rock band worth its salt, Trivium have further won over legions of fans through frequent touring, traveling the globe nearly non-stop as headliners, special guests (alongside the likes of Iron Maiden, Slipknot and Machine Head), and top-of-the-bill favorites at such famed festivals and festival tours. The band have played huge sets on both Soundwave and The Big Day out in Australia and their live show has been one of the main reasons for their passionate following in Australia. The Black Crusade tour of 2007, with label mates Machine Head, was a watershed moment for both bands as it was a legendary pairing in metal circles.
TRACKLISTING
1. Brave This Storm
2. Vengeance Falls
3. Strife
4. No Way To Heal
5. To Believe
6. At The End Of This War
7. Through Blood And Dirt And Bone
8. Villainy Thrives
9. Incineration: The Broken World
10. Wake (The End Is Nigh)
www.trivium.org
www.facebook.com/TriviumOfficial
twitter.com/TriviumOfficial
www.myspace.com/trivium
www.youtube.com/trivium
au.roadrunnerrecords.com
www.warnermusic.com.au