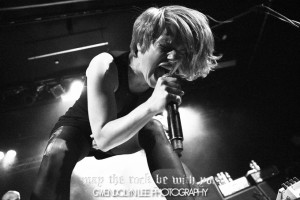 In their return to Australia since their last time here for Soundwave in 2007, and this time with new singer Kristen May who replaced original vocalist Lacey Sturm last year, it's always daunting to try and get a new voice to fans that are used to what they know. Now, Flyleaf's newest album aptly titled 'New Horizons' did feature Lacey on vocals so I guess we have no idea on how Kristen will take these songs and make them her own, so it seems as if the crowd here is eager and wanting to know, I know I'm curious.
Breakaway open the night to a half full Metro, and I'm always a stickler for checking out the support bands as you never know when you'll strike gold. Hell, even a band like Bon Jovi were an opening act once… 'At The World's End' is a song you may have heard around the traps and it you haven't, you should. These guys have a great sound, good songs and a perfect choice to open tonight, despite some vocal issues, the band powered through and earned a great reception.
Carmeria turn up the volume, literally, man it just got loud in here. It also got a little operatic, which was unexpected I must say. Straight out, I am captivated by the bands guitarist who suits the band but could jump straight into any 80's rock band, he has the moves and the style, oh and he can play. Enter brutal breakdown in the second song 'Safer To Run', nice! I can see the set list and up next is 'Toxic' and I have so many hopes placed on it being a Britney cover… Let's see… YES!!! I was right. They rocked the shit out of it! The night is going well.
Red Bee are a three piece that are here to show everyone that they mean business. After a team huddle they kick it off and I think this pace will keep up even with the house lights up… These guys have big riffs and a performance that looks like they're playing in front of 20,000 people. At times I get a Helmet meets Karnivool vibe from them which is pretty impressive I must say and musically they are spot on, this is one fat, really tight sound! I can't fault them at all on that. If the crazy mosh / circle pit is anything to go by then you can say that they did a great job.
As 'Duality' by Slipknot blares through the venue, Flyleaf are close. There is a buzz, people have waited a long time to see these guys and are ready to be rocked. The house lights are off and it's time…
Straight off, Kristen is amazing and instantly captivating as a front person. As they burst into 'Call You Out' with the guys in the band throwing themselves around the stage with an energy is unbridled, this is destined to be a show to enjoy watching. Wasting no time, they launch into the title track from their newest album 'New Horizons' and it's hooks reigning superior! A cheer is heard as 'Again' is played and as captivating as Kristen is to watch, I can't keep my eyes of Sameer as he bounds across the stage constantly. The band are super tight as they power through these short and sharp rockers, each receiving a louder cheer than the next and I worry when we get to the end if the Metro will still have a roof?!
Ooh time for a newer new one, this one is called 'Something Better' and could be the best song Paramore never wrote. This one has a big chorus and great melody and allows Kristen to use those pipes to their fullest and if this song was ever released trust me, you'll hear a lot of it. Then we have 'Great Love' which is a huge rock ballad, and I'm somewhat confused as I truly don't understand how this band isn't bigger than they are, these songs are better than a heap of what's out there that's for sure. Seriously, go check these guys out if you haven't before.
OK everyone knows this one. It's 'Fully Alive' and a sea of fists are pumped towards the stage, this riff heavy monster of a song is a standout and look at that, Kristen's gone for a crowd surf, so good. Louder cheers again for 'Fire Fire' and vocally, if the others weren't enough to showcase their amazing choice of new singer, well this one killed it!!
Sameer again stealing the show as he climbs his speaker to then jump off it during 'Swept Away' then it gets heavier with another new one call 'Thread' with a lot more flailing around the stage, this time with bass player Pat getting in on the act and we better hear that one again soon, oh wow another new one, this is great! 'Well of Lies' is and will be a perfect addition to the Flyleaf catalogue, and I'm actually already excited for their new material. Let's hope we get to hear it soon!
Now we head back to the first album with 'I'm Sorry' and 'Sorrow' the later seeing a violin bow come out for Sameer which was different. Then we are treated to another big rock ballad in the form of 'Broken Wings' which is simply amazing tonight. What a song!! With only two to go we're in for a treat, and up first is the first song many ever heard from Flyleaf and as 'All Around Me' begins, so does the extra love. You can tell they still enjoy that song and it makes it that much more entertaining. 'So Sick' is what they leave us with tonight and they also left us thoroughly entertained, and like a cat during a windy day, Pat is bouncing all over the stage, up on the speakers and surprisingly never missing a note at all.
Whoa. An unlisted encore! 'So I Thought' which is another ballad but what a song and what a finish! A gracious band leave the stage, no bow, no fanfare, they know they've killed it and so does every single person here. Overall it was a thoroughly entertaining show tonight, a great band great songs and a demanding performance. This is a band you should see live. Do it. Go now!! Let's hope it's not another seven years before they get back.
For full gallery of photos from this show CLICK HERE
Photos by Gwendolyn Lee
Essential Information
Venue: The Metro Theatre – Sydney
Date: August 17, 2013
Supports: Breakaway, Carmeria, Red Bee
Website: www.flyleafmusic.com
Set List:
Call You Out
New Horizons
Again
Cassie
Perfect
Something Better
Great Love
Fully Alive
Fire Fire
Swept Away
Thread
Well of Lies
I'm Sorry
Sorrow
Broken Wings
All Around Me
So Sick
So I Thought