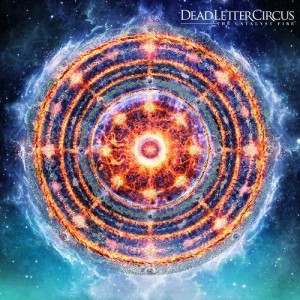 Some albums are hard to review, if they don't grab you or you just can't find the right words to put down, but then there are albums that are easy to review and they just flow out as you can just feel from the start that you'll enjoy it, you'll get it and you'll want to share your thoughts with others that may be interested. So here we have the new album from Dead Letter Circus titled 'The Catalyst Fire' and you know what? It's good. Damn good.
The elusive second album is where the world is watching, to see if the band has changed since their debut, have they evolved and have they given us material worthy of expectations? In this case, the answer is yes to all of the previous… Dead Letter Circus have created an album that is heavy, melodic and well structured. Opening track 'The Cure' sets the tone for it and you're pretty much set for the rest of the album, so if you dig the opener, then listen on! Musically this album is so clean, there are so many parts happening yet all distinctive throughout and I find myself hearing little bits I missed on each listen which is a good sign of a great record. On 'Alone Awake' some great arrangements see a hook within the chorus that threw me but what a fit, then 'Burning Man' I instantly envisaged on a live stage as this song will be absolutely huge in the bands live set and I for one can't wait to hear it
First single 'Lodestar' keeps the energy up and is the perfect choice to showcase the album to people, vocally this album shows a great range from Kim with some great lower register work as well as the soaring notes up high throughout the song. Song after song keep rockin' and there isn't a lull anywhere here in my opinion, it's solid, except for the slightly weird ambient trail out of 'I Am' but as 'Say Your Prayers' brings the tempo back up, we're back on track, this is one of those musical songs that has time signatures all up the wazoo and somehow they all get thrown together to make it work, although not my favourite, this is a solid track.
Then 'The Veil' gets a little industrial for us and starts off slow but builds nicely into a rocker and a place earned on the album, but 'Insider' good afternoon, where have you been hiding? This one is almost my favourite on the album, I love a good sneaky track late into an album that surprises you, and this is this albums. It just hits a cool groove that I think would sit nicely in the bands set and hopefully it makes it into their show. With only a few tracks to go, 'Lost Without Leaders', 'Stand Apart' and the closer 'Kachina' the album gets rounded out nicely and closes off an album that was so easy to listen to and one I would happily listen to again, and again… despite the creepy fade out at the end of album.
Overall, this really is a solid album, it flows well, the songs are great, and musically I can't really fault it. The band have found their sound and let's hope it transcribes perfectly to the stage as these songs are done justice on the record and hopefully even more so and heavier in a live environment.
Check out our interview with Dead Letter Circus' Stewart Hill here…
Essential Information
From: Brisbane, Australia
For fans of: Rock
Release date: 9 August 2013
Record label: UNFD
Website: http://www.deadlettercircus.com/
Track Listing
The Cure
Alone Awake
Burning Man
Lodestar
I Am
Say Your Prayers
The Veil
Insider
Lost Without Leaders
Stand Apart
Kachina