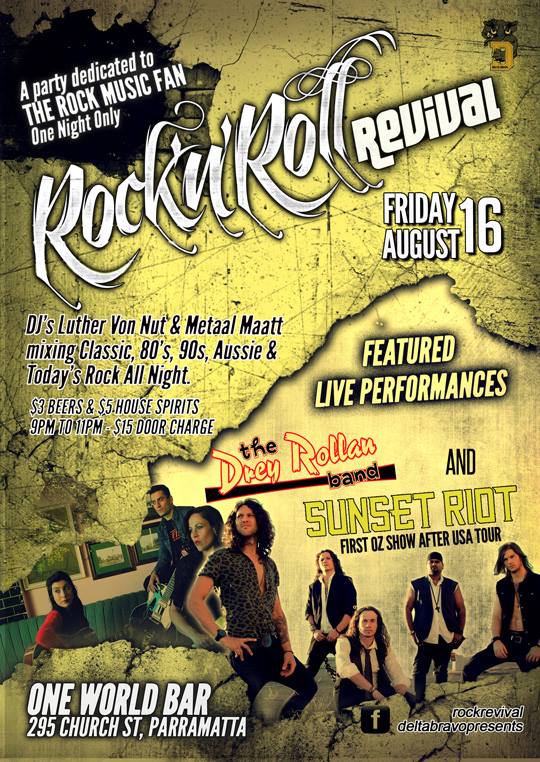 Delta Bravo Presents – Rock 'N' Roll Revival – Friday 16 August 2013 – One World Bar, Parramatta
The resurgent rock 'n' roll landscape in Sydney is about to receive a further shot in the arm with "Rock 'N' Roll Revival", a brand new one off event set in what has been long held as the heartland of rock music in Sydney, the Western suburbs.
One  World  Bar at Parramatta  is not a venue familiar  to  rock music  fans  but as explained by Delta Bravo's Danny Bazzi, it was the logical choice. He says, "Live venues in Sydney are on the decline and whilst there is some positivity with the live music scene returning to the forefront, I thought it would be the perfect time to shake things up and introduce a fresh new, modern venue to rock music fans that has the mixed  feel  of  a  live  venue,  nightclub  and  pub  all  rolled  into  one.  The  venue accommodates  for  everything  rock  fans  want  –  a  great  room,  live  bands  and awesome drink prices, all in a great location that is easy to get to".
Billed as a party dedicated to the rock music fan, "Rock 'N' Roll Revival" aims to blur the  boundaries  of  rock  events  with  it's  chosen  music  policy  which  promises  to encompass classic rock, 80's and 90's, modern day rock and, importantly, Aussie rock. Bazzi explains, "We want this event to be appreciated by the occasional rock music fan, the dedicated rock music fan and the die hard rock music fan. It is open to all".
Diversity is the key with "Rock 'N' Roll Revival" which is evident with the featured live performances by Sydney acts, The Drey Rollan Band and Sunset Riot.
The Drey Rollan Band collaborates elements from a by gone era with a fresh twist of light hearted harmonies, charming guitar melodies and toe tapping rhythms which has seen them play across Australia, the festival circuit and everywhere in between.
Sunset  Riot  are  no  strangers  to  the  Australian  live music  scene  with  relentless touring which has earned them a reputation as one of the best live bands in the country with a live show that is fast, explosive and raw mixed with melodic songs you will find yourself singing in no time. The band has just returned from their third tour of the USA where they played the esteemed "Rocklahoma" festival for the second year running.
Whilst "Rock 'N' Roll Revival" is scheduled as a one off event, Bazzi leaves the door open for future events, "the interest we have had in this project prior to making any announcements has been phenomenal. Rock music fans are starved of good venues playing good rock music and together with some of the other great events out there, we hope to bring this scene to the forefront giving bands and fans alike every chance to be part of something special".
"Rock 'N' Roll Revival" is on Friday 16 August 2013, from 9.00pm at One World
Bar, 295 Church Street, Parramatta. More info: facebook.com/rockrevival