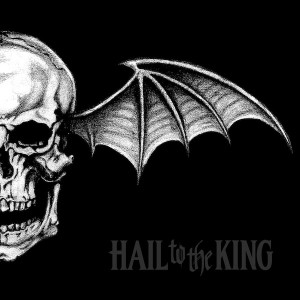 Avenged Sevenfold are back, well they didn't really go anywhere, but they have had some time off, and this marks their first album in three years and their first completely 'Rev-less' R.I.P…  and as sorely missed as he is, the band marches on and in a big way with their sixth album ' Hail To The King.'
What isn't missing here is the all but familiar, distinctive vocals of M. Shadows who you immediately identify and like an old friend who's popped over for a BBQ, you're happy to see him and welcome him with whatever meat he brought to cook, or weird giant mushrooms if he's a vegetarian. I digress, what I'm trying to say is that you instantly know this is an A7X record and are hooked first song in, which is 'Shepherd of Fire' and we're off, all guns blazing, all of them. It's riff central on this album, and that's to be expected, in particular the title track which is a song destined to be performed live for, well, ever. It's powerful and well worth the naming rights of the album, and I loved it so much that I listened to it again before the next track started, yep, winner. Hail to the awesome song!
Oh man, 'This Means War' could easily be the sequel to Metallica's 'Sad But True' but it would be called 'Sad But Two' see what I did there? Yeah, I just make this shit up! Man, I tell you what? We're four songs in and I knew the album would be good, but seriously, I feel like the guys have come out firing and knew they needed to make an album that would stand out, would be full of stand outs, as there hasn't been a bad track yet. Oh man, another one, 'Requiem' has a somewhat bluesy type feel to it, and lyrically I dig this one, the overall groove to it, melody and even vocal phrasing here is what makes it what it is, oh and not to mention the bitchin' guitar solo too…
Just when I think I'm already sold, they throw in a fuckin' power ballad, and if you know me you all know about my love for a power ballad, so as I sit here typing with one hand and a lighter held aloft, I picture a full stadium with everyone punching the air in delight, well, I see me doing that, but 'Crimson Day' you song, are a winner! The song fades and the crowd (Me) cheers… oh put the ballad has been dropped and now we just have the power, as 'Heretic' brings back the riffs and the rock and a perfectly structured track. As good as that just was 'Coming Home' is better, with harmony guitars running wild, and a chorus that stands out and is melodic as all get out, solo after solo and wow, this Maiden-esque track is A7X at their best, and this album is just getting better as it goes along.
I haven't yet made mention of the drums on the album, but will now, as Arin Ilejay has taken the stool and is beating the b'jesus out of the skins and it's fair to say would make The Rev proud, and a good rhythm section is key, so Johnny Christ on bass is on par here with it all, then you have Synyster Gates and Zacky Vengeance who have nailed the guitar work and the with all their powers combined, they are Captain Planet, I mean Avenged Sevenfold. This really is a great 'band' of musicians.
The album has flown, with only two tracks to go, 'Planets' is a groove rocker, more harmony guitars and killer riffs, ahhhh so good! Do I hear strings? Do I? Oh man, it's almost theatrical! Whoa… can the last track make this a complete winner? Interesting… it's slower, it's bluesy, it's 'Acid Rain' and whoa, a different side of M. Shadows vocals here, oh wait, not for long… there he is. This 6:45 epic is the most diverse on the album yet I'm intrigued to see where it goes. Yeah, check that one out for yourself… interesting but whoa. The album fades to a storm and star wipe and we're out…
Overall, this album is outstanding, well, let me rephrase that, I think it's outstanding, and I enjoyed every second of it, and for one can't wait to hear as much of this album as possible at their upcoming Soundwave shows in February! Hail to the Band as I feel they have delivered in a big way! Horns up!
Essential Information
From: Huntington Beach, CA, USA
Produced by: Mike Elizondo
Release date: 23 August 2013
Record label: Warner Music Australia
Website: http://www.avengedsevenfold.com
Track Listing:
Shepherd of Fire
Hail to the King
Doing Time
This Means War
Requiem
Crimson Day
Heretic
Coming Home
Planets
Acid Rain