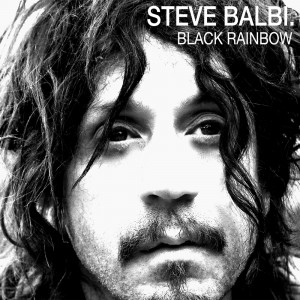 It's been a long time coming, but virtuoso musician, songwriter and performer Steve Balbi, will release his debut solo album, Black Rainbow, on Friday 13th September. He'll then take the album on the road in October, touring with the Baby Animals to Newcastle, Brisbane, Adelaide, Canberra, Geelong, Melbourne, Perth and Sydney.  
 
Balbi, the former bass guitarist for Noiseworks, Electric Hippies and Rose Tattoo has created a rock album that reflects on where he's come from and where he's going. A remarkable story that comes with being the familiar face of one of Australia's biggest bands of the late '80s and early '90s, and living the rock 'n' roll dream.
 
"Adversity can be the greatest teacher, as long as you don't give up. In a way what this record is doing, it's summarising my past and bringing me right up until now, so I can move on in a forward direction. Black Rainbow has an overarching sense of optimism tinged with a hint of darkness, much like my journey in life so far," said Balbi. 
 
Black Rainbow carries a handful of songs written in recent years with Balbi's former band, Move Trees. There's also a reworked version of Touch, a top 5 hit for Noiseworks back in 1988. The album is self-produced, and Balbi has released it via the independent route, with Social Family Records.
 
After playing bass in Rose Tattoo, Balbi formed hit-making Australian rock band Noiseworks in the mid-eighties. Noiseworks released their self-titled debut album in 1987, becoming an instant success. The album sold more than 200,000 copies and went triple platinum in Australia. Following four Top 10 albums, Balbi left the group with fellow Noiseworks bandmate Justin Stanley in 1993 to form the Electric Hippies. Other collaborations followed, but the enigmatic entertainer with a killer rock voice is now standing tall in his own right, without the safety net of a band behind him.  
 
"Fear of standing alone, fear of failure always held me back from going it alone. If a band didn't work, or didn't make a good recording, there were always other elements to blame. This record and what I do now, it's all down to me. I've learned that the real joy I get these days is from taking risks."
PRE-ORDER YOUR COPY OF "BLACK RAINBOW" HERE
LISTEN TO THE "BLACK RAINBOW" ALBUM SAMPLER HERE
 
Balbi will tour the new album as special guest on the Baby Animals forthcoming"Feed The Birds" tour, beginning in Newcastle on Saturday 12th October. Tickets are now on sale from various outlets listed below.
 
Black Rainbow is out Friday 13th September. 
Tickets for the "Feed The Birds" tour, exclusive fan bundles and copies of This Is Not The End and Feed the Birds (Live) are available from www.thebabyanimals.com.
This Is Not The End is also available now from iTunes.
BABY ANIMALS "FEED THE BIRDS" TOUR WITH STEVE BALBI
Saturday, 12 October             Cambridge Hotel         Newcastle        bigtix.com.au
Friday, 18 October                 The Zoo                      Brisbane          oztix.com.au
Saturday, 19 October             The Zoo                      Brisbane          oztix.com.au
Thursday, 24 October             Governor Hindmarsh   Adelaide       moshtix.com.au
Saturday, 26 October             ANU Bar                     Canberra      ticketek.com.au
Wednesday, 30 October          The Wool Exchange      Geelong           oztix.com.au
Thursday, 31 October             The Corner Hotel        Melbourne     cornerhotel.com
Saturday, 2 November            Astor Theatre             Perth    showticketing.com.au
Saturday, 9 November            Metro Theatre            Sydney  metrotheatre.com.au