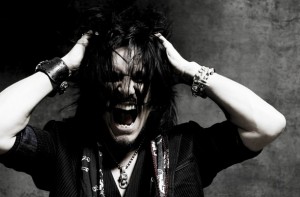 Guns N' Roses are one of those bands that has cult status back in the day and as each member formed their own personality within the band, a guy like Gilby Clarke had his perfect place within the band and has gone on to still be prominent in the industry even almost twenty years after leaving GnR. He was only here as recently as April with 'Kings of Chaos' but is back in Sydney tonight for a solo show and I mean literally just that, the man on stage with a guitar and a microphone. That's it.
Devine Electric or as I'm calling them tonight, Devine Acoustic, have been a favourite of MTRBWY for some time now, and a staple of the Sydney music scene, so tonight they were a great choice and stripped it down and busted out their set as a three piece unplugged to kick the evening off. Mind you, some songs transcribed better to the acoustic medium better than others, but only doing this kind of set a couple of times it's fair to say that with some refining and reworking of some of their tracks that this could be a great avenue for the band.
So, Gilby was supposed to be doing an acoustic set tonight but he busts out the Les Paul instead to rock the night up and with the promise of old stuff, new stuff and really old stuff this has the potential to be a fun show for those that have come out tonight.
Opener 'Wasn't Yesterday Great' was fun and then throwing it back to his first band Candy with a song called 'Turn It Up Loud' which sounded like that killer 70's rock sound ala KISS and that is fine by me and many here as he's using a loop peddle to fill out the song it allows him solo over the riffs and it works really well. Kill For Thrills is the band he was in prior to GnR or as he put it "all good things come to those who party…" so he treated us to 'Motorcycle Cowboys' from the band he at the time took lead vocals on. As the cheers start to get louder he throws to his first solo record 'Pawnshop Guitars' for 'Black' which was great but throwing in the first cover for the night with 'It's Only Rock and Roll' by The Stones which rocked it along with some excellent crowd participation and I liked it, liked it, yes I did. 'Skin and Bone' got bluesy and had one guy in the crowd in particular loving it which was fun to watch. Time for another cover but a completely unexpected one of the Janis Joplin classic 'Mercedes Benz' which was actually quite cool, and now for an expected cover, in a cover of the Guns N' Roses cover of the classic 'Knockin' on Heaven's Door' with us taking on Axl's parts and killing it. GIMME SOME REGGAE… Well we didn't get any, but that's what I associate with this song now, and if you know what I'm talking about then I'm sure you do it too… Always… and the lack of reggae sure disappointed me, but hey, what can ya do?…
Throwing us a song from his newest album 'Swag' we get 'Alien' which rocked but changing up the set list for some more Rolling Stones and 'You Can't Always Get What You Want' which really is a great song and tonight with just vocals and guitar sounded perfect and allowed Gilby to show off some guitar skills, of which he has many. The sunglasses come off and it's time for some David Bowie with 'Diamond Dogs' a couple more with 'Tijuana Jail' and 'Dead Flowers'…merged with another cover of a cover of a cover with 'I Used To Love Her'…
In the world's most awkward encore he returns for one more and a track he wrote for the soundtrack of 'The Story of Us' with some guy named Eric Clapton 'can't get this stuff no more' was our closer as Gilby left the stage only to come out and meet all those that came to see him tonight and a nicer rocker you'd be hard pressed to meet.
A great, fun evening of live rock and roll and well done Mr Clarke, thanks for visiting, see you again next year!
Essential Information
Venue: Hermanns Bar, Sydney
Date: July 6, 2013
Website: www.gilbyclarke.com
Set List
Wasn't Yesterday Great
Turn It Up Loud
Motorcycle Cowboys
Black
It's Only Rock and Roll
Skin and Bone
Mercedes Benz
Knockin on Heaven's Door
Alien
You Can't Always Get What You Want
Diamond Dogs
Tijuana Jail
Dead Flowers / Used To Love Her
Can't Get That Stuff No More