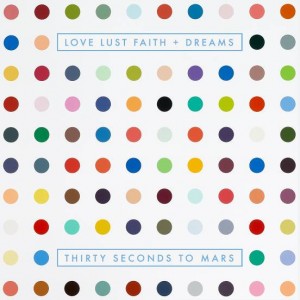 Genius isn't a word I throw around much. I could simply review this album with that one simple word 'Genius', as I feel like it is. I'm now into my fifth listen through the album and not because I needed to get into it to review it, but because it's simply THAT good.
I don't know what it is about the creative force behind this band but they know how to make music and create an album. There is no filler, it's all killer and you can tell they put their heart, love, lust, faith and dreams into it to make it for us. So I'll just say thank you now.
Some may call it over the top, as yes Jared Leto is who he is but this is what helps to make Thirty Seconds To Mars exactly what they are. So the songs are big, they're produced, there are multiple musical layers and vocals and all this combined is what makes this work. I know this band is not for everyone but hey, if we all liked the same thing wouldn't life be boring? Well unless Wyld Stallyns was a real band in which case we'd all love them and they'd save the world. I digress…
The concept of breaking the album into the four parts for which it is named is quite clever, as each new 'chapter' if you like, is announced by a female voice, so we have 'Conquistador' as the perfect track after intro 'Birth' to take the album by the horns as it will open your eyes but 'Up In The Air' (which did that literally as it went into space and was played on the space station) is the first single and what a song. Reminiscent to me of 'Kings and Queens' from previous album 'This Is War' with its epic stature is truly amazing, but you can keep them both as I present 'City of Angels' and it's absolute amazingness. Bono wishes he could write a song like this these days, oh yeah, I went there, but if this isn't a single and dominates worldwide, I'll eat Bono's hat… I can't wow enough after that one.
As the album keeps on with 'The Race' I've got my headphones on as I'm listening to the album and just listening to the production and the mix which is so well done overall, but the ballad 'End of All Days' which lyrically begins over single piano notes and slowly encompasses more parts as it builds to a haunting song not only musically but lyrically too is so well created that it hurts. Getting a little electronica on us with 'Pyres of Varanasi' for an instrumental filler, we're only seven tracks in and with five to go even though I know what's left, I'm excited to listen again.
'Bright Lights' is one of those reasons I'm excited, this is just a great song all round as it just has that feel good vibe, the one where you feel like you've loved this song for years, it just hits that right chord as does 'Do or Die' which to me sounds like Thirty Seconds To Mars should. This could've come off their last album but may have gotten lost in there but now with it on here it is almost a continuation and so welcomed. This is an anthem and the world is missing these in music these days. My fist is pumping; in fact it's making it hard to type this…
Another instrumental takes us into 'Northern Lights' and then takes a spin into the last track 'Depuis Le Debut' and its two and a half minute acoustic almost campfire intro that then gets all Tron on us and the album closes instrumentally and they go out big, strings, pounding drums and this suits me until the creepy music box is the last thing we hear. Yet, I like it…
Seriously, every other band, lift your game, your benchmark in this genre has been set for 2013… This album is an outstanding rock album and thank you Thirty Seconds To Mars for making it. I bow to you.
Essential Information
From: Los Angeles, CA, USA
For fans of: Rock
Release date: 17 May 2013
Record label: EMI Music Australia / Virgin
Producer: Jared Leto, Steve Lillywhite
Website:  http://www.thirtysecondstomars.com
Track Listing:
Birth
Conquistador
Up in the Air
City of Angels
The Race
End of All Days
Pyres of Varanasi
Bright Lights
Do or Die
Convergence
Northern Lights
Depuis Le Début
Catch Thirty Seconds To Mars on tour in Australia this August:
General public on sale from 9am local time, Mon 27 May 2013
Sat 10 Aug – Melbourne | Rod Laver Arena – (All Ages)
www.ticketek.com.au | Ph: 132 849
Sun 11 Aug – Sydney | Entertainment Centre – (All Ages)
 www.ticketmaster.com.au | Ph: 136 100
Tue 13 Aug  –  Brisbane | Entertainment Centre – (All Ages)
www.ticketek.com.au | Ph: 132 849
Fri 16 Aug – Perth | Challenge Stadium – (All Ages)
www.ticketmaster.com.au | Ph: 136 100