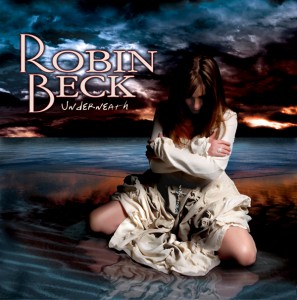 American rock singer ROBIN BECK will release her new album "Underneath" on HMMR Records through Cargo Records on August 12th in the UK and August 15th in the rest of Europe. Release dates for the U.S. to be announced. The cover artwork for the CD can be seen below. To read a track-by-track breakdown of the album and to hear audio samples visit Robinbeckrocks.com.
Tracklisting for Underneath is as follows:
01. Wrecking Ball
02. Aint That Just Like Love
03. Sprain
04. Underneath
05. Catfight
06. Check Your Attitude
07. Burnin Me Down
08. Perfect Storm
09. Ya Can't Figth Love
10. I Swear The Nights
11. Follow You
"Never underestimate what she can do… Robin is full of surprises and this album will have you begging for mercy. Passionate, intelligent and nothing short of brilliant , she's back!"
WHAT'S 'UNDERNEATH'?
For her latest album, "Underneath" Beck took a chance and allowed some new writers to submit material. When she heard their work, she was blown away. "It felt so right" she marvels, "I just had to have these songs for myself!"
So, in addition to Robin and her boys Denander and Christian writing team, she now has Glen Burtnik, Barry Jay and Fiona. "Underneath" includes songs co-written by Germany's Crush Boys (Daniel Volpe and Thomas Lipp, known for their work with Dutch teen idol Jeronimo and German girl group Monrose), Swedish Eurovision 2013 winners Linnea Deb and Joy Deb (Robin Stjernberg), Charlie Mason (Miley Cyrus), Mark Smith (Cinema Bizarre), Christian Rabb and Frida Molander (Nina Zilli) and more. Plus, with husband James Christian (lead singer of House of Lords) again producing the album (and dueting on "Burning Me Down" — and daughter Liv, herself a star in the making, on backing vocals — "It's a family affair" says Beck. "We just happen to be a family whose foundation is solid rock!"