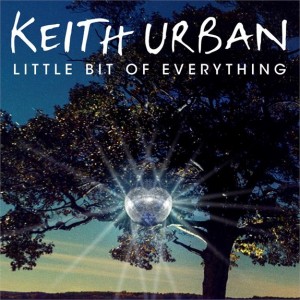 Four-time Grammy Award winner and American Idol judge Keith Urban today released his brand new single "Little Bit Of Everything", which will see its broadcast television premiere this Friday, May 17th on the Season 12 finale of "American Idol", 8.30pm on Channel 10. The song, which will be available on iTunes from Wednesday, May 15th, is the first from his forthcoming album slated for release in Australia this Spring. To hear "Little Bit Of Everything" go to HERE .
"'Little Bit Of Everything' conveys a sentiment that's always felt right to me," said Urban of what attracted him to the song. "I connected with that from the first time I heard it. I"felt it' and I loved it."
The song shows an evolved musical progression for Urban that brings together his already undeniable ability to create infectious songs with a new infusion of rhythmic elements that augment his signature country sound.
"I gravitate towards the sound of a song and it's instrumentation," adds Urban. "On this song I was able to take the elements of sound that I've used before and blend them together into a fusion of spirit and energy."
"Little Bit of Everything" was written by Brad and Brett Warren and Kevin Rudolf and co-produced by Urban and Nathan Chapman.  It marks the first single from an Urban album in nearly two years, the last being his US #1 hit "You Gonna Fly" from Get Closer.
Urban has celebrated two musical milestones in just the past few weeks – performing with The Rolling Stones at the Staples Center in Los Angeles and at Eric Clapton's Crossroads Benefit with John Mayer and Vince Gill (on separate nights) at Madison Square Garden in New York City.  In addition, his recent, fourth annual All 4 The Hall Benefit Concert, which featured the likes of Kris Kristofferson, Jason Aldean, Willie Nelson, Tim McGraw, Eric Church and others, raised $650,000 for the Country Music Hall of Fame and Museum.
Following the conclusion of American Idol this week, Urban will return to the studio to continue recording for his new album.  He kicks off his "Light The Fuse Tour 2013" in the US on July 18th in Cincinnati.