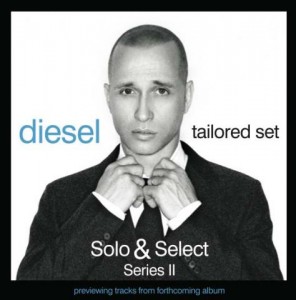 Diesel has been a part of the Australian music scene for over twenty years now and tonight we get to see a special side of him was he gives us a solo & select show, and part of it involving a tailored set allowing the crowd to choose the set via fliers filled out before the show where you select a track. Let's see if my choice makes it in a bit later…
Tonight opening the show is Tim Chaisson who is back in Australia for what feels like the 37th time in the last couple of years and his return is more than welcome. Instantly silencing the crowd with his voice he mesmerized the Vanguard and it didn't stop there. His new album 'The Other Side' is so good and hearing songs from it include newest single 'Bail You Out' which is such a great track that really should be heard by many. Busting out the fiddle and playing it like a guitar for 'Here Tonight' and looping it as he shows off his talent on the instrument. 'The Healing' as endorsed by Leann Rimes (via Twitter) is a perfect ballad but he speeds it back up with 'Speak Easier' and the acoustic rock vibe is alive. With a track co-written with Colin from The Trews 'Come Clean' is one of those songs that when heard acoustic takes on a whole new feeling from the full band version on the album and it was a standout tonight. I really wish more people knew about Tim as he is a talent and should really be noticed and here's hoping that'll happen one day soon on a much bigger scale. 'The Other Side' is the title track from his new album and is a perfect lead in to another fiddle track, this time instrumental and once again with the use of loops. Closing out his set with a cover of Paul Kelly's 'Leaps and Bounds' with crowd sing along included and I think a few new fans tonight. See you soon Tim.
Diesel takes the stage, picks up a guitar and it's on… Opening with 'Darling of the Universe' which really shows you how well this man can sing, not to mention plahy the guitar but that kind of goes without saying. The harmonica gets a run for a simply outstanding version of 'Soul Revival' and hearing it played this way just gave it a whole new life and meaning. For a song that's almost twenty five years old, that is no mean feat. 'All Come Together' had everyone clapping on the 2 and 4, as 'Days Like These' gets booties shaking and then the first cover of the night which is the Bobbie Gentry track 'Ode to Billie Joe' is more blues than clues and rocks the joint. He takes it back down a few notches to give a truly soulful version of '15 feet of snow' and the room is dead silent, in awe at times, and me one of those in said awe. Another cover, this time taken from 'Midnight Cowboy' – 'Everybody's Talkin' and it was a great version truly made his own. So far this is an amazing night of talent and live music to be a part of.
Another round of blues as the slide comes out for a completely changed up version of 'Don't Need Love' which reinvented is a completely different song, and what a song… Now I loved the 'Flesh & Wood' album that Jimmy Barnes did, and from it 'Still Got a Long Way to go' that Diesel played on and actually hearing this for the first time in almost twenty years for me was something else . Throwing in a Muddy Waters song 'Hoochie Coochie Man' and tonight Muddy was channelled, as Diesel worked his way through this blues number and giving us a first real taste of a guitar solo as he ripped through this one. This man can play the blues.
'Come To Me' gets us back on the Diesel train and has everyone singing along and following it up with 'Never Miss Your Water' which really does show us how good this man is on the guitar. When the songs are stripped down to this point you really get to hear the structure of them and this one really shows that. We're just getting hit after hit now and 'Tip of my Tongue' gets the biggest reaction yet and deserved too as the ladies down the front are up dancing. Diesel is joined by Tim Chaisson on fiddle to play out this one and what a perfect fit for this one. As Diesel leaves the stage, will he back? That's the question.
Yes is the answer. Diesel returns with Tim to play a song for us that they wrote together and what a nice little ditty that was and hope it sees the light of day in one way, shape or form. Strapping the strat back on for a Hendrix track, namely 'Hey Joe' (not the one I chose) but wow, justice was given and no guitars were hurt in the playing of this song. 'Cry In Shame' is the perfect way to end the show with an extend version full of solos leaving everyone walking out happy after a night of so much talent and great music. Truly enjoyable and an artist well worth seeing should you get the chance.
Essential Information
Venue: The Vanguard, Newtown – Sydney
Support: Tim Chaisson
Date: May 18, 2013
Website: www.dieselmusic.com.au & www.timchaisson.com
Catch Diesel on his remaining tour dates, all dates with Tim Chaisson:
Fri 24 Brass Monkey, Cronulla NSW
Sat 25  Brass Monkey, Cronulla NSW
Fri 31 Lizotte's, Dee Why NSW
June 2013
Sat 01 Lizotte's, Dee Why NSW
Fri 07 Lizotte's, Kincumber NSW
Sat 08 Lizotte's, Kincumber NSW
Fri 14 Lizotte's, Newcastle NSW
Sat 15 Lizotte's, Newcastle NSW