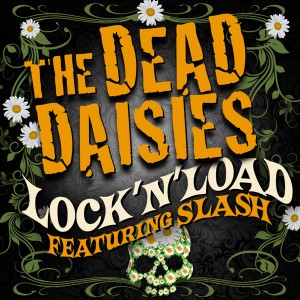 Fresh off ZZ Top's Australian Tour, The Dead Daisies are set to release their lead single 'Lock 'N' Load' (single artwork pictured to the right). Featuring the signature guitar riffs of Slash and laced with Jon Stevens' trademark vocals this classic track will rock you to your very core.
"Slash and I wrote 'Lock 'N' Load' which was recorded with John Fields, who produced The Dead Daisies album. Slash loves the song and the album, and is really happy with the way they have turned out. He doesn't just play on anyone's album… this is a labour of love." – Jon Stevens
Slash recently tweeted on March 23:
'Heard the mix of "Lock & Load." A song Jon Stevens & I wrote. Sounds great. He's recorded it w/his band DEAD DAISIES. W/my gtrs'.
Joining The Dead Daisies directly off the Thin Lizzy Australian tour is Californian, hard rock bassist Marco Mendoza. With a career spanning more than twenty years, Mendoza has played with the cream of the rock industry, including Thin Lizzy, Ted Nugent and Whitesnake.
Hammond keyboardist extraordinaire Clayton Doley (The Divinyls, Jimmy Barnes, Silverchair), also joins The Dead Daisies for the Aerosmith Tour dates.
'Lock 'N' Load' will be released digitally on iTunes on April 19, 2013
Listen to The Dead Daisies: https://soundcloud.com/thedeaddaisies
Watch The Dead Daisies in Rehearsals: https://youtube.com/thedeaddaisies
Jon Stevens:
Jon Stevens' remarkable career as a singer, songwriter and performer has spanned over 20 years and reaped many achievements, including ARIA chart-topping success as the front man of legendary Australian bands Noiseworks and INXS.
In his time as the Noiseworks front man, the band successfully produced three Top 10 singles and four Australian Top 10 albums.
In 1992 Stevens' career took him to a different kind of stage – starring as Judas in the highly acclaimed and successful Australian Musical Production of Andrew Lloyd Webber's Jesus Christ Superstar.
A studio collaboration in 2000, saw Stevens become part of rock band INXS as guest vocalist and embarked on a global tour, which included a 55-day engagement with the legendary Night of the Proms throughout Europe. Shortly after, he was officially announced as the "seventh member" of INXS.
Returning to his solo career, Stevens then forged ahead with new material in the studio, unleashing a further two solo albums – "Changing Times" and then "Testify" in 2011.
Now in 2013 Stevens is the front man of The Dead Daisies, alongside Charlie Drayton, Jim Hilbun, Richard Fortus of Guns N' Roses and David Lowy. This year will also see Stevens taking on the role of Pontius Pilate in the latest Arena Production of Jesus Christ Superstar, which kicks off in May/June 2013.
Charley Drayton:
Charley Drayton is a multi-instrumental musician and producer who has played as a drummer and bassist with various artists including Australian rock bands Divinyls and Cold Chisel.
Following a session for the Rolling Stones' album, 'Dirty Work', he was offered to join Keith Richards' side project X-pensive Winos. Drayton then toured with Richards and the Winos and contributed to their albums "Talk is Cheap", "Main Offender" and their live album "Live at the Hollywood Palladium". Drayton has also worked with the likes of Herbie Hancock, Johnny Cash, Andrés Calamaro, Chaka Khan, Mariah Carey, Michelle Branch, Seal, Iggy Pop, Neil Young, Janet Jackson, Courtney Love, and Simon & Garfunkel.
Richard Fortus:
Originally from St. Louis, Missouri, Fortus is the current guitarist of legendary American rock band Guns N' Roses; handling both rhythm and lead duties since 2001.
He has also collaborated with other heavy metal artists, with the most recent being the role of a rhythm guitarist for Thin Lizzy. Guns N' Roses bandleader Axl Rose describes Fortus as "an amazing lead player and a proven professional".
Marco Mendoza:
Marco Mendoza comes from a very musical family and started playing the guitar at an early age.
He is perhaps mostly known for his work with a number of rock bands and artists such as Thin Lizzy, Blue Murder, Whitesnake, Ted Nugent, Neal Schon and Soul SirkUS, Lynch Mob, as well as diverse artists such as Dolores O'Riordan from The Cranberries. He is currently touring with his solo project and Thin Lizzy.
David Lowy:
Throughout his career, rhythm guitarist David Lowy has played extensively with various Australian rock bands, including Red Phoenix, Mink and The Angels.
Having skillfully performed and co-written songs with Doc Neeson, Lowy was then recruited to be a member of The Angels. "I thought if I was going to get a rhythm guitarist, I'd like to have someone like David in the band," Neeson said. "He had an obvious passion, which I think you need if you're going to make it in the music industry. He just had something special."
Clayton Doley:
Clayton Doley is Australia's finest Hammond organist and is quickly gaining international recognition as one of the top new players on the world stage.
He is constantly in demand for touring projects, even with his own busy touring commitments he manages to tour with artists such as Harry Manx and Eugene 'Hideaway' Bridges, and has in the past toured with Steve Cropper and Donald 'Duck' Dunn, David Garibaldi, Nigel Kennedy, A Camp, Silverchair, The Divinyls, and Jimmy Barnes.
Streams:
Website: https://www.thedeaddaisies.com
Twitter: https://twitter.com/thedeaddaisies
Facebook: https://www.facebook.com/thedeaddaisies
Soundcloud: https://soundcloud.com/thedeaddaisies