"Woke up to the sound of pouring rain…" Literally. It is terrible outside this morning, of all days… This could make for a very interesting day… As the mentioned rain delayed my arrival at the inaugural Stone Music Festival at ANZ Stadium, this is a festival that really hasn't been accepted as much as it should've, I mean and who can blame people, with a headliner like Van Halen who have been known to well, not tour here, people were cautious, but the bands are here, they're ready to rock and let's just hope the weather doesn't ruin what is sure to be an amazing day of rock music, but, with any festival let alone a first like this, who knows what'll happen?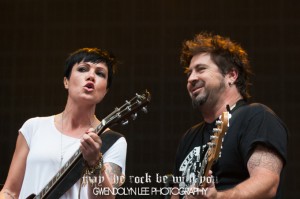 I arrive to hear the newly reformed Superjesus already playing their set from where I am outside and they sound great. I did make it in to check out most of the Superjesus' set and they sounded amazing playing all their hits and to me it was actually like they never went away. I have to say too that straight off the bat, the sound in here is great! As more people start to make their way in, the evil grey clouds seem to be staying away but I'm up here undercover and safe! With Richie Ramone on next it'll be cool to see what he can come up with.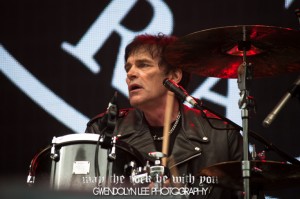 Trying his best to get everyone going Richie Ramone on the drums and vocals throws in The Ramones classic 'Somebody Put Something In My Drink' which he penned and vocally Richie isn't the best singer at all, but his style is pretty cool. As he bounces his sticks off the stage he heads from the drums to the front of the stage for 'Better Than Me' and jumps back on the drums to play the title track from his forthcoming album 'Entitled' as I see more people start to head in to the main arena, which is great, but as lead guitarist Tommy Bolan who once played in Warlock kicks in with a guitar solo straight out of the 80's I hear the best reaction yet from an obviously older metal loving crowd. Closing the set with his version of INXS' 'Don't Change' which is one of my all-time favourite Australian songs, interesting is a good word to use for what I just heard, he punked it up and was a cool way to end the set but a set that wasn't the best thing I've ever heard, although it was cool to see a Ramone up on stage. As the heavens open again.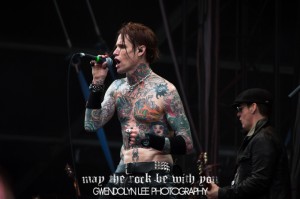 Buckcherry are up next and bang on time, with a 'Fuck yeah!' from Josh Todd and opening with 'Riding' they sound great, thankfully this one is minus the choreography from the video which is just outstanding. 'Rescue Me' is a perfect song that many would be singing about this rain! Taking it back to the beginning with 'Lit Up' which was insane and ripped it up, and how many here first learned of Buckcherry and the band are so good, they are rocking the shit out of this one, as he thanked Jesus after it for some reason, they break into a new track from their killer new album 'Confessions' but of course it's 'Crazy Bitch' that is the stand out and the one that closes their set, and a favourite, if not the best song of the day and one to beat, that was a gimme that they'd play this and it sounded amazing here. If only this set was more than 30 minutes, that's my biggest downfall about it, to come all that way and only get that long, they were just getting warmed up. This is a band that epitomise rock and roll and hopefully they'll be back sooner rather than later.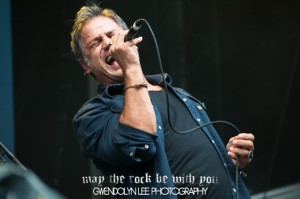 Blue sky! No way! The day may just dry out. Phew. Now it's time for some more Aussie rock with Noiseworks, opening with 'Take Me Back' this to me in an Australian classic and is the perfect way to start as those outside make their way in to come and witness these Aussie legends. 'Miles and Miles' shows that Jon Stevens still has the pipes and knows how to use them. After some time away from playing, the guys are here and give us a new track which is cool to hear as there hadn't been new material from Noiseworks in far too long. 'Let It Go' could easily take on the radio airwaves and should do just that, shame this new song is one they've been playing for the best part of three years, but hey, it's still new until they release it. Through 'Simple Man' and 'Voice of Reason' they power through and show that they are one of our best and suit the stage they are on. As 'No Lies' is cheekily dedicated to our Prime Minister they rock it out with Stuart Fraser showing us how good he is, but they of course end the set with 'Touch' followed 'Hot Chili Woman' which are Aussie classics but they go out with a rockin' cover of 'Rock & Roll' by Led Zeppelin which is flawless.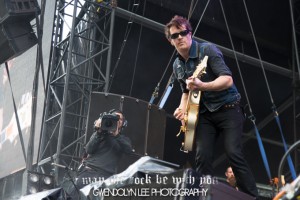 "Sydney let's get stoned…" Chris Cheney says as The Living End waste no time launching into 'Second Solution' which gets the crowd involved then to head straight in to 'Roll On' was perfect. Taking a crack at the Sydney weather, up next is 'Who's gonna save us?' this also saw the a technical problem of the day with a power drop out which he put down to his Melbourne humour but all fixed and a seamless pick up of the song that to me shows the concert prowess of this band and regardless of the hic up they get a huge cheer as 'Prisoner of Society' begins and as they count to three… 1,2,3… they have all here loving it. With some amazing instrumental work including the VB stubbie used as a slide on the guitar which was too cool they get worthy applause and then take on 'Raise The Alarm' and 'White Noise' which are loved by those here. I'm happy to see the crowd starting to grow and hope to see more in here as the day goes on. Closing their set today with 'West End Riot' and the best choice by far with Chris up on the double bass and drummer Andy hitting the ride cymbal like it owed him money and the perfect way to end a great set.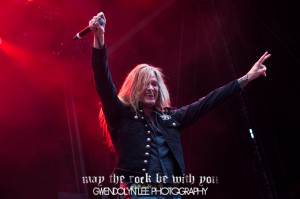 Kings of Chaos are up next. Who? I hear you say… Well check out these names… Sebastian Bach, Joe Elliot, Glenn Hughes, Matt Sorum, Duff McKagan, Gilby Clarke and Steve Stevens…  Yeah pretty awesome huh!!
'Welcome To The Jungle' was the only way this set could start and wow. Sebastian nailed it, of course when the next track is his Skid Row classic 'Youth Gone Wild' and wow. That's all I can say about that. I always get chills hearing that song live and it was just so cool to hear it today with this kind of band. Glenn Hughes takes front of stage and belts out 'Highway Star' from Deep Purple and what a set of pipes this man has. "We put this band together to have a good time. Everybody on this stage fucking likes each other, what do you think about that shit?" says Matt Sorum with a smile. It shows too. This really is a whole lot of fun and a wet dream for a number of people here with the talent from the bands up on stage. Seb joins the stage again to belt out another Deep Purple classic 'Burn' that allows Steve Stevens to showcase his ridiculous talent. As Joe Elliot is introduced, Steve Stevens riffs the intro to Billy Idol's 'Rebel Yell' and it sounds killer with Joe on lead vocals, amazingly the first time they've played that.  The Def Leppard monster hit 'Pour Some Sugar On Me' with all of them up there was fucking amazing too!! That was a highlight, hands down. Ending with an all-star version of 'Paradise City' which was killer as Sebastian, Joe and Glenn traded parts lyrically and lets not even talk about how good the band was musically. The only downside to that set was much like Buckcherry, that it ended far too soon! With the promise of a return in January, I dare say they'll get plenty of love come the New Year.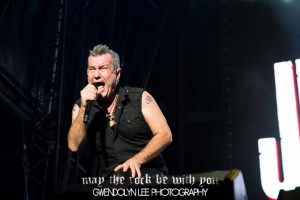 Barnsey!!!! He's turned the volume up with 'Love and Hate' followed by 'I'd Die To Be With You Tonight' which was huge, his band are tight and sound great as they take on 'Lover Lover' and he's just keeping them rolling as its hit after hit with 'Love is Enough' which is one of my favourite Jimmy Barnes songs gets a run. Straight into 'Lay Down Your Guns' which was massive and it just keeps coming with tracks like 'Ride The Night Away' and as he pulls out the Chisel classic 'Flame Trees' to a crowd that loved it and how could they not? Actually that constituted as the first ballad of the night too. Awesome. 'Driving Wheels' is such an Australian song and so suited to the vibe of today. Throwing in 'Seven Days' which is a song Barnsey has covered before was a surprise tonight and sounded great. Then you have something like 'No Second Prize' which is one of those songs that is an 'anthem' of sorts to many and it rocked hard tonight. Up next is a new one I think, haven't heard it before, it was something 'Khe Sanh' or something? This could be popular… I kid, now talking about anthems, THIS is an Aussie institution and I think he wouldn't have made it off the stage if he didn't play it today. 'Working Class Man' is just the best way to finish his set as it's pitch black now and the crowd are pumped. You've gotta love Jimmy Barnes.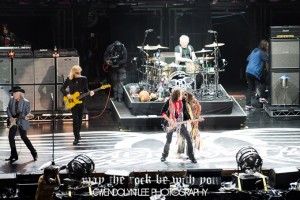 I've been waiting around 23 years to see Aerosmith and tonight is a tick off my bucket list of bands I needed to see live. Running a little late, but who cares, it's Aerosmith…
Opening with 'Draw The Line' you can tell that these guys have been doing this for more years than you can count, they instantly sound amazing and Steven Tyler is a, no wait, THE front man, from the first second on stage, he just oozes it. 'Love in an Elevator' has us all 'whoa ohing' and 'whoa yeahing' and giggling like schoolgirls at the excitement of it, well, I was, can't speak for everyone else. 'Jaded' was a great addition to the set and showed us that Mr Tyler still has some amazing vocal abilities and then the obligatory new one 'Oh Yeah' sounded awesome but always tough when you throw in a newie to a crowd just wanting the hits, although no sooner said than done we get 'Cryin' and it sounds phenomenal, these guys are professionals. To me, it's like I've just put the record on and that's a talent to sound that good. 'Livin' on the Edge' another wow moment, then 'Last Child' was great but 'Rag Doll' was outstanding. Joe Perry takes lead vocals on a nice little bluesy cover of Fleetwood Mac's 'Stop Messin' Around' dedicated to Boston. Then of course the massive hit 'I Don't Want To Miss a Thing' got a huge reception and rightly so as it was played to perfection and when it was your last huge hit you'd want to nail it. Throwing it back to 'Toys in the attic' with 'No More No More' then my unexpected song of the night 'What it Takes' is up with Steven starting it solo as the band joins him to play it out. There's been a few covers tonight but this one of 'Come Together' is one of the best,  and it hits that sexy groove that Aerosmith do so well. 'Dude Looks Like a Lady' followed by 'Walk This Way' sent the crowd into a frenzy and just watching the stage presence of the band in particular Steven Tyler is something special. As the band heads off only to return as a grand piano is wheeled onto the stage and it's 'Dream On' time and whoa, hearing the man sing that song and hitting the notes like he's supposed to was something you need to see. 'Sweet Emotion' was a great choice to end of the set, Please please please don't make it another 23 years before making it back, the crowd are in awe, seriously, to the point of many saying. Ok Van Halen what have you got?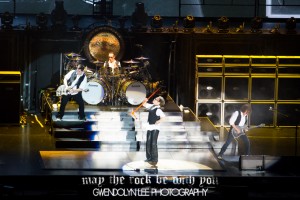 Well for starters the first time that Van Halen have been here with David Lee Roth and Wolfgang Van Halen, also the fact that it's their only Australian show. Sure there may have been doubts about them coming due to a couple of precious cancellations but tonight they are here and those that are here tonight to see it are hopefully in for a treat!
Lights dim and the band emerge almost in uniform all dressed in the same get up, David Lee Roth comes out spinning his mic stand like a baton as Eddie Van Halen's unmistakable guitar tone shreds before they kick off their set with 'Unchained' and welcome (back) to Australia Van Halen. 'Runnin' With The Devil' came earlier that I would've expected… then… a newer one from their last album, 'Shes the Woman' is up and sounds like the VH of old and fit perfectly in the set as did 'Tattoo' which sounds better live than on the record in my opinion plus it lets Eddie show off again which really isn't that hard or take much effort. 'Everybody Wants Some', 'Somebody Call me a Doctor' and 'Chinatown' all sound great and I have to say, if there's one thing you can't fault these guys for its their musical ability, seriously ridiculously good, but my only complaint so far up here is that is sounds great but the bass is about to cause an earthquake and Eddie is turning up his guitar as we go at times drowning out Diamond Dave's vocals, but it's not too bad. Now of course, to the surprise of some it's all David Lee Roth material tonight, so some of these more obscure songs are received nicely but 'Pretty Woman' is a favourite indeed as the crowd start to run for cover from the rain, with some not returning, Alex Van Halen treats us to a very Latin based drum solo, then straight back into another cover in 'You Really Got Me' which really got them going, pun intended. The little sing off guitar solo between DLR and EVH was cool as they 'Dance the night away' which allowed the vocal harmonies of the band to shine through, the obvious missing of Michael Anthony's harmonies is there but with Wolfgang there making it a real family affair I guess it makes sense. 'I'll Wait' kicks in with a driving drum and bass line that you can feel… "Hello I'm Mr Roth and I'll be your instructor tonight…" as 'Hot For Teacher' gives Alex a workout and the crowd a much needed one they actually know, and Eddie, just effortless. 'Beautiful Girls' followed by an interesting rendition of 'Ice Cream man' with DLR on the acoustic guitar thankfully the band come back and save it as we got a bit lost there. Oh thank you. 'Panama' time, perfect redeeming factor from a set that has slightly lulled. After waiting so long to hear that song live, it was so good to hear it tonight. A sea of mobile phones and cameras are hoisted up to capture Eddie doing 'Eruption' and man, just how? This guy is a freak or not human, it's one of those two. I swear he yawned at one point. 'Ain't Talkin'bout Love' followed by 'Jump' is the best way to end the set tonight, and of course 'Jump' was the best received song of the night. As confetti cannons fire and DLR waves the checkered flag to signal the end of the set and the day the elusive Van Halen have done it. They've played in Australia. Amazing.
Day one is done and wow, what a day. Those that took the punt to come today got a show, those that weren't here, you missed out.  Some minor (in my opinion) sound issues were the only hiccup of the day and for something this size, that's pretty damn good. Can day two live up to the first? With a line up much different to today, but with some guy called Billy Joel headlining, I'm pretty sure those heading out for day two are in for a treat.
Stone Day 2:
Obviously after the rockin' day yesterday it'll be hard to compete with that but with a new day comes a different crowd and as I'm the one that looks out of place today and look around at the crowd and the much older demographic, it'll be a great day but a completely different day. With the cancellation of Lifehouse today and many disappointed by that, let's hope what we do get overshadows that. Oh and the sun is out today which will make the day a whole lot better already.
Starting the day later today, Illumination Road from LA take the main stage at 3:45 and I have to say, they're good and doing their best to get everyone going. A blend of country and rock is really a good thing as they create their own modern sound that is so prominent these days, but then at times turning into a classic rock band with that vintage rock meets Pearl Jam kind of feel, they are onto something. I have to say, it would be a tough gig to start the day and in particular to this much smaller crowd but the guys were well received and liked and definitely worth hearing more from.
Mark Seymour started with a bang, literally with the loudest acoustic guitar ever, thankfully that was fixed very quickly and he rolls through his set including Hunters and Collectors hits such as 'When the River Runs Dry' and of course everyone's favourite 'Holy Grail' which got the most love of the day and rightfully so. With only a five song set he ends with 'Westagate' it's a shame that it ended so soon as he was just getting started but when you only have 25 minutes, you get that.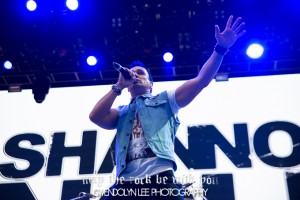 Shannon Noll started by getting 'Loud', quickly showing us he can 'Shine' but then how easily he gets 'Lonely' by throwing in a big ballad for us all. He then gave us all a 'Lift' in his big black shiny car as he took us on a 'Drive' in an attempt to 'Switch me on' and left everyone else saying 'What About Me?' See what I did there? In all seriousness, Shannon really is a pretty good rock singer, essentially he's like a Jimmy Barnes and can deliver. He was a great choice for the day and to hear everyone singing 'What About Me?' was a pretty cool moment.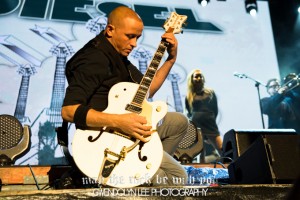 Diesel is making his acoustic guitar squeal like an electric at the moment and that's just crazy. I've been a fan of his since he was a Johnny and had some Injectors so it's always great seeing him play and man can he do just that. He changes up one of his injectors classics 'I Don't Need Love' making it a bluesy rocker. 'Man Alive' is given the same treatment but as he shows us just how good he can play, he then brings back the acoustic for 'Tip of my tongue' as he does his best Tommy Emmanuel and bashes it like a drum as he gets the crowd loving it. 'Cry In Shame' has everyone singing and it's great to hear as he shredded on that guitar like it was the last thing on Earth. Today is already shaping up to be awesome.
Venturing out to the independent stage and so very glad I did as Dallas Frasca, wow, too cool. With a voice that rocks harder than diamond Dallas is amazing, she's engaging the crowd and drawing everyone that's here into it. With a guitarist who looks like Scott Ian's long lost brother, the band are killer. With only the drums, guitar and now Dallas on guitar that's all they need. What a voice, so impressed. This is a voice to look out for, stoked I ventured outside to see her set.
Guy Sebastian isn't a guy (pun intended) that we'd usually cover on MTRBWY but I thought I'd check him out in between sets and glad I did. His set is really rocked up, thankfully. He does have a great voice and the few songs I saw showed why he was our first Australian Idol almost ten years ago. Ok now I'm back out to rock with Stone parade.
In the file of 'should be more famous in Australia' I present to you, Stone Parade, a band that have been around for years and are slowly but surely making waves. It was great to see them getting some good numbers out here too, when you've got a band on the band stage it's hard to compete but the few songs I saw were rockin indeed and definitely a band to watch, their sound is modern, fresh and ready to take on the world.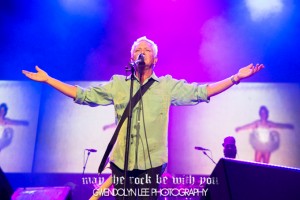 Icehouse. One word sums them up, 'Legends'. Opening with 'We Can Get Together' to get the crowd going but it really took 'Crazy' second song in to get them really started, to think that song is now over twenty five years old and still stands up today and is awesome in this environment. 'Hey Little Girl' takes it back further and then BAM 'Electric Blue' and I'm as happy as I was crazy before, for me the 'Man of Colours' album was where it was at back in 1987, so hearing these hits from it tonight is just the kid in me going nuts. Now the amazing Michael Paynter who has been with Icehouse for a while now takes lead vocals on the title track of the aforementioned album 'Man of Colours' and that was hair raising material. He hit it out of the park, way out and everyone here agreed. Iva is back and 'Don't Believe Anymore' which was a great version with some amazing saxophone work thrown in for good measure. Now 'Great Southern Land' is the other unofficial national anthem of Australia, yesterday it was 'Khe Sanh', today this. People are standing and as they should. This is a classic. 'Cross the border' was cool but 'I Can't Help Myself' was definitely a favourite tonight, then throwing in a cover of 'Get It On' by T-Rex to get everyone up dancing, was great but far too long. Closing the set with 'Nothing Too Serious' which was perfect and showed everyone that this band still has it, here's to more Icehouse.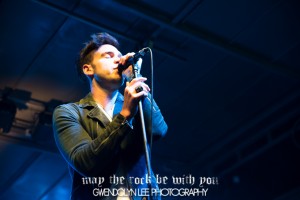 London Cries, formerly known as Juke Kartel are another band that should be ridiculously famous, seriously, you'd be hard pressed to find a better band that aren't already all over the radio and TV. They really are up there as one of the best in Australia and in my opinion should've been up on the main stage and would've easily filled the slot that Lifehouse left vacant. Song after song could be all over the radio and as the stand out is when they give us an amazing version of 'If Only' with harmonies that could melt any heart they show that they know not only how to write a song but sing them also. 'Throw It Away' is the one that everyone knows and how this wasn't huge still baffles me. Toby Rand has learned from his heroes and is destined to be a front man that people truly take notice of, heck, they're doing it now, imagine when they break. Support these guys!!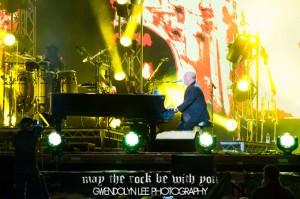 It was time though to head back into the main stage for today's headliner, the one, the only, Billy Joel!!!  Opening with 'Miami 2017' and I'd forgotten just how amazing his voice is live. 'Pressure' is up next and it sure is as his piano playing skills haven't wavered that's for sure, 'Movin' Out (Anthonys Song)' sounded as good as it ever has, especially for a song thirty six years old… With "a real old fashioned rock and roll fuck up…" stoping and restarting 'The Entertainer' after a false start was great but 'My Life' was fun to watch as there were people dancing and heads swaying in unison. 'Allentown' yes!  Love that one and I have to say that I'm really loving the way Billy introduces every song by its album name and year, its classic. A nice impromptu cover of 'Born to be Wild' after Billy's confusion as to headlining a festival named after a biker film but hey, can't say anyone else has probably ever heard him do that before. Through 'Don't Ask me Why', 'Zanzibar' which were perfect additions and 'Always a Woman To Me' which he called another biker anthem and one he sings on his Harley all the time with his tongue firmly planted in his cheek. 'Keeping The Faith' brings the tempo back up, then 'Scenes from an Italian Restaurant' was as epic as a Billy Joel song can get. 'River of Dreams' was loved as Billy takes to the guitar and front of stage for 'We Didn't Start the Fire' and he nailed it, all of it which is no mean feat. 'Highway To Hell' was a fun cover with lead vocals taken by his roadie Chainsaw but became even better when Jon Stevens came out to take on some vocals.
'It's Still Rock and Roll To Me' followed by 'You May Be Right' was everything you could ask for. Then to throw is 'Only the Good Die Young' as an encore was amazing. Of course he ends the show with 'Piano Man' and I have no idea why, but I was getting worried he may not have played it, silly me. I have to say that Billy Joel is that good, he honestly just makes everyone else look like amateurs. This was a great set tonight and a pleasure to see a legend of the industry. With rumours he may stop touring, I'm glad that those that came out tonight got to witness this set from a true professional of the business.
So that was the Stone Music Festival and for a first run, well done. Yes there were some bumps, and some confusion, but let's hope they take away the feedback and come back in 2014 with a line-up that smokes this years. Oh it's possible… but I had a great weekend and from the rumblings outside after the shows, everyone else did too, besides some mixed feelings on sound, the overall was positive and I'm stoked I spent my weekend with these amazing bands.
Essential Information
Venue: ANZ Stadium
Date: April 20 and 21, 2013
Website: www.stonemusicfest.com
Photography by Gwendolyn Lee – Full gallery to follow