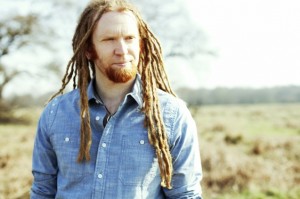 In my final Bluesfest sideshow I'm here at the Metro for a nice chilled out night of acoustic rock in the guise of Newton Faulkner, a performer I've not seen before and am looking forward to doing so as I've been a fan of his work for quite some time, always intrigued by the one man band aspect of his work I am settled and ready to see what the night has in store.
Opening the night are Reese and Sam from Jolan who are showcasing some acoustic versions of their bands songs and they're doing a great job of it. Keeping the crowd entertained with banter and easy to listen to songs, they are a band I'll happily now scout out. Throwing in a version of 'Billie Jean' by Michael Jackson for good measure which was I must say arranged quite well and of course was the best received.
Morgan Joanel takes the stage and the crowd hushes as she begins her set showcasing her looping talent and her vocal talent with 'The Last High' the first single taken from her new EP 'Borrowed & Blue'. Now, I've seen Morgan before but what I enjoyed tonight is that she has now included a drum pad in her 'band' this has helped to give the songs life and fill them out with her loops and perfectly sung self-harmonies. Her set is a perfectly chosen array of her originals as her song 'Alcohol' receives a great reception as does 'Take My Heart' which is a song I'd love to hear in a full band environment. Through her songs 'Fall At Your Feet' and the closer 'What I Am' Joanel shows us she has the talent and the stage presence to do this on a stage of this size if not bigger. Definitely one to watch, and by the line at the end of the night of people buying her EP, I think she made an impression.
The Metro is now pretty much packed as the eager crowd get ready for Newton Faulkner to take the stage. He arrives in odd socks and with a "Hello I'm Newton Faulkner and this is a song…" he starts with 'Pulling Teeth' which not only shows his talent vocally and on the guitar but as his left foot handles kick drum duties he has the crowd practically silenced during this and I get the feeling that 'practically' will become 'totally' if the remainder of the set is anything like this opener.
'To The Light' from his debut album has the diehards singing along and 'People Should Smile More' is a song he hasn't played for a while but thankfully tonight he has as those here all know it and love it which I think took him a back a little. After some story time explaining the song and his reasoning for not playing it for a while, it captivates the audience with humour and a perfect delivery, for me this is the kind of artist you could just listen to talk and I think everyone here would agree. 'Against The Grain' sounded great but as he splits the crowd for some participation with 'Clouds' I have to say how pretty amazing that was, although it held nothing on the reception that his cover of Massive Attack's 'Teardrop' received though. 'I Need Something' once again shows his skills on the guitar and even a tuning break received applause but I did have to chuckle as the lady behind me said "this is the best song ever…" she's sold.  'Long Shot' once again silences everyone and as I look around at everyone and their gaze set on the stage, they are mesmerized by him and rightfully so. This man has talent.
'Sugar In The Snow' has his right foot working on the 'flute' well a sampled one that is and obviously happy with the previous crowd participation he tries again and succeeds, in fact I think he just wanted to see if he could do it again. 'Bricks' is flawless but 'Soon' is where his talent is just insane as he tunes the guitar up and down mid song for the parts but the elements here are worthy of the four seasons as he pretty much has them all. I'm actually blown away by his talent.
'Dream Catch Me' was the introduction of Newton to Australia and man did this song get played to death on the radio for years, I have to say I actually switched it off a lot back then, but hearing it tonight with a single acoustic it took on a new life, and to me sounded like how it should be performed forever, it won't be switched off again for a while. 'Write It On Your Skin' from his newest album packs a punch as the kick drum gets a workout and I'm not even kidding when I say that this is one of the best crowds I've ever been in in terms of participation and downright respect for an artist. Plus seeing the entire floor jump during an acoustic set was just amazing, oh yes, he had them moshing.
Explaining his 'love' of the encore system to laughs and cheers as he hides behind his guitars only to pop back up he announces there are three songs to go and those being 'Pick Up Your Broken Heart' which was lovely and silenced the crowd as they slowly worked up the nerve to sing along but a cover of 'Bohemian Rhapsody' was unexpected and sounded like it was his tonight as the acoustic arrangement suited it too well. Ok that was just so cool, he got them head banging at an acoustic show that is too awesome. Closing the show with 'I'm Not Giving Up Yet' and a crowd that can now go away happy. I kid you not when I say that was probably the most entertaining show I've seen this year. Thankyou Newton.
Essential Information
Venue: The Metro Theatre – Sydney
Supports: Jolan, Morgan Joanel
Date: April 9, 2013
Website: www.newtonfaulkner.com & www.morganjoanel.com
Set List:
Pulling Teeth
To the Light
People Should Smile More
Against the Grain
Clouds
Teardrop (Massive Attack cover)
I Need Something
Long Shot
Sugar in the Snow
Bricks
Soon
Dream Catch Me
Write It on Your Skin
Pick Up Your Broken Heart
Bohemian Rhapsody (Queen cover)
I'm Not Giving Up Yet