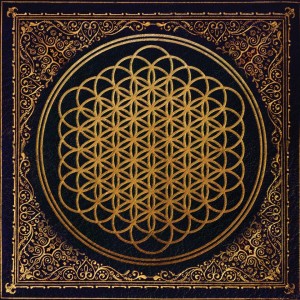 In this day and age its almost inevitable, the album leak, I don't like it, think it's completely unfair, all I know is that artists take a lot of time and money creating an album for their fans and when those months of labour and love are just given away well you can kind of see how that's a little unfair. Anyway, my rant is leading to the fact that this new album from Bring Me The Horizon leaked while they were on tour in Australia in February, and because of that we can hear the album now, officially… which is great and hopefully others will be ready to go and grab the album as it's out everywhere now, and as I'm only two songs in I already suggest you go out and grab this straight away!  From the opening ten seconds of the album this is instantly huge and only going to get bigger as it goes on, I can just tell.
This really is as solid as an album should be, for me there is no lull, there is no filler, in fact it's even hard for me to review in my usual way of hitting track by track as each one is just as good as the next and it would be one hell of a repetitive review if I did that. So instead, let's talk about the sound and the style on 'Sempiternal' as this is one heavy record, man, and for me it's some of the best hardcore style rock metal whatever you want to call it that I've heard in a long time, as you take the blending of the electronica and almost haunting keyboards to set the tone for these songs and they are the perfect backbone to these tracks and really give them the feel this album needed. 'Sleepwalking' you may have heard before as one of the singles, as was 'Shadow Moses' with its hooks and epic breakdowns , these are both perfect choices to show the world what Bring Me The Horizon are capable of on this album and people should be taking notice. The production on this album is a stand out, every part works and the structure of these songs is exactly as they should be, major props to Terry Date who has worked with more bands than you could even think of including the likes of Pantera, Slipknot and even Limp Bizkit… so his work truly shines here and his spin is one that was well needed for the BMTH boys.
Even when the album slows down for 'And The Snakes Start To Sing' it is still a perfect balance to the monsters surrounding it, but it of course explodes into its own beast. There really isn't much to fault here on 'Sempiternal' and that's not just because everyone else is saying so, it really is pretty fucking good! Oh I will mention 'Anti-Visit' though as this is my favourite on the album and sounds like the best song the Linkin Park never wrote, I actually felt the need to run in a circle for a moment, and that ended badly, but that's a story for another time, all I can say is I pity any mosh pit when this is played as shit will get more totally wild than Ranger Stacey ever was! The album slows somewhat at the end with the almost seven minute epic 'Hospital Of Souls' and it's a thankful slow down after the absolute annihilation of any hearing I had remaining due to the volume this album is being played, but if course sooner said than typed, we get heavy… ahhh it was to be expected. They have bionic hearing now, right?
So, it is a well-deserved round of applause for the Bring Me The Horizon boys, you've done your country proud, now go out there and take over this genre of music, with these forty five minutes you've just shown many, many bands how it should be done.
Essential Information
From: Sheffield, UK
For fans of: Rock / Metal / Hardcore
Release date: 29 March 2013
Record label: Sony Music Australia
Producer: Terry Date
Website: http://www.bringmethehorizon.co.uk
Track listing:
Can You Feel My Heart
The House of Wolves
Empire (Let Them Sing)
Sleepwalking
Go to Hell, for Heaven's Sake
Shadow Moses
And the Snakes Start to Sing
Seen It All Before
Anti-vist
Crooked Young
Hospital for Souls