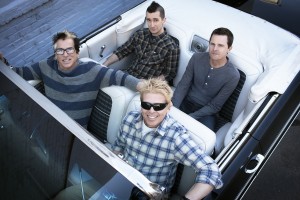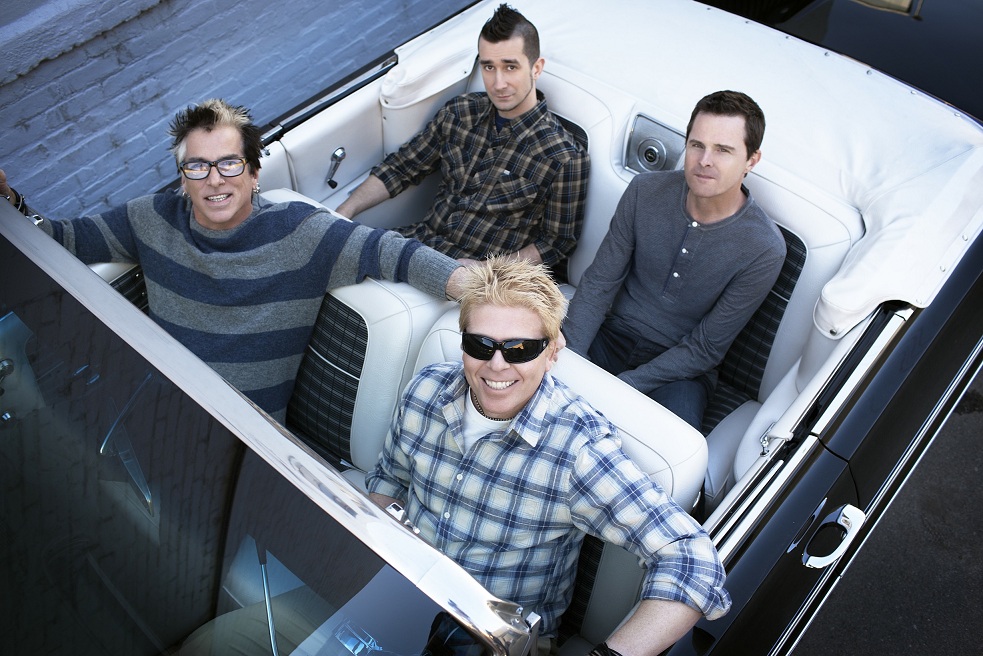 A sold out crowd at the Enmore tonight for the last of the Soundwave Sidewaves in Sydney sees The Offspring in Australia for the first time in five years, here to play their 1992 'Ignition' album in full as well as some hits, and judging by the eager crowd here tonight, we are already in for a great show. As I watch T-shirts being sold like they're hotcakes you can tell this band is truly loved by Australia and they've been sorely missed. So I'm looking forward to watching the way these rabid fans react when the band starts playing… Oh and it's my first time seeing the band too, so this should be fun!
In an interesting beginning to the show, the band graces the stage and says hello and introduces the 'Ignition' show and from the opening song the band sound great and super tight, Dexter's voice is exactly as it should sound, I'm not lying when I say that he sounds exactly like he does on the albums, and that's great in case you were wondering.  As they tackle 'Ignition' the first two tracks they rip it up but as they tear into 'Kick Him When He's Down' the mosh just gets a little crazier as this straight up punk rocker is entertaining not only the band but those here. Admittedly the 'Ignition' album wasn't big here, in fact Australia didn't really know who The Offspring were until 'Smash' was released a couple of years later, so actually getting to hear it played is kinda cool as those that may not know it that well are getting introduced to it right now. What's entertaining for me is watching the crowd becoming rowdier and rowdier after each song and I am looking forward to seeing just how they react when the hits part of the night begins, and the thing is, regardless of knowing the material off this album the band sound amazing tonight. Noodles has now three times introduced his favourite song from the album which is funny as they've been three separate songs. 'Get It Right' was in fact my favourite so far and many here agree with me, that was rockin'. As they now hit 'Dirty Magic' which they've re-recorded for their new album but tonight played of course it in its original incarnation and kicks ass oh and amazingly Noodles' favourite… As crowd surfer after crowd surfer gets passed over the barrier this crowd is peaking early and it insane oh and look at that, a mini circle pit has just formed… at The Enmore. Wow. As the drums intro the next track the crowd are clapping and whoa ohing along from the get go and it was played fast and Dexter says 'Now that's MY favourite' I guess these guys just love their 'Ignition' album and that's so cool to see. As they continue to belt out song after song they've sold me and the first thing I'm doing when I get home is jumping on the iTunes and getting me some 'Ignition' as when I see that a band loves an album as much as you can tell these guys do it actually makes you want to get involved and be a part of it too, albeit twenty years after its release. Closing the Ignition set with funnily enough the album closer, 'Forever and a Day' with the promise of retuning shortly to play some 'other The Offspring songs' they send this one off with a bang and turn off the ignition.
A random intermission for ten minutes and here we go. Oh wow and the light show starts now too as 'What I Want' tears us a new one as then we're told to dance fucker dance and hit them right between the eyes with 'You're Gonna Go Far, Kid' and it's painfully obvious that majority of the crowd are here to hear these songs tonight. Punking it up a bit with 'Mota' for all the 'pot smokers' before hitting us with the title track to their newest album 'Days Go By' and it's great to hear it and cool to know that people here know it, you know, sometimes the new stuff doesn't really get any love, but what I enjoy about this song is the maturity of it and you can tell this is new as it sounds like the band has grown. As Greg K hits the bass and starts 'Bad Habit' the floor has just gone mental with some excellent crowd participation, especially the 'Stupid Dumbshit Goddam Motherfucker' part. Ok now here's the song they've all been waiting for. 'Come Out and Play' is without doubt 'you gotta keep 'em separated' sorry got distracted and had to join in. As I was saying this is without doubt their most well-known song and the one that launched 'you gotta keep 'em separated' them to where they are today. It's played like it was back 1994 and 'you gotta keep 'em separated ' it was truly awesome.  Another new one with 'Turning Into You' from Days Go By and as good as it was this was a hard one to get them going just coming off that last high. The high has just returned as has the crowd sing along for 'Spare Me The Details' and they LOVE this one. Speeding things up with 'Staring At The Sun' and just like that they head off stage. Well that was quick…
They're back and they're 'Pretty Fly for a band of white guys' (pun intended) and I remember when this came out and was huge and I'm pretty sure a lot of those here tonight remember too as this is wild. Rocking it straight back up as they're so good doing in balancing the fun songs with the rock they belt out 'The Kids Aren't Alright' and every whoa oh gets louder each time and it's so cool. As we get the insert city name as better than last city name to a round of thunderous cheers, we are set the challenge to sing the last song with the band and as 'Self Esteem' is up and ok wow this is sweet, and the entire floor is singing and jumping up and down during the chorus and it's pretty special, there is so much love for this song and this band right now. I think they know it too. Dexter takes the last part of the song to end the night.
I'm not going to lie, I'm really impressed with The Offspting tonight, they sounded fucking awesome and delivered to me what a live show should be. It was fun, entertaining and just damn good.
Check out our interview with Noodles from The Offspring HERE
Check out our review of 'Days Go By' HERE
Essential Information
Venue: Enmore Theatre – Sydney
Date: March 8, 2013
Website: www.offspring.com
Setlist:
Session
We Are One
Kick Him When He's Down
Take It Like a Man
Get It Right
Dirty Magic
Hypodermic
Burn It Up
No Hero
L.A.P.D.
Nothing from Something
Forever and a Day
What I Want
You're Gonna Go Far, Kid
Mota
Days Go By
Bad Habit
Come Out and Play
Turning Into You
Spare Me The Details
Staring At The Sun
Pretty Fly for a White Guy
The Kids Aren't Alright
Self Esteem