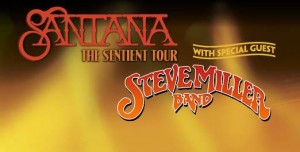 Here I am again at the Sydney Entertainment Centre for more Bluesfest side show love and this time for the combination of two artists who have been making music longer than that piece of string that no one knows the length to! This is sure to be s pretty special night of music.
The giant Space Cowboy sheet covers the stage as The Steve Miller Band take the stage with 'Jungle Love' and this smooth style of classic rock is just what this night needs to kick off. It's funny as I'm sure that it's tough to name any Steve Miller songs other than your standard hits, but as 'Take The Money And Run' is up, and a 'oh that's them' cheer is heard, I'm sure we may in fact know a lot more than you think tonight. His voice is still there and the band sound tight tonight as they play through 'Further On Up The Road' with its bluesy feel and then it's time for 'Abracadabra' which is earlier than I'd expected but just so damn cool to hear. You know, I have to say, the band is great but I am completely mesmerized by the other singer in the band. His dance moves are outstanding and he's a focal point, it's too good to not watch as he bops around to the music. This guy loves his job that's for sure and coincidentally it's his turn to take lead vocals on the next track, and the cat can sing. Sonny Charles you are awesome.
'Shu Ba Da Du Ma Ma Ma Ma' gets funky on us and borders on prog rock as we go back to 1968 for 'Kow Kow Calqulator' and for a guy who's 69 years old, he sounds pretty damn good. After an amazing story about the food backstage and rib preparation 'Ooh Poo Pah Doo' is dedicated to the chef of said ribs and Sonny taking the lead again gets the crowd clapping along. 'Serenade' showcases some guitar talent from Mr Miller and some great harmonies from his band as they take a break leaving Miller solo on a stool with his acoustic guitar for a beautiful rendition of 'Wild Mountain Honey' and then bopping it up a little for 'Gangster of Love' staying up there on the acoustic for 'Dance Dance Dance' which is quite good actually and ends the solo acoustic part of the evening as the band returns to the stage. Playing 'The Window' which he calls a forgotten song and one that no one will know but to me sounds like Abracadabra slowed down. Not sure why you'd throw in an unknown but hey, it was pretty good, so I'll shut up.
The acid trip keys kick of 'Fly Like An Eagle' and this one, not only a big hit but it tonight allows the members of the band to showcase some of their talent, in particular the man on the keys. But as 'Jet Airliner' takes off (pun intended) it gets some of the crowd on their feet and rightfully so, this one still rocks today and it scores the best reception of the night so far. Now, some people call him the 'Space Cowboy' well actually we just call the song this as they rip into it once again with some stellar stage moves from Sonny. It's the pointy end of the set as 'Rock'n Me' starts to a huge cheer and it honestly sounds like its straight off the record as Millers voice is so good. Some crowd participation keeps this one alive as we keep on rockin baby baby baby.
The worlds shortest encore break sees the band back on stage for 'Swingtown' which was cool but also a lead in to band introductions and to the song we all wanted to hear. 'The Joker' and I'm happy because we all got to do the 'whoop woo' bit. This is just a classic song and to hear it tonight was pretty cool. "Peace, love, happiness, take care of each other, see you round the block." are his parting words to us and he is thanked with a standing ovation for a great set of classic rock.
Carlos Santana takes the stage dressed in a white suit and wastes little time as the Latin rhythms start with his ten piece band instantly all over it. This is going to be an insanely musical night and I mean that in a good way. It's evident from the get go that these are all good players, and when you have a band leader like Carlos Santana out front who is right now ripping into a little bit of 'while my guitar gently weeps' you'd want to be on your game. Plus you know you've got a good band when you can have a trombone solo in your set.
After the instrumental introduction to the man and the band, 'Black Magic Woman' is the perfect choice to keep us going. What a great song with vocals traded off between his two singers, they did well with this classic. The set moves back to the instrumental side, which is to be expected and it's just damn good. The band is tighter than a clove hitch and it's actually amazing to see a gig of this scale and watch these musicians play so well.
As Carlos greets the crowd and thanks us no less than twelve times, you can tell he's happy to be here and blessed to be playing here tonight and in general. Arming the acoustic guitar the band jump in to 'Maria Maria' much to the love of many here, they nail it, once again using the duelling vocals. As we continue on, they are easily able to get the crowd to their feet with 'Foo Foo' and that was pretty awesome to see, but just like that they slow it right back down, to an almost jazz pace as he gets a little spiritual and dedicates the next one to his late mother turns into a monster instrumental which was just a delight to hear.
Cover time from a band that were 'always trippin' The Doors, as Steve Miller joins the band on stage to bust out 'Break On Through (to the Other Side)' which for not really a huge Doors fan, this was absolutely kick ass. As Steve Miller and Carlos trade parts it's great to see two main stayers in the industry for so long to be up there together and enjoying what they do. That lengthy jam was pretty damned impressive.
As what sounds like the Dexter theme kicks in, the ladies are in love and up and shaking what they've got, after that we get a bass and drums solo and this bass player is a freak, not to mention the drummer who is just as good as we can see Carlos up on stage just watching his band mates play. That to me is a nice little sign of respect. As he talks through the importance of rhythm, we are transported to Africa with some tribal beats that are balanced with the guitar and giving us some amazing music in the way of 'Jingo' as the band trade off percussion parts, it goes back to what I was saying earlier about how good the band is as musicians. They haven't dropped a note tonight.
Ha ha it's about time, here we have a little track called 'Smooth', and although it's Rob Thomas-less, these singers do a great job tonight as they trade verses and make everyone here that was here to hear this song very happy. Santana once again just flies through the song effortlessly as he has with every other tonight. The musical outro is great as they get Latin again on us…
Back for an encore to round out this two hour set and another instrumental and it's fair to say that Carlos Santana is one of the best guitarists around today and has been for quite some time. His style is instantly recognizable and his tone just the same. I'm glad I got to see this set of amazing musicianship tonight.  No thankyous no goodbye, a simple wave and the night was over.
Essential Information
Venue: Sydney Entertainment Centre
Date: March 27, 2013
Website: www.stevemillerband.com & www.santana.com
Santana Set List:
Toussaint L'Overture
Love Is You Love Is Me
Black Magic Woman / Gypsy Queen
Oye Cómo Va (Tito Puente cover)
Maria Maria
Foo Foo
Josefina
Europa (Earth's Cry, Heaven's Smile)
Break On Through (to the Other Side)(The Doors cover) (with Steve Miller)
Trinity (with Steve Miller)
Corazón Espinado
Jingo
Smooth / Dame Tu Amor
Woodstock Chant
Soul Sacrifice
Bridegroom