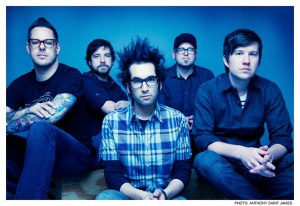 Sydney. Thank you for your amazing last day of summer and your ridiculous rain that currently sees me in a cab stuck in traffic on my way to the Factory Theatre to catch Motion City Soundtrack, The Early November and hopefully Deaf Havana, but that all depends on how fast Mr Cab Driver can get me there.
Ok. I made it… with one Deaf Havana song to go… Well, sorry about that guys, I tried. I have to say though, what I did hear I liked, so let me tell you about the last song… See now I'm really annoyed as this band has a great sound. This reminds me of in some parts a Coldplay song but get this, better than anything Coldplay could want to write. There is a rockier edge to it with melodic choruses that inspire hope in me that good music is still being made. Some great vocals and great technique have with one song now made me want more. I apologize for not seeing it all but thank you for at least one tune.
The Early November are from New Jersey so that gives them points in my book already. On their first trip to Australia, this makes me happy as I've heard that said a bit from artists this year on the Soundwave bill and I really have to give those guys credit for taking a chance and allowing bands to come here and play for their fans as well as win many over, well hopefully anyway. I mean, they're getting me as I've never heard of them before and after each song the applause get louder and the participation increases. These guys have such a good sound in somewhat of a mix between Dashboard Confessional, Jack's Mannequin and Jimmy Eat World but man, they make it work to their advantage. The songs have hooks, with great vocals and a three guitar sound that fills the songs with a great mix of clean tone and distortion. Aside from that they have a crazy bass player that decided to jump from the top of a speaker stack to the stage, so he's one to watch that's for sure. The band somewhat disappointed that an invite to Chris Lilly on twitter went astray but that was quickly forgotten as they get back to the tunes with 'Decoration' and 'Baby Blue' which many here seem to know which is great. I really like these guys. Time to add some Early November to my collection I think.
It's actually quite a good crowd here tonight that have headed out for some indie alternative pop rock or however you can categorise these bands these days! Never seeing Motion City Soundtrack before, but being a fan of their work I'm looking forward to seeing one if the bands I purposely missed on Sunday as I knew I was coming here.
Opening tonight with 'My Favourite Accident' they are completely into it from the first second and I honestly can't see this slowing down which doesn't faze me in the slightest. With no time between songs they belt out 'Broken Heart' and 'Her Words Destroyed My Planet' where they 'fell asleep watching Veronica Mars again' are both much loved by those here particularly the later, that song has a hook big enough to catch Moby Dick. Not to mention the amazing use of cowbell, I mean behind a key change the use of cowbell is a winner for me.
Oh geez they know this one, 'Future Freaks me Out' is a winner and despite the signs on the walls that say 'no moshing' well let's just say that they're being nicely ignored and rightfully so. Stick it to the man! This song is too good to not mosh to. 'When You're Around' continues on with the catchy tunes and I can't see that stopping in hurry. Time for a new one with 'The Coma Kid' and it was a fun little clap along song but it's always when an oldie comes along that they get the reaction they're after, that just happened with 'Attractive Today' and I have a feeling the keyboard player was digging this one a little too much. Looking at him, he's got that very Roddy Bottom from Faith No More style actually, cool, sorry, just observing things.
Through 'A Lifeless Ordinary' and 'Timelines' they are managing to keep the crowd entertained and everyone held attentive. I love a band that has a little banter between tracks and thank people for supporting live music, no thank YOU for playing it for us. You are the real heroes… 'LG Fuad' rocked the house but when you follow that with 'This Is For Real' and the love this one got well you have to kinda feel sorry for the previous song but only a little. With only 5 songs to go (I read the set list) I can see Motion City Soundtrack pulling out all the stops for this last quintet of tunes. Yeah I know, I wasn't going there with that fancy word but hey, it worked. 'Better Open The Door' was kick ass and oh man… Some dude just yelled out 'Play Freebird…' really? REALLY? Just get out… Anyway a special request for 'Antonia' was met with excitement as obviously it doesn't get a run often… No apologies required as they didn't miss a note here. In fact that was probably my favourite song of the night so far.
'Disappear' has everyone singing along as does 'True Romance' but when it hits the breakdown is where it nailed it for me and now it's time to say goodbye and as they've just said 'see you soon and if we don't see you soon we'll see you in a little while after soon…' closing the night with 'Everything Is Alright' and yeah this is now the best track of the night. Everything's alright indeed…
Well I'll be… It's even more alright now as they've reappeared with songs not on the set list. Motion City Soundtrack bonus!! 'Floating Down The River' was a lovely little ditty and then with one more to really go this time, we are left with 'Hold me Down' although it didn't really pack the punch of the previous tracks, it was loved and that's the main thing… And in the end we got an extra songs so hooray!!
Overall, tonight really was fun, I needed a night of indie alternative pop rock and what a choice it was. I was really impressed with the bands tonight and am already counting down until I can do it all again next year.
Essential Information
Venue: The Factory Theatre – Sydney
Date: February 28, 2013
Supports: Deaf Havana, The Early November
Website: www.motioncitysoundtrack.com
Setlist:
My Favourite Accident
Broken Heart
Her Words Destroyed My Planet
Future Freaks Me Out
When You're Around
The Coma Kid
A Lifeless Ordinary
Timelines
LG Fuad
This Is For Real
Better Open The Door
Antonia
Disappear
True Romance
Everything Is Alright
Floating Down The River
Hold Me Down