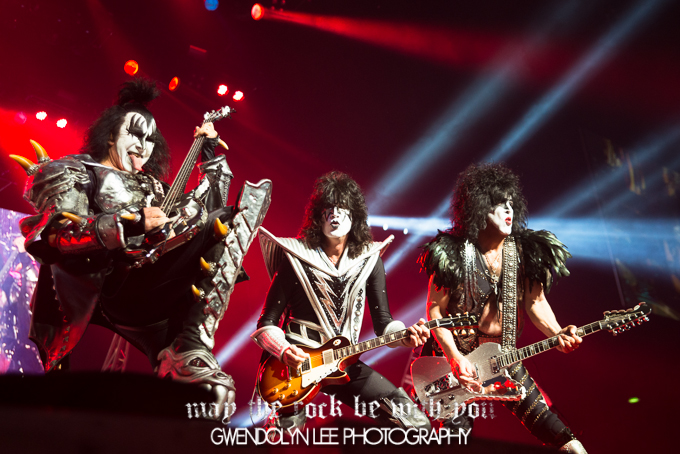 On the second night of their Sydney jaunt, we see Kiss, Mötley Crüe and Thin Lizzy back to take on Allphones Arena, after what I was told was a monster show the night prior it will be interesting to see how tonight plays out.
Diva Demolition are on early to a small yet receptive crowd with some minimal crowd participation which was somewhat ballsy but I have to say, the balls actually belong in the songs. The dual vocals here suit their rocked up Superjesus meets Rose Tattoo type style of the band and they're kicking ass. Their single 'Energy' is a great introduction to the band for me, catchy track with a great vibe. They do have a great sort of Aussie rock sound to them and it'll be interesting to hear more from them and what they can come up with.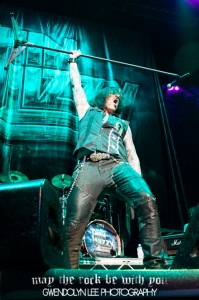 Thin Lizzy who are here on what could be considered their 'farewell' tour before the band name is retired and they become Black Star Riders with guitarist Scott Gorham continuing on, but for one last hoorah here with drummer Brian Downey and keyboard player Darren Wharton they are here to rock and straight away are doing that. "Are you ready?" why yes we are! This band is tight. Wow. Hearing Ricky Warwick out front singing these songs is amazing, he at times sounds scarily like Phil Lynott, and that's outstanding. They waste no time bursting in to 'Jailbreak' as the last track faded out and this is what rock and roll is all about. Thin Lizzy have always been known for their sound and in particular the harmony guitar sounds as it penetrates each track and I can't fault this band. Through 'Waiting for an Alibi' and 'Dancing in the Moonlight' which have the crowd clapping along, the triple guitar assault returns for 'Holy War' and turns it up one louder, but it's 'Whiskey in the Jar' that they know which is soulfully introd with some stand out guitar work from Damon Johnson and you know what? This song just kicks ass, awesome to hear tonight, they even got the crowd singing along which was great. 'Rosalie' rocked hard and as Ricky puts it 'Rock and roll is not supposed to be fucking comfortable!' as he managed to get everyone in the arena to stand up which was pretty damn cool as we then paid our respects to Phil Lynott and Gary Moore. The harmonica comes out for 'Cowboy Song' and slows it down to build it right back up and rock the place. Of course though as they leave the stage tonight with the song everyone knows, they sure did prove tonight that 'The Boys are Back in Town' and not only do I personally love this song but it's one of my favourite songs ever, so to hear it tonight and for Ricky to nail it and to hear the harmony guitar solo I've only ever heard on a record for my whole life really was an amazing moment for me tonight as I hope it would be many others here. Thank you.  This band didn't miss a note tonight. Not one. I challenge both Mötley Crüe and KISS to top Thin Lizzy's set tonight. Overall, it was a fitting farewell to the Thin Lizzy is sound and name in Sydney and thank you for giving us these songs for maybe one last time.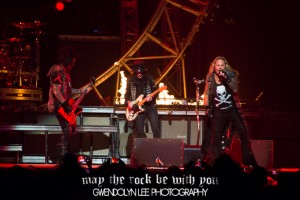 Mötley Fucking Crüe are up next and as the clock on the screens counts down with a five minute warning only to stop with three seconds to go, the lights drop as the band make their way through the crowd towards the stage. What a better way to start a set from the wild boys from LA, than with 'Saints of Los Angeles' complete with pyro which of course rules, and a staple for tonight it seems. The band is sounding hot which is tops! 'Wild Side' sees the female backing singers make an appearance to help Vince out and thankfully so and I also think he enjoys having there just on the downlow…. 'SHOUT!' come on join in! 'Shout at the Devil' is up and is huge besides having no idea what Vince is singing anymore, this song is still so powerful and a favourite for many here as the fists are raised in the air. 'S.O.S' still kicks ass this many years later as then the elusive new song happens… when you're Mötley Crüe sure you can write songs about sex and have for thirty plus years, but to name a song 'SEX', let's just say I think this song is great musically, but lyrically it's just well… past its prime… I do like the 'whoa ohs' though. I just hope whatever the next album is sees them not have an album of these sorts of songs.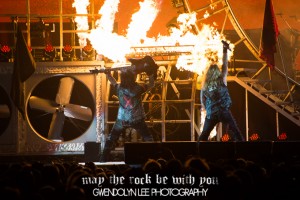 'Dont Go Away Mad' is alright, it's ok… (see what I did there?)  as Tommy addresses the crowd, sorry the 'fuckers' and showers them with champagne he starts on the piano as the band gather around the piano and fake some band love for 'Home Sweet Home' they belt out the power in the ballad as Mick Mars shows everyone here that he's still got it. Now… I really miss the days where a drum solo at a rock show was about showcasing a drummers talent for their band, their love of rock music rather than playing a solo over the top of a backing track of some random dubstep type track that we all know you'd rather play Tommy but seriously, save that for your own time, this is a Mötley Fucking Crüe show. It was kinda hard to get in to and yes the drumcoaster was amazing but a huge rock solo on it would've topped it off! Bring back the cage for the next tour!
Now, Mick Mars knows what this band is about and gives us a ROCK guitar solo, how novel for a Rock show… You go Mick!! It was also a perfect lead in to 'Live Wire' which still kills me every time, for a song over thirty years old it just is a monster. It still sounds cool and is heavy and you'd want! Plus the cowbell bit rules! As it rains pyro Nikki takes to the microphone and tells us that Vince has gone to the hospital and they've cut the set four short. Well… Turns out it's Kidney stones, get well soon Vince, oh and for those playing at home, the four they cut were 'Girls, Girls, Girls', 'Primal Scream', 'Dr Feelgood' and 'Kickstart My Heart'…
Now, don't get me wrong, I love Mötley Crüe but with the announcement of one more album and a farewell tour, I personally think it may be a couple of albums too late. It's somewhat disappointing to me to watch a band that what was once a powerhouse of a band and a necessity in the scene back in the day to now look like they don't really care anymore, but maybe that's just me and maybe it was just a bad night. Musically the band is still tight but Vince had it tough tonight. I'll put it down to him not being well and thank you so much for being there tonight; there may have been a riot if they didn't play at all, so kudos to them for that! Get well soon, Vince. See you next tour!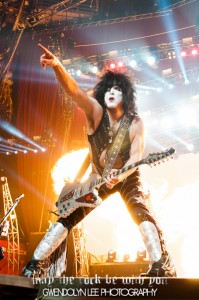 Alright Sydney… You wanted the best. You got the best. The hottest band in the world… KISS!!!!
As the band descends from the top of Allphones Arena with pyro blasting and the very familiar riff of 'Detroit Rock City' this veteran band just know how to do it. The KISS army are out in force tonight as they sing along to 'Shout It Out Loud' and the band is sounding great! Throwing it back to the first album with 'Deuce' and part of what I love about KISS is the show, the showmanship and just the vibe, for instance I will never get sick of watching the three guys hitting the front of the stage for their synchronized moves to this song, it gets me every time. 'Hotter Than Hell' is just that, literally, now I'm towards the back and those flames from the stage are hot!! Yes!! Sorry, I get excited as you've gotta love the 80's KISS stuff, and when it's 'Crazy Nights' well you can't be anything but happy! Plus a mid-song key change, well, hello!!
'Calling Dr. Love' let's Gene take on vocals and is on that list of classics as Tommy then takes on 'Shock Me' which he nails, but as the song finishes Tommy and Eric get to solo together which is an interesting curve ball, but whoa, that was pretty awesome and as pyro shoots out of Tommy's guitar and the platforms raise them both, just like the old days, you can't help but smile.
'Psycho Circus' is probably the best thing KISS have done in the last 15 years in my opinion and 'welcome to the show' indeed. Ahhh talking about the old days… It wouldn't be a KISS show without a Gene Simmons bass solo complete with blood and flight… as he from the top of the arena starts 'I Love it Loud' with some great sing alongs from the army here tonight. Ooh the dreaded new one… Of course with a new album comes that and we get first single from it in 'Hell or Hallelujah' and as great as it sounded, this is an old school crowd, tough to give them a newie but by the end of it, those here dug it. 'War Machine' is heavy and I love this groove, another 80's gem. Oh hey Shannon Tweed is here watching, cool.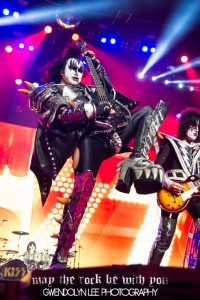 Now it's Paul's turn to take flight… as he heads to the back of the arena for my favourite KISS song, 'Love Gun' oh and the stage just happens to be right near where I am, he flies back over the crowd only to start 'Rock and Roll All Nite' which sees confetti (or KISSfetti as I think it should be called, maybe I should TM that one) exploding right next to me and an amazing song sang to perfection, this is the ultimate party rock song. Gene and Tommy are out on platforms, Eric is meters above the stage and Paul smashes his thankfully prop guitar. Now THAT'S how you end a KISS show!! More more more more!!!
Back on the stage and back to 1983 with 'Lick it Up' and they love this one, it was also a nice little mash up with The Who's 'Won't Get Fooled Again' which rocked big time YEAHHHHHHHHH. With only one more to go, Paul stands alone and plays it in, it's 'Black Diamond' and Eric takes on lead vocals on this one and this cat can sing!! They go out with a bang. Literally. Pyro everywhere, it almost put New Year's Eve to shame, I'm not even kidding.
Besides the Crüe mishap this was really a great night. I have to say, that KISS sure know something. They know how to entertain and they may not have been made for loving us tonight (they didn't play it) but tonight we sure loved them, that was truly a killer set from a professional band that know how to put on a great show and are one of the reasons Rock And Roll is so entertaining to this day!!! We wanted the best, we got the best…  See you next time.
Essential Information
Venue: Allphones Arena – Sydney
Date: March 10, 2013
Website: www.kissonline.com , www.motleycrue.com , www.thinlizzy.com
Set lists:
Thin Lizzy
Are You Ready?
Jailbreak
Don't Believe a Word
Waiting For An Alibi
Dancing in the Moonlight
Holy War
Whiskey in the Jar
Rosalie
Cowboy Song
The Boys Are Back in Town
Mötley Crüe
Saints of Los Angeles
Wild Side
Shout at the Devil
Same Old Situation
SEX
Don't Go Away Mad
Home Sweet Home
Drum solo
Guitar solo
Live Wire
KISS
Detroit Rock City
Shout it Out Loud
Deuce
Hotter Than Hell
Crazy Nights
Calling Dr. Love
Shock Me
Tommy & Eric solo
Psycho Circus
I Love it Loud
Hell or Hallelujah
War Machine
Love Gun
Rock and Roll All Nite
Lick It Up
Black Diamond
Photos by Gwendolyn Lee – facebook.com/GwendolynLeePhotography or flickr.com/photos/GwendolynPhotography
Feature gallery coming soon – photos may not be used without consent of photographer