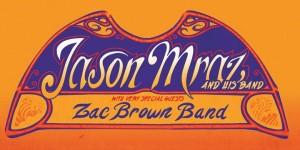 In my first Bluesfest sideshow (which I'm excited about in the absence of my attendance at the actual festival) I'm once again inside the lovely Sydney Entertainment Centre to see Mr A-Z himself, Jason Mraz and for their first time in Australia, The Zac Brown Band. So this will indeed be a nice mix of rockin' country and whatever style of music it is that Jason Mraz plays which I can never work out, acoustic rock, yeah that'll do. David Bowie is keeping us entertained over the speakers as the lights are tested like it was close encounters but we're just about ready to go. Oh look, it's Jason Mraz who has come out to say hi and introduce the Zac Brown Band. 
As this seven piece take the stage to a great reception which is pleasing to me as their status here isn't that huge, so let's see how much that changes after this set, if the first song is anything to go by then they'll win everyone here over in no time. Now, me being a completely out of the closet country music fan, this style and sound is absolute perfection to me. Zac's voice is flawless for this type of music and these songs, the bands harmonies are spot on as are their musical abilities. This is some pretty impressive stuff I must say, it's such a mix of traditional country but the spin on it is modern and fresh. With fiddles, mandolins and percussion on top of your regular guitars, bass and drums, this combination would open any safe, that's a fact. 
Treating us to a new song called 'One Day' and playing it for one of the first times, it's one I can guarantee they'll be playing again. Now it's crowd participation time with 'Jump Right In' and this fun little ditty which is definitely a favourite of those here tonight. As they continue on the musicianship shines through as the band trade off solos between guitars and the fiddle, they simply just don't miss a note. Time for the big country rock ballad in 'Colder Weather' and what a song as it builds to a power ballad, I know I'm happy. That ladies and gentleman is how you write a ballad. Wow. 
Ooh they know this one, 'Toes' and the three ladies to my right know it a bit more than everyone else as they're standing up belting out the words and that's cool to see. Some impressive acoustic guitar skills from Zac leads us into one of those songs that just breaks your heart. 'Goodbye In Her Eyes' says it all really. It was just perfect and hit home. Big time. Thankfully the wallowing is over as they turn it back up before jumping into a cover of 'Isn't she lovely' which sounds great countrified as a lead in to their cover of John Mayer's 'Neon' and some of the best soloing I've seen in years. 
What better cover to do for these guys than 'The Devil Went Down To Georgia' well it was almost effortless, as I'm pretty sure I saw the fiddle player yawn during his bits I suppose due to their simplicity ha ha. It is just insane how he does what he does in this song. Holy cow, Zac is just as insane on the acoustic. The standing ovation for this one was well deserved. 
Leaving us with 'Chicken Fried' and another standing ovation, it's hard to believe that this is the band's first trip to Australia and it won't be the last. You can quote me on that. They are more than impressive, in fact, if you've never heard of Zac Brown Band, well you have now, go and check them out ASAP as tonight I just witnessed one of the most impressive sets and bands I've seen in a long time. 
Jason Mraz, the bar has been set…
Never seeing Jason Mraz before I'm looking forward to hearing what he comes up with, now as he has proclaimed, the theme of tonight's show is love, this could be an interesting set. 
'I take the music everywhere I go' proclaims Mraz as he starts off the set as his band slowly one by one join him on the stage, this more laid back style is a contrast to what we just saw, but Mraz's vocals are so soothing. As the seven piece band play along they are joined by a three piece horn section to fill out the opener. Ahhh ok, we're not laid back anymore, the volume has been turned up as the band rock the outro. 
'The World As I See It' has Mraz solo on his acoustic to start but as the band come in for almost a 70's feel on this one, I can't help but be mesmerized by the amazing choreography of the horn section. This is a tight unit, with so many pieces in this puzzle, they all fit together and work well together which. The vibe continues with the funky stylings of Butterfly' and he starts the crowd dancing and rockin'. 
'The Woman I Love' sounded great and he's slows it down with 'A Beautiful Mess' and this one really showcases Jason's vocal talent as this one sounds amazing as the completely captivated audience sit and enjoy you could hear a pin drop when the music stops and that's testament to the artist and respectful fans. 'Lucky' is a duet normally performed with Colbie Caillat but tonight his fiddle / banjo player takes the Colbie part and fills those shoes perfectly. Her voice is a delight. Hold the phone, what's this, an accordion? That is so rock and roll. 
Today on the day that Paul Hester passed away eight years ago, a nice little part of Crowded House's 'Don't Dream It's Over' is played and let's just say it's a tribute. Needless to say, those here tonight all know and love that song. 'Plane' sounds all soft and pretty until the explosion of a musical wall appears. This one is pretty awesome and heavy, but once again the perfect contrast musically now sees Mraz solo on the stage with 'When We Die' and the silence that fills the arena while he's playing is spectacular. So is the crowd sing along albeit it awkward singing 'you are loved' to my mate Dan. 
'You Fckn Did It' has Mraz and his percussionist at stage front and how they remember the words to this one is amazing, but 'they fuckin' did it…' (see what I did there?) and now I have to say that I was intrigued at the start by the percussion set up, but she is crazy good at what she does including playing the drums on the Jason's guitar while he held the chord down is something to see. The acoustics stay out for 'I'm Coming Over' which was lovely, the vocal harmonies here were a standout. Throwing in a nice little cover of Canned Heat's 'Up The Country' including flute solo was great and suited the night and this merry band of musicians. As the Zac Brown Band joined Jason on stage for 'Love The One You're With' and what a pairing. The harmonies once again are sublime, yep, I like that word for it. 
Thankfully the electric guitars are back and the set is getting its groove back with 'Frank D. Fixer' but it's 'The Remedy' that's up next and it's reggae style tonight suits it to a tea, although I would've liked to hear it played how I know it, but it's his song so he can do what he wants. Regardless, it sounded cool and was a good reminder to not worry your life away. Ok we're getting to the end of the night and the cheer for 'I'm yours' was the 'woo hoo I've been waiting for this one' cheer, as a sea of phones come out to capture the moment. This was a huge hit here for Mraz and fair to say the reason many are here tonight. It was played perfectly and sounded just like it should. With a nice little Bob Marley throw in and yes indeed Jason 'Every little thing is gonna be alright'. Back for an encore 'Song For a Friend' followed by '93 Million Miles' with some brilliant band work but he left us tonight with new single 'I Won't Give Up' and it was a magical way to end the night.
Man, Jason Mraz can sing, there's no denying that at all and his band is as just as good as his vocals and that's saying something. Overall this set was entertaining, enjoyable and full of the love that themed the night. What a great night of live music, I wish I was on my way to Byron Bay purely to see both of these talented acts again.
Essential Information
Venue: Sydney Entertainment Centre
Date: March 26, 2013
Website: www.jasonmraz.com & www.zacbrownband.com
Zac Brown Band Set List
Keep Me In Mind
As She's Walking Away
Whiskey's Gone
Natural Disaster
One Day
Jump Right In
The Wind
Colder Weather
Toes
Goodbye In Her Eyes
Uncaged
Neon / Isn't She Lovely
Sweet Annie
Knee Deep
The Devil Went Down To Georgia
Free / Into the Mystic
Chicken Fried
Jason Mraz Set List
I Take The Music
The World as I See It
Make It Mine / Live High
Butterfly
The Woman I Love
A Beautiful Mess
Lucky
0% Interest
Plane
When We Die
You Fckn Did It
I'm Coming Over / Up The Country
Love The One You're With (with Zac Brown Band)
Frank D. Fixer
The Remedy
I'm Yours
Three Little Birds (Bob Marley cover)
Song for a Friend
93 Million Miles
I Won't Give Up