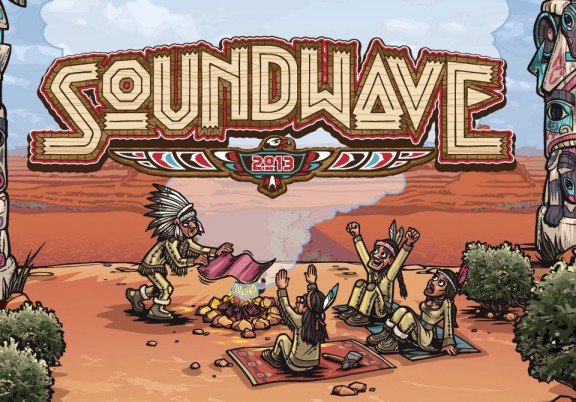 Here we are again this time, this year Soundwave is bigger and better than ever before as headlining you have the one and only Metallica. In an amazing turn of events the day before it was torrential rain but today is absolutely marvelous! I know, right, so let's keep our fingers crossed that the day remains perfect.
In with absolutely no troubles just after gates have opened and I've had to negotiate my way around the grounds into ANZ Stadium as for the first time ever as this year there are 2 main stage areas, so let's see how this works for the day.
The winner is "Syd-a-ney"… Crossfaith are my first stop of the day on stage 1A and what a magnificent choice that was. These Japanese rockers are absolutely slaying it early on and if the stream of people is anything to go by they have heard what is going on and like it. This is what I love about a day like Soundwave it introduces you to bands you wouldn't normally see. If this is the first of many today then I'll be happy. Ok I'm going to brave the crowd and watch a bit closer as this seems like something I need to witness on the floor. You've gotta love a "Big ass wall death…" which was insane and I don't know how these 'kids' do it these days, that'd be me wrecked for the day. I love watching it, but as far as participating, no thanks. That was intense and these guys have truly set the bar for the day!
The Blackout whose entrance music is a rocked up version of the 'Home & Away' theme waste less than no time starting their party with newest single 'Start The Party' and it ain't slowing down. These Welsh rockers have it down!! The breakdowns are heavy and these guys are funny, when they ask for a 'Fuck the Blackout' chant and many oblige their retort is 'yeah… well fuck you Australia' clever. These guys are getting some love but I think it's stage 1A that is getting a little more love as the Anthrax banner is up and many are streaming in waiting to check them out.
It's almost ridiculous how many people are here right now in the main stage area for Anthrax! These guys are most definitely a draw card today and as they rip through a set of old and new they get the deserved applause after every song. Having Joey Belladonna back in Australia is the clincher but I have to say without drummer Charlie Benante due to personal reasons and guitarist Rob quitting earlier this year you wouldn't know as having Jon from Shadowsfall on guitar and Jon Dette on drums, this band is a tight unit and everyone is loving this right now. When it's time to play 'The End' which pays tribute to Ronnie James Dio and Dimebag with images of them appearing on video screens, it's easy to say that this song is the best and heaviest I've heard yet today. The mosh is insane and the number of hands in the air too many to count, this really is awesome to see I have to say. Joey asks if we have the time. I yelled 1:18pm but he was being rhetorical… Thanks Joey… FUCK YES!! I asked Frank in our recent interview if they'd do it and they are, from their new 'Anthems' EP, we have the AC/DC classic 'TNT' and the place is going mental, Joey right now is Bon Scott reincarnated, wow. Thankyou Anthrax you were outstanding.
I headed off to check out some Periphery who had a truly raging crowd but as the heavens opened up, torrentially, I opted for the safer option of shelter and a dagwood dog, but from where I was they sounded great. Next, as I randomly bump into someone with exactly the same Butch Walker tattoo as me, I know, random much, we grab a seat in the other main stages to catch Flogging Molly but the delay from yesterday's rain seems to be taking its toll. With rumours at present of Paramore and Garbage not playing this could now turn in to an interesting afternoon.
Flogging Molly have now hit the stage playing an acoustic set. Wow. The crowds are not fussed at all by this change in fact it's actually somewhat welcomed and the punters are jumping and clapping and enjoying this set like it was the last they'll ever see. For them to be able to adapt to this and play a set like they did today was amazing. Credit to Flogging Molly. Also mad, mad props for shortening their set to get things back on track. You have just made my list of 'bands not to miss when they come back to Australia.'
Billy Talent are up next. I've never seen these guys before so I'm looking forward to checking them out. As a Canadian Flag is held aloft as these guys are doing a great job of rockin' out. As the rain has subsided, for now, the constant flow of people heading in to the stadium is amazing. How this many people are around is just astounding. With Sum41 up next I think they're coming in to find their spot… Sum 41 were famously here in 2011 for Soundwave but had to cut their time in Australia short due to injury but now they're back and ready to pick up where they left off.
Running now about twenty minutes late but what can ya do, everyone instantly forgets the delay as the guitar riff of 'Part Of Me' starts and the crowd roars. Sum 41 are on fire and I'm glad I stayed to watch them, well for the few songs I did. 'Motivation' got the hands up and as they outro'd and metalled the hell out of the song as even more people started heading in to the stage 2 area. Some Sum 41 metal 'We're All To Blame' sees them at their best and most diverse in my opinion. Unfortunately I needed to leave to go and catch the end of Stonesour and start of Slayer, I would've loved to have caught more but what can ya do? Oh, of course as I walk out they start 'In Too Deep'. Awesome ha ha. Oh man, I'm two for two now, as I just walked in to hear Corey Taylor say 'Thank you Sydney see you soon' yep that was my Stonesour set for Soundwave. But here I am for SLAYERRRRRRRRRR…
Loud, fast, heavy and brutal, not in that order. Here as basically a duo of Tom Araya and Kerry King due to the recent incidents with Dave Lombardo and the absence of Jeff Hanneman, Slayer are Slayer. As the second of the Big 4 we've seen today funnily enough with Jon Dette on drums who has already played with Anthrax today, but the band is so tight and holy shit they are heavy.  Yes, this is my first time seeing Slayer and I would happily see them again, I dare say the same for the thousands upon thousands of people here too.  What a crowd they have and one that are fist pumping and circling with the best of them. Ooh this just in, times have moved around. Seems that due to the delays that Garbage isn't playing? Whoa. Oh and Paramore have moved until much later. Insane stuff. That's just cemented my afternoon / night here at stage 1 until after Metallica.
A Perfect Circle have started their set with a very slow very tranquil version of 'Imagine' by John Lennon and it's a massive departure from the brutality of Slayer we just witnessed.   Side note, the new stage times for stage 2 have thrown a bit of a spanner in the works which sucks as Garbage definitely won't be playing and Paramore have been moved to practically last tonight. Sorry, back to the band, now, there's just something about A Perfect Circle for me that doesn't translate from album to the stage. Don't get me wrong they're good but the lack of showmanship or use of video screens does hinder the performance in my opinion. The heaviness and tightness of the band though is something to be witnessed, that's for sure, but I think I prefer taking it all in at home sonically.
Now we have Linkin Park. A band I've seen a number of times and they never ever fail to deliver. Opening with 'A Place For My Head' which geez, when it hits that 'Go Away!' part, that was a sight. Straight in to 'Given Up' Chester seems to be in fine form today, actually better than I've ever heard him. Whoa, the main arena screens now state 'The arena is full, please move to seats'. That's insane as you should see how many people this thing holds, remember, the Olympics was here… As they go into 'New Divide' And 'With You' the entire arena in front of the stage is jumping and it looks unbelievable. 'Somewhere I Belong' was killer as was 'Points of Authority' and major credit to Chester for stopping mid song to help out someone in the crowd and he actually paused the set until the coast was clear and resumed regular transmission.  'Breaking The Habit' was awesome followed by a couple of newer tracks that appeased the diehards but when 'In The End' was up you can imagine the reaction complete with great crowd chorus sing along. Some can be said for 'Numb' the obligatory thanks for being here and to everyone leads into 'What I've Done' well to answer that Linkin Park, what you've just done is played to a packed out ANZ stadium, kudos to you. 'Burn It Down' is great but 'Bleed It Out' steps it up, oh then another step up with 'Faint' until we had an eruption as 'One Step Closer' began I'm positive that Linkin Park have just caused a minor earthquake in Sydney as I have never seen a mosh go back as far as that just did. That was a spectacle to see. Thank you Linkin Park, see you on Tuesday.
Up next, one word. Metallica.
As we wait for the band to start, the guy in front of me fits in a quick game of bejewelled for good measure and he's actually not bad. The crowd is getting restless… a slow clap fills the stadium… It's now thirty mins since they were supposed to be on. Where's Metallica? Here they are. All is forgiven. 'Hit The Lights' is chosen to open the set and yeah you can instantly tell why Metallica are one of the biggest bands in the world.
'Master Of Puppets' this early? Wow, and what a sing along, as always in this track, but with the tens of thousands of people here tonight it just seemed to make it just that little bit more special and the smile of James Hetfield's face, well, completely warranted. 'Holier Than Thou' and 'Harvester of Sorrow' followed as did 'Welcome Home (Sanitarium) which lifted the roof off, hang on, stadium, um, you know what I mean… Throwing in some killer old stuff such as 'Ride The Lightning' they really do single bandedly (I just made that up) show other bands how it's done. They are so tight. They do not miss a note, they truly are one of the best live bands you'll ever see.
A Death Magnettic track 'Broken, Beat & Scarred' is thrown in and it is in fact a rockin' old dude in the crowd the star of the song via the video screen tonight. 'Sad But True' was my highlight of the set if not the night. This is one of the heaviest songs ever and to hear it played the way it was tonight and the way people reacted gave me chills. That was just so cool to be a part of. A bass solo from Rob leads in to an acoustic intro of course 'Fade To Black' As a flare is stupidly lit in the crowd and yet it amazingly faded to black as the lyrics started, great timing, also thanks to security with the water hose! Although it looked cool, man, that is crazy!
No way, James announced that Rob has been in the band for 10 years! Wow. So tonight is a celebration of that. Happy anniversary Rob, glad you are remembered and not 'St Anger'. This version of 'Orion' tonight is pretty cool. Pyro, fire, and the greatest Metallica song ever 'One' is up and this will be epic as a sea of phones are held up to capture it. I'll be back after the song. As predicted. Epic. The harmony guitar work in this song is just outstanding, it makes you sit back and wonder how many times they've played that song… let's hope it's also many more… 'For Whom The Bell Tolls' is much loved as is 'Blackened' As Kirk Hammett solos in to 'Nothing Else Matters' and as you'd guess, it goes over pretty well… Then some song called 'Enter Sandman' or something, not really familiar with this one… I jest… this is actually too good, and remember before when I said I'd never seen a mosh that big during Linkin Park? Well, sorry boys, you just got served. With more pyro during this one, that's always a winner with me, so just blow things up and you win.
Encore time and it's a case of bang 'Creeping Death', bang 'Fight Fire With Fire' and then some comedic fun with James Hetfield before 'Seek and Destroy' complete with black beach balls closed the night and left everyone, I mean everyone happy. To have a band like Metallica at Soundwave was amazing in the first place, but to actually see them there and playing in front of that many people was something special and something I'll be talking about for a long time.
I ran (more like walked briskly) over to see the end Paramore who thankfully were still on stage as their times were moved and they got the chance to essentially close the show. I managed to catch four songs which included their new single 'Now' as well as show closer 'Misery Business' which was belted out with so much energy and that Hayley Williams, yeah she does a good job! I would've loved to see their whole set, but there's that one word again. Metallica.
Overall, a super-hot day with slight torrential downpour, I look like Rudolph, (remember kids, sunscreen is your friend) but had an amazing day and once again as in previous years, my only complaint is that I'm only one person and can only see so many bands… come on cloning in 2014… Soundwave… only getting better…
Essential Information
Venue: Sydney Olympic Park
Date: February 24, 2013
Website: www.soundwavefestival.com
Catch the Soundwave festival on these remaining dates:
FRIDAY 1 MARCH – MELBOURNE, FLEMINGTON RACECOURSE – SOLD OUT!
SATURDAY 2 MARCH – ADELAIDE, BONYTHON PARK – SOLD OUT!
MONDAY 4 MARCH – PERTH, CLAREMONT SHOWGROUNDS – SOLD OUT!