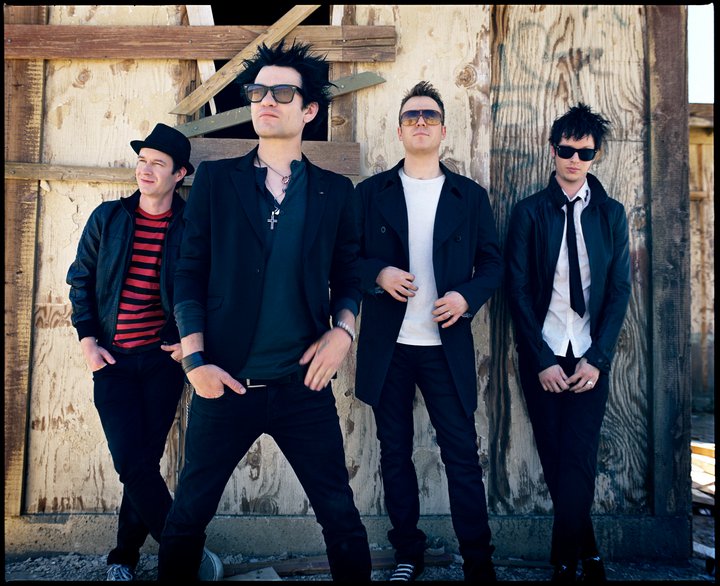 "We're looking forward to coming, sucks that we had to cancel last time but we're ready to come this time and we hope the shows will be good and it will be a fun time. I think this line-up is actually better, it's probably the best line-up I've seen in a long, long time since I've been touring, so it's going to be a good show for sure."
From press release: Since their inception, SUM 41 have been relentless, unapologetic, and unconcerned with musical boundaries. They continue to storm the globe with their unique meld of raucous punk-rock and thunderous metal whilst still delivering amazing live shows.
With their last album 'Screaming Bloody Murder' (now two years old) taking us on a musical journey of maturity for the band, the growth has been evident if you look back to their 2001 debut full length album 'All Killer, No Filler', so who knows what's next for the band but if you read below, you may find out when we can expect something new…
We chatted to 'Cone' about the band before their trip to Australia for Soundwave as well as plans for their next record, touring, collaborations and other projects of his.
Last time you were here in 2011, the tour was cut short due to injury and now you're finally headed back here for Soundwave once again, how is Deryck, all good and raring to go?
Yeah he seems hopefully there's no more pneumonias and we'll be ready to go. We just got off of a two and half month US tour and it went really good, we have two weeks off right now and we should be good to go.
Can you give us the quick rundown on what people can expect if they come to see you play for those that may not have seen you before?
Well the shows we're going to be doing at Soundwave we're only going to be playing 45 minutes so it's probably going to be a lot of singles, the singles we've had throughout the years. It's a high energy show, we try and make it fun, it's going to be loud and we try and play a lot of fast songs, it's just going to be sweaty and hot, but yeah it's a fun show. It's kinda hard to explain your show to people but that's the best I could do *laughs*
Is there anyone you're pumped to be touring with or to see on this bill?
Well we have a lot of friends. Billy Talent we're friends with, we're obviously fans of Metallica, we've toured with Blink before, we're friends with Offspring, we like Slayer, The Vandals, we've toured with Flogging Molly so we're friends with Flogging Molly. It's crazy the line-up, there's a lot of good bands and we have a lot of friends which we're pretty excited about. We're going to have to try and find some way to keep it cool *laughs* not go too crazy.
My favourite tour I saw you on was with Bowling For Soup, The Vandals and Pennywise back in 2008, do you have any cool memories of that tour you can share with us?
Yeah, that was awesome. Let me think, there's got to be something because Fletcher was on the tour… I don't know, I just remember touring with Pennywise was awesome, I mean we'd been fans of Pennywise even before Sum 41 existed, so to be able to tour with them was crazy to us, still. I don't know if there's any one thing that stuck out that happened that I remember, but touring with those older bands is a crazy thing for us still. It was fun.
You've always had a great following here in Australia, what do you think it is about Sum 41 that our audiences relate to?
Maybe the high energy, there's a lot of surfing and skateboarding and stuff like that. Before we even went to Australia I knew a lot of punk and pop punk bands that used to go over there and I don't know why the fans like that kind of music, but when we went over there the first time I just saw the excitement of people and how much they liked that kind of music. It's hard to say why but maybe there's just something in the water there, I don't really know *laughs*
I remember seeing 'Fat Lip' when I was in Toronto in 2001 and thinking that it was fresh and different. Did you think that over ten years later that this song would have made the impact that it has?
No we wouldn't have even thought about that stuff, when that was happening we were just blown away.  I mean we were twenty one years old and it was our first full length album and we'd been touring for so long and so long on the EP that we had out and that came out and just exploded and we were still on the road and it was weird because really didn't get to see any changes. We saw more people coming to our shows but we didn't really go home much so we didn't get to see anything on MTV or Much Music in Canada or even hear our songs on the radio because we were on tour so much, so it wasn't really a thought in our mind that ten years or twelve years later that it's still gonna have a big reaction every time we play it or whatever…
And you're going to have to play it for the rest of your life too…
Rest of our lives *laughs*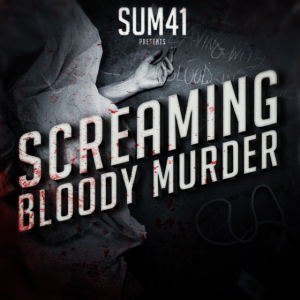 There's been mention that we may get to hear a new album soon, have you guys been writing for what may eventuate as a new album?
Not really, we're gonna tour until mid April and we're going to probably end and take some time off and start writing then. We've just been kind of touring solid so it's hard to write when you're on the road and Deryck doesn't really write on the road anymore so he likes to be home and kind of start it there.
When do you think we could expect to hear something?
I'm hoping 2014 but it's hard to say. When April comes and you start sitting down and doing it we'll have a better idea but I think we're all hoping for 2014.
You've collaborated with a heap of artists over the years, is there any one that stood out for you as the one you were most blown away to be working with?
Yeah, I think Iggy Pop was the best collaboration we've done. We were actually pretty nervous going in to it, I mean he's the legend and he was so humble and down to Earth and we went to the studio with him for two days and basically did the song with him in those two days, and did a video with him and got to play an awards show being his backing band. We did the song we did with him and 'Lust For Life' so it was kind of surreal, you're up there with Iggy Pop, it was insane. We still talk to him, we still email each other once and a while, it's cool.
Over your career has there been one stand out moment you can share with us?
Probably show wise playing stuff like 'Reading' and 'Leeds' are always crazy to play as there's like 80,000 people there, I remember on 'Does This Look Infected?' we sold out Wembley Arena which we were kind of *laughs*like, "we did? Oh… wow!" and stuff like there where you get booked in these gigantic places and you think "why are we playing here?" and they end up selling out or something like that, and those are kind of like stand out moments in itself. To play your own show in front of 8,000 people or 10,000 people, it's mind blowing to me.
Do you think there's one song of Sum 41's that defines the band?
I don't know if one song would define the band but the way we look at our music now is kind of like our song 'We're All To Blame' like it's heavy and it's got some soft parts in it, that's kind of what the new album was most like, it goes on this little journey. It's not hard all the way through, it's not soft all the way through, you've got this soft chorus and the verses are kind of intense then you've got this metal part in the middle, that's kind of what our music is starting to be more like now. At least with this newest album 'Scream Bloody Murder' that's kind of what we were going for, that kind of thing, a little journey through a couple of different styles of music all in one song.
So for something different, what's the status of Operation MD? Any plans for a third album?
*laughs* well yeah, me and Todd are working on a song right now and it's probably going to be released as an iTunes single. It's tough as he plays with The Offspring now, so we're done in April and I'm not sure when he ends so we haven't realty talked about that, but there is a song we hope to release around the summer and then we might start working on a new album when we're both off or whatever. It's kind of like one of those projects we both do when we're both available.
You've also dabbled in producing, have you been up to anything recently?
Not lately, the last thing I did was a band called The Strumbellas and that came out last year, last February. We took a band called 'I Am Dynamite' on tour in the US and so I've kind of been talking to them about stuff and they want to do some new songs coming up and so we might try and make something work if I can do some songs with them, and we'll maybe be off for a year so I'm sure some other stuff will pop up.
Now I haven't seen it yet but I saw you tweeted about it, The Sound City documentary, you don't feature in it but recorded there?
Yeah, it was cool, we only did drums there on the 'Chuck' album. We recorded in the small room at Sound City and then when 'Underclass Hero' came out we played the whole album at Sound City front to back and streamed it live on the internet. Those are the two things we did. Sad that it's gone but it's lucky that we got to record there. Even if you're not in to production and don't know gear and stuff, I mean I took my wife and she hates talking about music gear and all that stuff *laughs* and we went and she loved it, thought it was great and I think it's just great for music fans to see, you don't have to be in to the music side of things to like it.
Aside from the Soundwave shows you've got some Sidewaves with Billy Talent, how much of a party is that going to be?
*laughs* yeah that's cool, Billy Talent we took them on tour in 2003 across Canada and their first album hadn't even come out yet and that's where we first met and then Ian and I, the guitar player we ended up living like two blocks from each other and we ended up becoming pretty much best friends and I still see him once or twice a week when I'm home. We've been trying to do shows together for ten years and it's always like they're on tour and we're off and writing a new album and then we go on tour and they come off to write a new album so we've never been able to lock it in and it's just kind of the first time we've been able to do it, so yeah, it's going to be fun.
Over your career is there one thing that you haven't done yet that you really want to do?
Yeah, I think everyone in the band would say that we've been meaning to go to South America and we've had two cancellations whether it be injuries or promoter pull outs or whatever so we get messages all the time from Brazilian kids wanting us to come to South America, so that's one thing we still have to do and we all really want to do.
Lastly, do you have a little message for your Aussie fans before you head down?
Yeah we're looking forward to coming, sucks that we had to cancel last time but we're ready to come this time and we hope the shows will be good and it will be a fun time. I think this line-up is actually better, it's probably the best line-up I've seen in a long, long time since I've been touring, so it's going to be a good show for sure.
Well good luck with the tour Jason or Cone whatever I can call you…
Cool thanks *laughs* either is fine.
Essential Information
From: Ontario, Canada
Band members:  Deryck Whibley – Vocals, guitars, Cone McCaslin – Bass, Steve Jocz- Drums, Tom Thacker – Guitars
Website:  http://www.sum41.com
Latest release: Scream Bloody Murder (Out Now)
SOUNDWAVE FESTIVAL – FEBRUARY/MARCH 2013
SOUNDWAVE FESTIVAL VENUES AND DATES
SATURDAY 23 FEBRUARY – BRISBANE, RNA SHOWGROUNDS – SOLD OUT!
SUNDAY 24 FEBRUARY – SYDNEY, OLYMPIC PARK – SOLD OUT!
FRIDAY 1 MARCH – MELBOURNE, FLEMINGTON RACECOURSE – SOLD OUT!
SATURDAY 2 MARCH – ADELAIDE, BONYTHON PARK – SOLD OUT!
MONDAY 4 MARCH – PERTH, CLAREMONT SHOWGROUNDS – SOLD OUT!
SIDEWAVE VENUES AND DATES
TUESDAY 26 FEBRUARY – SYDNEY, UNSW ROUNDHOUSE – A/A – With BILLY TALENT
THURSDAY 28 FEBRUARY – MELBOURNE, THE PALACE – 18+ – With BILLY TALENT
For more information head to www.soundwavefestival.com