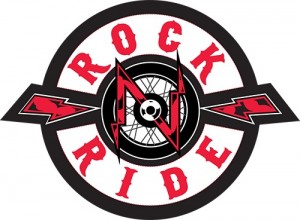 Legendary homegrown rocker and Grinspoon frontman, Phil Jamieson will be leading the "Get Him to the Greek" style adventure, riding from his Big Day Out set at Gold Coast to his set at the Adelaide Big Day Out, a race through 4 states over 5 grueling days all in the name of raising awareness for headspace, the National Youth Mental Health Foundation.
"Over the 21 years of Big Day Out we have seen hundreds of thousands of young Australians from 15 years and older and many musicians and artists grow up and get through a variety of personal challenges, as we all do in life. It is important that we continue to remind young Australians that there is always support and that its important and OK to talk about mental health, we hope the Rock N Ride is start of a great enduring partnership between headspace and Big Day Out to keep youth mental health at the top of everyone's agenda" – Big Day Out CEO, Adam Zammit.
headspace provides young people who are struggling with depression, anxiety, bullying, drug and alcohol problems with support and services across Australia. The Rock N Ride group will be stopping into headspace centers in QLD, NSW, VIC and SA regional towns.
"Every year we get involved with Big Day Out festivals across the country and this year we're excited to take this partnership to another level. Rock N Ride gives us the chance to engage regional young people in their communities and at headspace centres to create awareness of the mental health issues young people face and where they can go to get support." – headspace CEO, Chris Tanti.
Jamieson will be joined by up to 10 musician and media personalities, including co-founder of Rock N Ride CEO of Big Day Out and RNR founder, Adam Zammit, Jamieson's wife, Julie, and mates Chris Joannou (Silverchair), Jake Stone (Bluejuice), Merrick Watts (MMM), Paul Mac (Musician/Producer on Big Day Out lineup), Nathan Hindmarsh (Parramatta Eels and Australian Rugby League legend), Kate Peck (MTV Presenter) and Steve Andrews (Black Dog Ride) leading the whole ride in a mammoth 5 days of music and motor biking largess. Made possible by Valvoline who will be ensuring their engines and efforts will be well oiled.
"Valvoline are proud to support the Rock N Ride program. It is a worthy endeavor; it supports the health of young Australians and it involves rock n roll and motorbikes. We could not be happier. From a business perspective, it provides us with the opportunity to showcase our NextGen engine oil. The first environmentally friendly lubricant available in Australia." – Marketing Manager Valvoline Australia, Tony McDermott
During the town stops the Rock N Ride riders will meet and greet the local community, media and youths of headspace joining them for lunch, autograph signing, photo opportunities, acoustic performances from Phil Jamieson, Paul Mac and Chris Joannou and giveaways. The riders will also be talking to the local community and media about headspace and how important their centres are to the local youth and their families. To ensure that all riders get to each town stop on time and most importantly in time for Phil's Grinspoon performance, they will be keeping time on their Ice-Watch watches.
Motorola who have also continued their support of Big Day Out will be helping riders stay in touch with their fans and media along the ride. Motorola will be providing their latest 4G Motorola RAZR handsets to the riders allowing them to update the RNR website and FB throughout the journey.
ITINERARY
Sunday 20th January: Gold Coast Big Day Out ~ Rock N Ride departure
Monday 21st January: headspace centre, Warwick ~ Connabarabran-live performance
Tuesday 22nd January: headspace centre, Bathurst ~ Headspace centre, Wagga Wagga
Wednesday 23rd January: headspace centre, Bendigo ~ Swan Hill – live performance
Thursday 24th January: headspace centre, Berri ~ Headspace centre, Murray Bridge
Friday 25th January: Adelaide Big Day Out ~ arrival into show grounds
Phil Jamieson
is best known as the frontman of iconic Australian band Grinspoon. The band was the first band ever Unearthed by the ABC Youth Radio Network triple j (1995). Grinspoon have been together for over seventeen years, and they recently released their highly acclaimed seventh studio album 'Black Rabbits.'
Chris Joannou is a bass player, best known as a founding member of Silverchair – one of the most acclaimed and successful bands in Australian Music history. During Chris' remarkable musical career he has also spent time in the Producer's chair working with rock band, The Mess Hall amongst others.
Jake Stone has spent the last thirteen years involved in music in one capacity or another. From bartending at Sydney venues like The Annandale and The Hopetoun, to working as a music journalist for The BRAG, Rolling Stone, Sydney Morning Herald and more recently hosting on Triple J, Jake isn't just one of the frontmen for BLUEJUICE. He is an all-around pop music enthusiast.
Nathan Hindmarsh played rugby for 15 years for the Parramatta Eels and is currently working for the National Rugby League as Community Engagement and Game Development Officer, and soon will be joining the team at Fox Sports.
Paul Mac is one of the leading figures in Australian electronic music. He is a songwriter, a musician and a producer. In addition to his multiple ARIA awards, Paul's career highlights include Australian Dance Music Awards for Outstanding Contribution to Dance and Producer Of The Year. He has received an APRA Award, an MTV Award and been named Dance Artist Of The Year three times in Rolling Stone Readers Poll.
Kate Peck began her career as an international model, working for top brands and walking countless catwalks around the world. After calling New York City home for two years, avid motorbike enthusiast Kate headed off to ride around South Africa raising awareness and money for YGAP (Y-Generation Against Poverty) and earlier this year she indulged her inner rev-head as Ambassador for the 2012 Australian Formula One Grand Prix. Now with her feet firmly back on Aussie soil, Kate is the newest addition to the MTV family!
Adam Zammit is CEO of Big Day Out as well as the founder and CEO of entertainment marketing, publishing and media agency Peer Group Media and has been instrumental in the development of corporate investment and brand integration into the Music and Entertainment Industry, helping to bridge the gap between the worlds of art and commerce. He is also Publisher of Australia's biggest event and entertainment site www.eventfinder.com.au and Brag Magazine and The Music Network.
Julie Jamieson has modelled for over a decade doing runway shows, advertising campaigns and TV Commercials and has worked/lived in Sydney, New York, Los Angeles, Barcelona and Hamburg. She met her husband Philip Jamieson at age 21 in Brisbane and have been married 7 years.
Check out headspace.org.au for more information
Rock N Ride is Proudly Supported by
Connect with Rock 'N' Ride
Facebook: www.facebook.com/Rock_N_Ride
Twitter: twitter.com/rock_n_ride @Rock_N_Ride #RockNRide