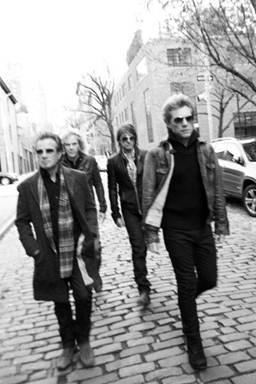 iTUNES ALBUM PRESALE CAMPAIGN LAUNCHES FEB. 15th WITH INSTANT GRAT OF TITLE SONG, "WHAT ABOUT NOW"
"BECAUSE WE CAN" VIDEO DIRECTED BY FISHER STEVENS, PREMIERES TODAY ON VEVO
BON JOVI APP (AVAILABLE FOR FREE DOWNLOAD) ENABLES DEVICES TO OPEN UP A WORLD OF AUGMENTED REALITY!
After blasting out to worldwide radio Bon Jovi's new single "Because We Can" quickly turned into the biggest single launch in the iTunes era of the band's storied career.  "Because We Can" hit Top 5 on iTunes in 24 countries and reached #1 in 12 countries. 
On February 15th, iTunes launches the global album presale campaign of Bon Jovi's upcoming studio album, WHAT ABOUT NOW, set for March 22nd release.  As an added bonus, fans who pre-order the album will instantly receive the album's title track, "What About Now." 
Today also marks the VEVO video premiere for "Because We Can," directed by actor and acclaimed documentary filmmaker Fisher Stevens.  Following the premiere, fans will be treated to the release of a new alternate version of the video every other week leading up to the March 22nd release of WHAT ABOUT NOW. Check it out HERE:
The single cover for "Because We Can" is out now, unleashing an exciting and unprecedented interactive experience for the fan/consumer via the free Bon Jovi App (download HERE)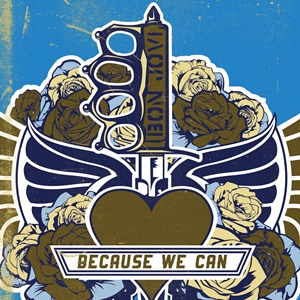 The Bon Jovi mobile application is at the heart of the WHAT ABOUT NOW campaign, tying together the latest content and cutting edge technologies including augmented reality. Augmented reality (AR) is image recognition technology for smartphones and tablets that creates an interactive "wow" experience. Point the Bon Jovi app at the WHAT ABOUT NOW artwork (wherever it appears e.g. posters, single art, cover art, magazines etc.) and unlock an animated version of the imagery in 3D space. Throughout the campaign, fans will be treated to animated and interactive versions of Bon Jovi artwork as well as exclusive access to the latest news and content. The Bon Jovi app already has over 250,000 downloads. The AR technology has been developed in partnership with Aurasma, the leaders in image recognition and augmented reality technology. What's unique about this campaign? "First ever 2D animation in 3D space" "Augmenting fine art."
Bon Jovi's return to the road in 2013 will launch the latest chapter in an ongoing blockbuster run which has already secured Bon Jovi's status as the essential live rock band.  "BON JOVI Because We Can – The Tour" will make its way across the globe with dates in the USA, Canada, Europe, Japan, South Africa, Brazil, and Australia.
* For up-to-date information on all things Bon Jovi, please visit www.bonjovi.com