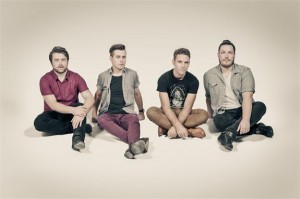 Their debut was described as "a meticulously crafted, stunningly accomplished endeavour…" by Brisbane's Time Off Magazine and went on to receive critical acclaim from fans and media alike. So where does a band go from there? Fast-forward a couple of years and Hungry Kids Of Hungary deliver the eagerly awaited second album 'You're A Shadow', to be released on February 22, 2013.
Like all good bands, development and growth occur during the writing period. Vocalist/guitarist Dean McGrath says of the record, "'You're A Shadow' was for us to challenge ourselves, and I think the result of that challenge is a record that's an anomaly of sorts. The songs are more forward-thinking but the production approach is more steeped in the traditions of the classic records from the 60s that we've grown up with. The arrangements are leaner and meaner, but it's all been captured in a way that it sounds bigger than anything we've done before. We knew from the beginning we wanted to create something more bold, raw and ambitious than we've done before."
Recorded at Sydney's Alberts Studios, the band found a kindred spirit in producer Wayne Connelly (The Vines, You Am I, Silverchair, Josh Pyke). Dean goes on to say, "Wayne Connolly understood our vision and helped bring it to life… I don't think there's another producer who could've pulled it off so accurately and with so little fuss. For me personally, these songs chronicle some of the most tumultuous experiences I've endured on a personal level, but the making of the record couldn't have been more fun or rewarding".
Hungry Kids Of Hungary deliver a set of songs that again demonstrate the band's ability to combine their trademark melodies and burning energetic hooks, while a shift in production qualities reflects the band's 60s west coast influences.
Premiered on the triple j Breakfast Show with Tom & Alex, HKOH delivered lead single 'Sharp Shooter' which garnered immediate high rotation and went on to be the #1 Most Played track on triple j in August. Follow-up single 'Twin Cities' is set to do the same, scoring another immediate addition on the j's.
With extensive touring plans for 2013 – both nationally and abroad – Hungry Kids Of Hungary are proud to release 'You're A Shadow' on the February 22, 2013 via Stop Start.
HUNGRY KIDS OF HUNGARY | 'YOU'RE A SHADOW' | NEW ALBUM OUT FEBRUARY 22, 2013
HUNGRY KIDS OF HUNGARY | 'TWIN CITIES' | SINGLE AVAILABLE NOW
For further information check out
http://stopstartmusic.blogspot.com.au/
www.facebook.com/stopstartmusic
www.facebook.com/hungrykidsofhungary
https://twitter.com/HungryKids