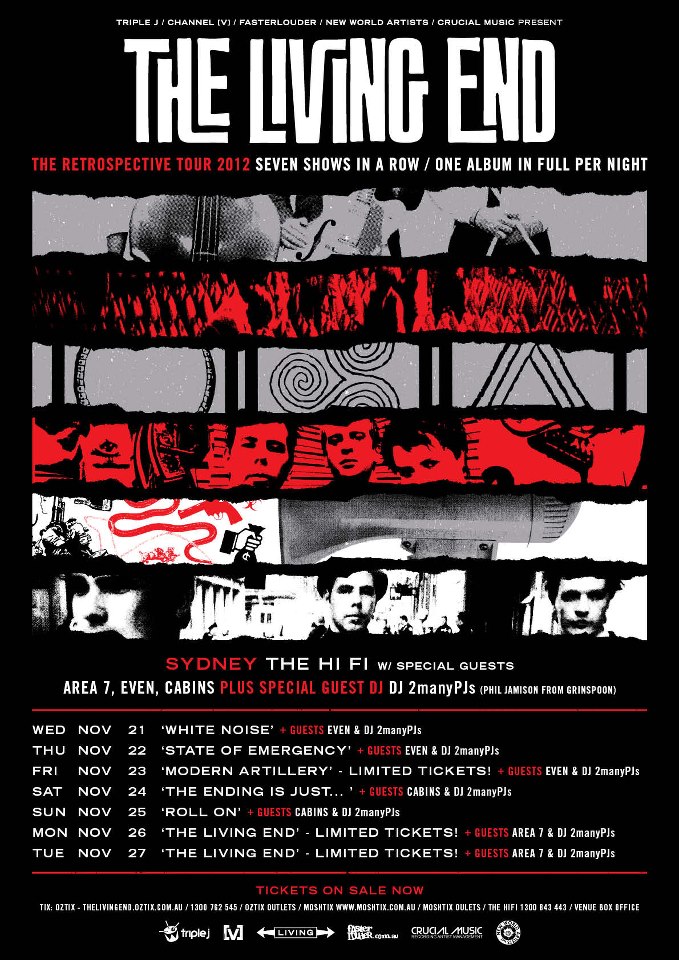 "Where many bands are ashamed of their old work and back catalogue, I commend The Living End for having the balls to come out and do what they've done and are doing on this Retrospective tour."
The packed crowd in the Hi Fi tonight are here for one reason as they have been for the last five nights to see The Living End as part of their retrospective tour in which they have bravely taken on the idea of playing every one or their albums from start to finish over multiple these nights.
Tonight it's their debut self-titled album from 1998 and in the opinion of many here tonight they've saved the best for last. This is an album that has struck a chord (pardon the pun) with so many people here even fourteen years on some of these songs are still played today and I can't wait to hear how they sound tonight. Even Murray the Red Wiggle was here tonight to witness it, how rock and roll is that!
Support act Area 7 haven't played for years and the crowd know it. This eight piece got the crowd going early, and if this pace stays up well let's just say that I'm happy I'm standing at the back of the room tonight. Through songs I haven't heard for years they are up there having a ball which is great to see and with highlights such as 'Second Class Citizen' and 'Nobody likes a Bogan' which actually had the entire crowd singing the chorus. That was so much fun to see and with show closer 'Bitter Words' that once again had everyone singing you can tell the band were absolutely loving it. They finished their set on a high and set the night up for The Living End.
Ok I wasn't going to mention it but with 2manyPJ's (Phil Jamieson from Grinspoon) filling in the gap between sets there was the obligatory AC/DC and Aussie rock, but I was sold at Roxette, and when 'The Look' came blaring through the speakers the reception was something to see. A wisely chosen 'Bohemian Rhapsody' finished his set but not before the biggest crowd sing along so far. Genius.
The lights drop and a video intro is played showing footage from 1997,1998 and 1999 and how this album took shape and how this band was moulded to what we now see and was the perfect set-up for the night, and the absolute roar as The Living End hit the stage was nothing short of exciting.
Now the goal of these nights as I mentioned was to play the albums in full, that means start to finish, so I'll give you a run down on each track as I hear it…
1. Prisoner of Society – A song they would've played more than one or two times over the years leads off the album and the set. It is played with so much heart and love you'd think it was their first born child. Well if you think about it, in a way it is. The crowd could've taken this one as the volume of them singing back is so intense. An amazing start to what will be a pretty special night of live Australian music. – as a side note, on night two it was even louder. There is just so much passion and this is so different to night one.
2. Growing Up (Falling Down) – Frantic, rockabilly punk rock. The showmanship of these guys is so impressive, particularly as drummer Andy Strachan didn't play on the original recording of this album he plays it like he may as well have some fourteen years go. Their presence is so demanding and it's easy to see why they have been a live drawcard for this many years.
3. Second Solution – The first single taken from the album and still a damn good song today. This crowd laps this one up and rightly so. Man if they keep this energy up I don't know what the gas in the tank will be like at the end.
4. West End Riot – This is one of my favourites from The Living End. The groove is just second to none in this one. Love it. It'd be so easy to say in every song just how good the band plays the track but I won't get repetitive, just trust me when I say how tight this band is. Ok but I do have to mention Chris Cheney standing atop of the double bass belting out the end of the song was awesome.
5. Bloody Mary – Tells the story of a "sick twisted individual from Sydney…" Says Chris. Woo Sydney! Even the album tracks are treated like huge singles tonight. It's actually quite awesome to be a part of rather than watch a band go through the motions.
6. Monday – Is a fun rocker in that four bar blues style bass riff with classy rockabilly guitars layered over it.
7. All Torn Down – Some impressive guitar skills intro this one, of course another huge hit that was lifted from this album and it was played to nothing less than perfection. To quote the band 'you got no reason…' To not love this band tonight (I threw in that last bit.)
8. Save the Day – Sees our first crowd surfer and a sea of fists and pointing fingers in the air joining in the chorus, yet another hit from the band and it shows tonight.
9. Trapped – As Chris explains that Area 7 toured with the band back in 1998 he invites the horn section from the band up to play on 'Trapped'. This song is great! What a killer version tonight. The live horns just give it a dynamic. The fans loved it and so did the band.
10. Have They Forgotten – Frantic but as it breaks down in the middle it hits a groove that is a winner along with a great guitar solo. Oh and I'm pretty sure that everyone here hasn't forgotten a thing about what they're about.
11. Fly Away – A song that probably wouldn't have made it in to a set for a while is met with a moderate reception bar those diehards down the front hanging off every word of every song. I love the feel of this song though.
12. I Want a Day – Gave us a set-up of stories of the past of vomiting and brotherhood and especially the pairing of Chris and Scott and a testament to their time together which has been for many, many a year. Seemed like a special song to the guys tonight.
13. Sleep on It – Wow. This one is awesome. This is close to the most intense song of the night playing wise. Loving it. The double bass playing of Scott Owen amazes me, he's just that good.
14. Closing In – An instrumental to take us out once again showcasing just how good these three musicians are. – side note on night two. The version of The Seekers 'Georgie Girl' was just perfect and showed a bit of the sense of humour these guys possess, even though their adlibbed version sounded like they've done it for years. There is so much love for this band.
So Night one of their debut was just stellar and Night two was on par if not better than night one for me and as I'd thought they threw in an extra song, in the vein of they just don't want this seven night stint to end they choose a cover and belt out 'Tainted Love' and the vibe I get all round tonight is respect. This band is so loved and it shows. To finish the tour in Sydney with a cover of this calibre was perfect.
Where many bands are ashamed of their old work and back catalogue, I commend The Living End for having the balls to come out and do what they've done and are doing on this Retrospective tour. Now if I'd only gone to all the other shows up here… Oh and if they're heading to your city, I'm talking to you Brisbane and Melbourne… Roll on…
Essential Information
Venue: The Hi Fi – Sydney
Date: November 26 & 27 2012
Supports: Area 7, 2manyPJ's
Website: www.thelivingend.com
Remaining Retrospective Tour dates:
THE ZOO – BRISBANE QLD
Tickets via Oztix: thelivingend.oztix.com.au / 1300 762 545 / Oztix Outlets
Sat Dec 01 – TEIJTBR (Band of Frequencies & DJ Hamish Rosser)
Sun Dec 02 – Roll On (The Medics & DJ Hamish Rosser)
Mon Dec 03 – The Living End – SOLD OUT (The Medics & DJ Hamish Rosser)
Tue Dec 04 – The Living End – SOLD OUT (Ash Grunwald & DJ Hamish Rosser)
Wed Dec 05 – White Noise (Ash Grunwald & DJ Hamish Rosser)
Thu Dec 06 – State of Emergency (Ash Grunwald & DJ Hamish Rosser)
Fri Dec 07 – MODERN ARTillery (Kingswood & DJ Hamish Rosser)
THE CORNER HOTEL – MELBOURNE VIC
Tickets via Oztix: thelivingend.oztix.com.au / 1300 762 545 / Oztix Outlets
The Corner Box Office / cornerhotel.com / 03 9427 9198
Tue Dec 11 – The Living End – SOLD OUT (The Meanies & Cosmic Dolphin)
Wed Dec 12 – White Noise – SOLD OUT (Kingswood & Cosmic Dolphin)
Thu Dec 13 – State of Emergency – SOLD OUT (Dave Larkin Band & Cosmic Dolphin)
Fri Dec 14 – MODERN ARTillery – SOLD OUT (Something for Kate & Cosmic Dolphin)
Sat Dec 15 – TEIJTBR – SOLD OUT (The Smith Street Band & Cosmic Dolphin)
Sun Dec 16 – Roll On – SOLD OUT (Money for Rope & Cosmic Dolphin)
Mon Dec 17 – The Living End – SOLD OUT (Area 7 & Cosmic Dolphin)
Thu Dec 20 – Roll On – EXTRA SHOW JUST ADDED (Area 7 & Cosmic Dolphin)
Fri Dec 21 – The Living End – SOLD OUT (Ivy and The Big Apples & Cosmic Dolphin)
Sat Dec 22 – The Living End – U18 DAYTIME SHOW JUST ADDED (The Smith Street Band & Cosmic Dolphin)
Sat Dec 22 – The Living End – SOLD OUT (Ivy and The Big Apples & Cosmic Dolphin)