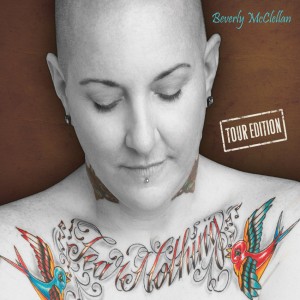 Despite rising to prominence through the US version of The Voice TV show – which if I didn't watch the Australian version, then obviously I wouldn't have watched the US version – I first heard the name Beverly McClellan through Steve Vai and her vocal contributions to his latest album The Story Of Light and specifically the track John The Revelator.  Now Steve Vai doesn't just work with any ol' body and hearing him talk glowingly about the vocal powerhouse McClellan, I was certainly most intrigued to check out her own work.  Low and behold, that opportunity came in the form of her album coming through the May The Rock Be With You channels for review and here we are…  Fear Nothing is not a new album, however this "tour edition" release contains a few bonus tracks, a release in anticipation of her UK/Europe tour with Steve Vai, which unfortunately didn't come to fruition due to personal issues.
As alluded to above, after releasing a bunch of albums on her own and playing relentlessly in the Fort Lauderdale, Florida area for around 20 years, McClellan rose to prominence via the US version of The Voice, where she was coached by Christina Aguilera.  My goodness…what a voice this woman possesses.  In fact really, it's all about the voice.  Ok, so the album Fear Nothing has great songs to go with it, but her voice combined with these bluesy, soulful songs make for such a soothing and calming listening experience.  When someone possesses a powerful vocal, there can be a tendency for said vocals to be recorded or utilised at migraine inducing levels, but not in this instance.  Comparisons have been made to the likes of Etta James, Janis Joplin, Tina Turner and Melissa Etheridge and that really is an accurate representation of where the range and style of vocals and songs on display throughout this album sit.
Recorded at Los Angeles' House of Blues studios with producer David Z. (Prince, Fine Young Cannibals, Billy Idol, Buddy Guy), the album certainly comes largely with a polished sheen.  However, tracks like the stripped back, smoky swagger of Nobody's Fault But Mine and one of the bonus tracks Do It, really exhibit the sheer power and rawness of McClellan's vocals.  Whilst the deeply personal lyrics are another key in conveying the power of these songs, such as the reflective I Never Will Forget.   In contrast, a track like Love Will Find A Way Out has a real 80's pop, almost a Taylor Dane kind of vibe, perhaps my favourite song on what is a totally enjoyable album from start to finish.
As enjoyable as this album is, I just know that the true Beverly McClellan experience would be from seeing her perform live, hopefully Australia well one day get that opportunity!
Essential Information
For fans of: Soulful, blues rock
Release date: 01 December 2012 (Europe Tour Edition)
Record label: Favored Nations (Europe)
Produced by: David Z
Track Listing:
1. I See Love
2. Lyin' To
3. It Ain't Me
4. Nobody's Fault But Mine
5. I Can't Hide Me
6. Well Wondered
7. Love Will Find A Way Out feat. Keb Mo
8. Come To Me
9. I Never Will Forget
10. Tender Of The Most
11. Precious Times
12. Do It (Bonus Track)
13. As I Walk On (Bonus Track)
14. A Case of You (Bonus Track)