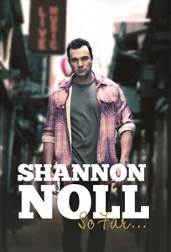 SHANNON NOLL will be releasing his biography 'Shannon Noll So Far…' on Monday October 1. Published by New Holland, the book is written by Shannon with Alan Whiticker, a Sydney writer. Shannon will also release a brand new single 'Man I Can Trust' on the same day.
'Shannon Noll: So Far…' tells the whole story … brother, son, husband, father … the journey from his early days on the family farm near Condobolin and as an unknown singer to one of Australia's premier recording and performing artists. This book also explores the pain the Noll family suffered with the loss of their father, Neil, Shannon's subsequent depression and drug usage and the battles he waged against his critics and the music industry.
Full of showbiz anecdotes and country philosophy, the book will also display Shannon's private side … the powerful bond he built with his brothers, his relationship with and marriage to Rochelle, the mother of his three young children.
'There's a difference between belief and ego… you've got to have a little bit of ego in this game… I think I've proved I'm no flash in the pan; I have a career and I can sell a tour… I've come so far, and yet there's so far still to travel.'
Shannon Noll captured the hearts of music fans around Australia and overseas with his raw, gifted rock voice. Shannon remains the only Australian male artist to have ten consecutive singles in the top ten ARIA charts.
His book retails for $32.95 and will be available in bookshops and department stores nationally or download it from Amazon or Apple iBookstore.
ABOUT THE AUTHOR
Alan J Whiticker was born in Sydney, Australia in 1958. Since 1986 he has pursued the dual roles of teacher and successful author. In 1997 he completed his Masters Degree in Education.
Previous books include The Encyclopedia of Rugby League Players, Jimmy Barnes: Say It Loud, Wanda: The Untold Story of the Wanda Beach Murders and The Battle of Troy – An Adaption of Homer's Iliad, Speeches That Reshaped the World to name a few.
SHANNON NOLL – 1st OCTOBER
Book – Shannon Noll So Far…
Single – Man I Can Trust
www.shannonnoll.com.au
www.shannonnoll.net
www.facebook.com/shannonnoll
www.getmusic.com.au/shannonnoll
twitter: @Nollsie
SHANNON NOLL 'IN MY YOUTH' TOUR DATES
NOVEMBER
Friday 30                      COOGEE DIGGERS, COOGEE NSW
                                    Tickets:  1300 672 545 or  www.oztix.com.au

DECEMBER
Sunday 2                       HERITAGE HOTEL, BULLI NSW
                                    Tickets:  1300 672 545 OR or  www.oztix.com.au
Thursday 6                    FRIENDS RESTAURANT, PERTH WA
                                    Tickets: 08 9221 0885
Friday 7                        CHARLES HOTEL, NORTH PERTH WA *BAND SHOW
                                    Tickets: 08 9444 1051, 136 100 or www.ticketmaster.com.au
Sunday 9                       ICON RESTAURANT, KARRATHA, WA
                                    Tickets: 08 9185 6911
Thursday 13                  SPIRIT BAR & LOUNGE, TRARALGON  VIC
                                    Tickets:  03 5176 0464, 1300 762 545 or www.oztix.com.au
Friday 14                      WELLERS RESTAURANT, KANGAROO GROUND VIC
                                    Tickets:  03 9712 0266, 1300 GET TIX or www.ticketmaster.com.au
JANUARY
Thursday 17                  CLARENDON GUESTHOUSE, K VIC
                                    Tickets:  02 4782 1322 or www.clarendonguesthouse.com.au
Fri 18                           BRASS MONKEY, CRONULLA NSW
Fri 25                           MINGARA RECREATION CLUB
                                    Tickets: 02 4349 7888
Thursday 31                  GOOLWA AQUATIC CLUB, GOOLWA, SA
                                    Tickets: 0419 031 169 or www.goolwaaquaticclub.com.au
FEBRUARY
Friday 1                        COOPERS ALEHOUSE, WALLAROO SA
                                    Tickets: 08 8823 2488
Saturday 2                     NORWOOD LIVE
                                    Tickets: 08 8431 1822 or www.thenorwood.com
Sunday 3                       OLD CLARENDON INN
                                    Tickets: 08 8383 6166
FEB cont.
Friday 8                        LIZOTTE'S DEE WHY
                                    Tickets: 02 9984 9933 or www.lizottes.com.au
Saturday 9                     SHOALHAVEN ENTERTAINMENT CENTRE – STUDIO
                                    Tickets: 1300 788 503 or www.shoalhavenentertainment.com.au
Friday 15                      LIZOTTE'S NEWCASTLE
                                    Tickets: 02 4956 2066 or www.lizottes.com.au
Saturday 16                   ASQUITH LEAGUES CLUB, ASQUITH NSW
                                    Tickets: 02 9487 1066
Thursday 21                  ACACIA RIDGE RIDGE, BRISBANE SOUTH QLD
                                    Tickets: 07 3275 1444
Friday 22                      SOUTHPORT RSL, GOLD COAST QLD
                                    Tickets: 07 3858 9000 or www.southportrsl.com.au
Saturday 23                   BRONCOS LEAGUES CLUB, BRISBANE QLD
                                    Tickets: 07 3858 9000 or www.broncosleagues.com.au
Sunday 24                     WYNNUM RSL, BRISBANE EAST QLD
                                    Tickets: 07 3396 7333 or www.wynnumrsl.com.au