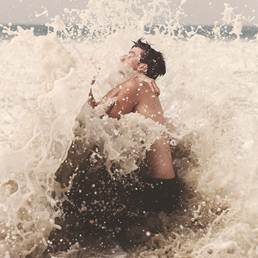 ANBERLIN return with their sixth studio album "Vital" out on October 12. Their new single, "Someone, Anyone", out now on iTunes and other digital retailers, evokes a myriad of emotions with its warm guitar rapture and vocalist Stephen Christian's inimitable and infectious cadence. The track's music video will make its debut on VEVO soon. Driven by uncontainable youthful spirit, the song functions as a proper prelude to the band's anxiously awaited sixth full-length album, "Vital" which was produced by Aaron Sprinkle, who helmed the group's first three albums.
On "Vital", Anberlin brought together everything the musicians have learned while reinvigorating the music with the spark that initially fueled the Florida band during their early years of slogging around the country in a van. Stephen Christian was inspired by Anberlin's history of raucous live shows and aimed to infuse the new music with that palpable raw vigor. "I recognize now that what I love the most about Anberlin is the high energy, the high momentum, the veins that are popping from necks when the fans scream along," Stephen notes. "That's the most fun. That is where I feel like Anberlin exists, in those kind of situations. And I think that's where we excel."
As the band embraced their roots, they also brought in new ideas, driven by the songs and albums the musicians had been listening to lately. The surging electro indie pop crafted by artists like Active Child and M83 trickled into the songs, melding the band's past with their present in a way that will still feel genuine to fans. "I feel like this record is like our interpretation of what we're into without completely abandoning what Anberlin is," says drummer Nate Young. "For us this is the closest it could be to what we're kind of into without leaving behind everything that's made us the band we are."
The record follows up 2010's critically acclaimed "Dark Is The Way, Light Is A Place", which entered the Billboard Top 200 chart at Number 9, moving over 31,000 units during release week. In addition, it claimed the Number 1 spot on Billboard's Christian Albums chart, Number 2 on the Digital Albums chart, and Number 4 on both the Rock and Alternative Albums charts.
The Florida quintet are also set to hit the road supporting alternative rock legends, The Smashing Pumpkins, on the fall leg of their "Oceania" US tour this October, followed by a stint of headline shows.
Australia can look forward to an Anberlin tour in the first half of 2013. Here's a message from Stephen to Anberlin's Aussie fans: – "Australia holds a very special place in our band's story, it's like a second home for us and the fans there are out of control. We are extremely proud of this new record and cannot wait to play it live in one of our favorite places in the world.  We will be back as soon as we possibly can."
New album – VITAL – out on October 12
iTunes pre-order live now!
New single – SOMEONE, ANYONE available digitally now
Comments
comments