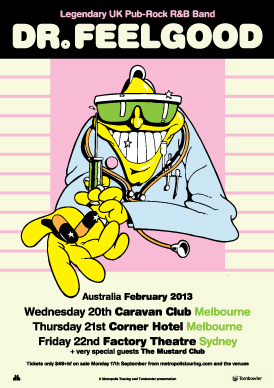 DR. FEELGOOD Legends of UK pub-rock R'n'B are coming to Australia
Metropolis Touring & Tombowler are thrilled to announce that legendary British outfit Dr. Feelgood will be hitting Australia this coming Feb! Known for their unique stomping, sweaty blend of high energy Rock & Roll and bluesy R&B, Dr. Feelgood have cemented their place in history as one of the grimiest pub rock bands the world has ever seen.
Forming in 1971 in Essex, England, Dr. Feelgood stormed on to the UK gig circuit as trailblazers of the pub rock scene and quickly gained attention with hit singles 'Roxette', 'Back in the Night' and the all time classic 'Milk and Alcohol'.
The band have earned their reputation as 'one of the hardest working pub rock bands in showbiz with nonstop touring and demand through the 70's, 80's, 90's, 00's and today. Dr. Feelgood's fan base runs deep and includes acclaimed documentary film maker Julien Temple (responsible for seminal music docos Sex Pistols: The Filth and The Fury, Joe Strummer: The Future Is Unwritten, andRay Davies: Imaginary Man) who told the amazing story of Dr. Feelgood in the award winning Oil City Confidential (2009).
The band has held true to original lead singer, the late Lee Brilleaux,'s philosophy of "You don't have to be a musician to play rock 'n' roll. You've just got to love it and want to play it." and have continued to burn the engines full throttle. Helming the microphone now is the electric Robert Kane, the only person who could possibly have taken over the role left by the iconic Brilleaux. Even previous band members agree that the current line-up is the pure embodiment of Dr. Feelgood's spirit and soul:"they are the incarnation of quintessentially British Rhythm and Blues…stunning" (The Independent)
There's no question Dr. Feelgood have been a major influence on the world over the years from their style, records, sound and live performances and now it's our turn to see exactly why this band commands the stage and has stood the test of time.
DR FEELGOOD AUSTRALIA TOUR FEB 2013
Wednesday 20th @ The Caravan Club, Melbourne
Thursday 21st @ The Corner Hotel, Melbourne
Friday 22nd @ The Factory Theatre, Sydney