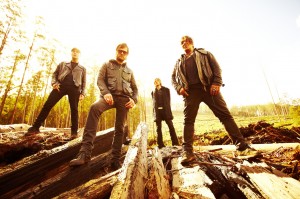 Australian fuzz-rockers, MAMMOTH MAMMOTH officially ink a worldwide deal with Austria's, Napalm Records.
Formed in 2007 and self-acclaimed as 'Bigger than Jesus, Louder than Hell' MAMMOTH MAMMOTH know that their tongue-in-cheek posturing, will always be eclipsed by the explosive force of their live shows.
Before signing to Napalm Records, MAMMOTH MAMMOTH have been independently working away in Australia, concentrating their efforts on building a solid fan base from their last two albums and consistent live shows. They have shared stages with the likes of Rose Tattoo, Airbourne, The Datsuns and Winnebego Deal. MAMMOTH MAMMOTH have had their tracks feature in various commercials and on the soundtrack for the motion picture, 'The Loved Ones'.
Frontman, Mikey Tucker says; "We're thrilled to be partnering with Napalm Records. Their current roster of Monster Magnet, The Sword, Kyuss Lives, Karma to Burn, to name a few – help showcase their dedication to the rock scene across the globe. We are also very excited about the new opportunities that this signing will bring to help spread MAMMOTH to the rest of the world. We have many loyal fans in Europe, Scandinavia and South America so this new partnership will enable us to smash stages outside of Australia with our first European tour penciled in for mid 2013. So lock up your goats and call your lawyer coz, we're coming to a town near you."
Napalm Records A&R Sebastian Muench also stated: "Signing Mammoth Mammoth was a really a no-brainer! Perhaps it was the geographical distance between Australia and Europe that took so long to discover such an amazing band. Mammoth Mammoths sound combines everything a rocker, metal head & stoner's heart could possibly desire. Here at the Napalm Headquarters we have been drinking and head banging to the sound of "Vol. III – Hell's Likely for the last couple weeks! Also, it doesn't hurt that the chick on the album cover is incredibly hot! 
WWW.FACEBOOK.COM/NAPALMRECORDS
WWW.MYSPACE.COM/MAMMOTHXMAMMOTH
WWW.FACEBOOK.COM/MAMMOTHMAMMOTH