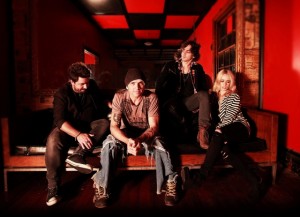 NAT COL & THE KINGS Announce New Single 'Coming Home' & Accompanying Clip and Tour
In 1996 Nathan Cavaleri performed at the Presidential White House in Washington DC, sharing the stage with Etta James, Bonnie Rait, Steve Cropper, Dr John, and Joe Lewis Walker. He was there as one of one of a few select guests personally invited to attend by blues legend BB King, who was being presented with an award by the then US president Bill Clinton. The invitation came off the back of Cavaleri having had toured the full breadth of both the US and Australia with King, swapping one on one guitar licks with him to crowds numbering tens of thousands. He was 13 years old.
Immediately prior to the US tour with King, Cavaleri had played to a crowd of 60,000 at a festival in Zurich billed alongside Bo Diddley, Rod Stewart, Chuck Berry, REM, Page and Plant, Sheryl Crow and Elton John. Jimmy Page asked him for a signed copy of his cd and Chuck Berry requested a one on one lunch with him, looking back on it now he muses he was probably too young to have fully appreciated a lot of it. Such has been his journey. In his own words: "I didn't know who the f**k Jimmy Page was and politely signed the CD. I was rushing cos I didn't want to miss the one artist I did know on the bill "Ugly Kid Joe", ha ha – the priorities of a 12 year old. On that bill they put me on main stage in between the two headliners… Elton John and Page and Plant. Incidentally, there was an unknown band called Silverchair playing the tiny tent out the back too".
The 7 years prior to the White House show had all been a bit of a blur for Cavaleri. Having been diagnosed with terminal Leukemia at 6 years old, and playing guitar since he was able to physically hold one, his family spent 6 months a year in the US and 6 months a year in Australia. By ten years old he'd appeared on CNN, Conan O'Brien, Entertainment Tonight and Good Morning America – to name but a few.
The white house show was pretty much the last time Nathan Cavaleri played guitar for literally years. On his own bidding and in their best judgment, Nathan's parents pulled him out of the limelight out of concern that he was being thrown into a future that was not his choosing. It gave Cavaleri a chance to finish school and ultimately – to think about what he really wanted to do.
Introducing Nat Col & The Kings.
Following the white house gig, Nathan didn't play guitar for years, put simply, he didn't feel the urge. In his own words; "I needed to be a kid. I needed to rediscover music on my own terms again. I reached a point musically where I wasn't even sure if they were my influences or not anymore and put simply – I just needed to go away, in order to be able to come back".
Working as a brickie's laborer, it wasn't really until Steve Morse (guitarist for Deep Purple) gave Cavaleri a call in 2010 to ask him to join Deep Purple on stage for their upcoming Australian tour, that he really climbed back in the saddle. Says Cavaleri:"I was sitting backstage with Steve Morse when his tour manager said that Steve wanted me to get up and play Smoke on the Water with them. Believe it or not, I'd never played the song before! There was no way I was going to get up and risk stuffing up the most well known guitar riff in front of thousands of Deep Purple fans! So I faked a sicky and told them I was feeling really ill and got out of there as quickly as possible. When I got home I learnt the song and ended up playing it on stage with them in Newcastle the next night!"
Somewhere around that time, Cavaleri met former Screaming Jets drummer Col Hatchman. Originally from the Gold Coast, Hatchman had moved to Sydney at 18 and after playing in and around Sydney had relocated to Newcastle with his band Little Hornet. Swift becoming one of the most sought after drummers in town it wasn't too long before one of Newcastle's finest exports, The Screaming Jets, asked Col to join them. After four years, a bunch of national tours (one supporting KISS), a live DVD release (and a ruptured Achilles tendon), Hatchman's priorities began to shift as, in his own words: "There was something about Nathan's song writing that rang big ben bells. Our musical compatibility was nothing I have ever experienced before."
And thus was born Nat Col & The Kings.
In Cavaleri's words; "I was writing songs that were quite different to what I had been and ended up with around 15 or so. Bluesy, firey, powerful and free but not in a traditional sense. I sent Col the songs and we put together a few gigs under the radar. With no band name and no promotion, the shows were ABSOLUTELY PACKED, and it all snow balled from there really. We originally preferred a revolving door of artists playing with us but that all changed when we met bassist Kenny Jewell. He walked into the rehearsal room and started jamming with a riff Col and I were smashing out by playing a one note bass line. One f**king note! GOLD, we had to have him"
Live Nat Col and the Kings have been unfurling their wings to a huge response. Over the past eighteen months the band has toured nationally playing Byron Bay Blues Festival, The Indy V8 Supercars, Apollo Bay, Caxton Street Festival, Queenscliff, Broadbeach Bluesfest and many more. Their second EP 'Single Things' debuted at no.1 on iTunes and stayed there for a month.
To the present and Nat Col & The Kings have just announced the release of Coming Home. The lead single from their forthcoming EP, it was recorded at The Grove by Josh Telford in one day. Featuring a lovelorn Suburban monkey man, check out the accompanying clip here:
And make sure you catch Nat Col & The Kings launching Coming Home:
Thursday 16 August
Port Macquarie Hotel, Port Macquarie NSW
Free Entry
Friday 17 August
Tempo Hotel, Brisbane QLD
$12 + bf presale & $13/15 Inc Walkup
Tickets via www.Oztix.com.au
Saturday 18 August
Racehorse Hotel, Ipswich  QLD
$10.00 Inc
Tickets via www.Oztix.com.au & www.Ticketmaster.com.au
Sunday 19 August
Mansfield Tavern, Mansfield QLD
$12 + bf presale & $13/15 Inc Walkup
Tickets via www.Oztix.com.au
Thursday 30 August
The Evelyn, Fitzroy VIC
$12 + bf presale & $13/15 Inc Walkup
Tickets via www.Oztix.com.au & www.Moshtix.com.au
Friday 31 August
Ruby's, Belgrave VIC
$12 + bf presale & $13/15 Inc Walkup
Tickets via www.Oztix.com.au & www.Moshtix.com.au
Saturday 1 September
Bended Elbow, Geelong  VIC
$12 + bf presale & $13/15 Inc Walkup
Tickets via www.Oztix.com.au
Friday 7 September
The Vanguard, Sydney NSW
$12 + bf presale & $13/15 Inc Walkup
Tickets via www.thevanguard.com.au
Saturday 8 September
Fitzroy Hotel, Windsor NSW
Free Entry
Friday 14 September
Grand Junction Hotel, Maitland NSW
Free Entry
Saturday 15 September
The Heritage, Bulli NSW
$12 + bf presale & $13/15 Inc Walkup
Tickets via www.Oztix.com.au
Check out our Best Thing You've Never Heard feature on Nat Col & The Kings from 2011 HERE
facebook.com/natcolandthekings