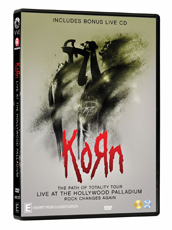 August 30, 2012 – Via Vision Entertainment is pleased to announce the release of KORN: The Path of Totality. It will be available to buy on both DVD and Blu-ray from September 5.
On December 6, KORN assembled on stage at the Hollywood Palladium for the official release party of their most visionary project yet The Path of Totality. That event which featured several of the album's many big name producers was recorded at the Hollywood Palladium and is available for the first time in Australia and New Zealand on DVD and Blu-ray.
Complementing the current line-up of Jonathan Davis, James "Munky" Shaffer, Reginald Arvizu and Ray Luzier are several of the producers enlisted to help create the prominent dubstep and drum and bass sounds on the latest album including Skillrex, Datsik and Excision et al. The first single "Get Up!", a top 10 entrant on the Billboard Music Mainstream Music Charts and "Narcissistic Cannibal" are two of many highlights. The Path of Totality with its maelstrom of distortion, epical reach and furious beats is also provided as a bonus CD on KORN: The Path of Totality.
"KORN have thrown caution to the wind and set out an impressive template for a future sound," noted Rock Sound, "for a band doing that nearly 20 years into their career, they deserve your respect".
Scoring it a 4 out of 5 Allmusic observed, "[D]espite all the electronics, there's no mistaking The Path of Totality as a KORN album…and one of their better ones to boot".
Since their debut self-titled album in 1994 KORN has sold over 35 million albums worldwide. VVE chief executive Nick Wayman anticipates this one-off event will come to be rated as a major watershed in the career of the band.  "Path of Totality signifies an exciting direction for KORN and its fan base," he comments. "The fusion of rock and electronic music should see it embraced by many. We have high expectations for this release."
Via Vision will be releasing KORN: The Path of Totality through its distributor Madman Entertainment. It will be available at all good retailers. The release will be supported with print and online advertising, reviews and promotions.
Synopsis: Celebrating its genre defying tenth studio album The Path of Totality cult group KORN perform live in front of a sell-out crowd at the beautiful Hollywood Palladium.
Track listing: 1. Get Up! 2. Kill Mercy Within 3. Illuminati 4. Chaos Lives in Everything 5. My Wall 6.Way Too Far 7. Narcissistic Cannibal 8. Here to Stay 9. Freak on a Leash 10. Falling Away From Me 11.Predictable 12. Another Brick in the Wall 13. Shoots and Ladders 14. One 15. Got the Life 16. Blind.  Running time: 80 mins + Live CD
Includes Bonus Interviews with Jonathan Davis, James Munky Shaffer, Fieldy Arvizu, Ray Luzier, Zachary Baird and Roboto (album and Blu-ray illustration).