5 May 2012, by Paul Miles
Rarely do I get pumped for an album release gig these days, but I've seen The Dirty Pearls a few times now and I feel hooked. Having paid their local dues, with a good tip, these kings of the New York City rock scene are now well-primed to take things national and beyond. So I celebrated Cinco de Mayo by avoiding Mexican cantinas as I made my way to Gramercy Theatre on 23rd Street, where I joined about 600 revellers at this sold-out event to toast their debut full-length album Whether You Like It Or Not. The slip cover of the ten-song CD features a devilishly delicious shot of fashion model and DJ Sky Nellor walking over a New York City manhole on a cobblestone paved street in Manhattan. It evokes to me, "You're about to be whipped by the devil's music from the streets of NYC and it's going to turn you on." I was ready.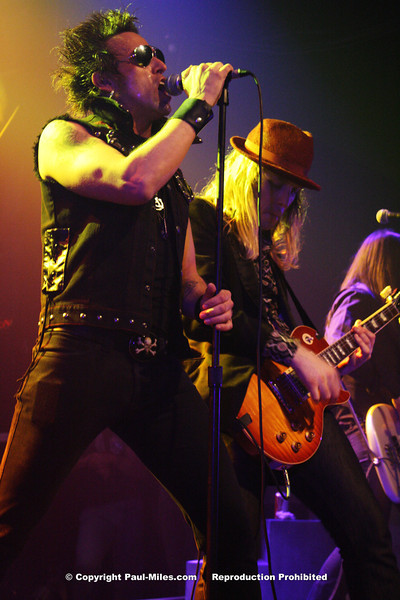 For those yet to be introduced, The Dirty Pearls hail from Manhattan's Lower East Side – Rivington Street to be precise. A shot of the street features on the cover of the Beastie Boys' old album Paul's Boutique, and their founding member Adam Yauch ("MCA") had passed away the day before this show. But it's the rock bar St. Jerome's on the street that serves as the clubhouse to The Dirty Pearls and their mates, affectionately dubbed the Rivington Rebels, as amply scripted in ink at the top of their front man Tommy London's arm. Lady Gaga used to hang with this posse and tipped her hat to them in the song Heavy Metal Lover from her latest album by singing, "Dirty pearls and a patch for all the Rivington Rebels – let's raise hell in the streets, drink beer and get into trouble."
Once inside the venue, I caught special guests Star Killer, fronted by the darkly charismatic Jasin Cadic, who directed and starred in The Dirty Pearls' video for Who's Coming Back To Who (that also features the last footage filmed inside legendary NYC club Don Hill's.) Displaying strong camaraderie between the bands, Tommy London came out and sang on a cover of Muse's Uprising, which turned out to be Star Killer's final song for the night. Then it was time for Breedlove to take the stage – the most flamboyant alternative nerd character I've witnessed sing a few songs solo to a backing track. When the final tracks from DJ Ian El Dorado finished, the night's hosts JennCity (Kittie, Suicide City) and Tim Martinez brought on the moment everyone was ready for: The Dirty Pearls.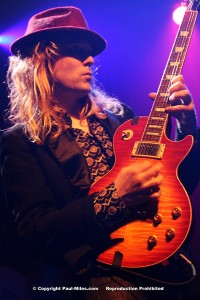 Hitting the stage with the fast-paced opening and title track of their new album Whether You Like It Or Not, The Dirty Pearls sent a clear message with their lyric, "Whether you like it or not, I'm coming for you. There's not a single thing you can say, or anything you can do." With their front man telling the crowd that "this is not a gig, it's a party," they followed it up with Caffeine And Gasoline, which is set to be their next video. With the crowd's thirst for a good time rock'n'roll show now being quenched, Static and Mayday were next as the band's two guitarists displayed dexterity with their Les Paul's – Tommy Mokas with his gold top and Sunny Climbs with his sunburst. Looking somewhat like a cheeky metalhead, bass player Dougie Wright showcased his flexibility by dropping to his knees and bending all the way flat on his back while playing.
As Tommy London threw his aviators into the crowd, Star Killer's Jasin Cadic joined the band on stage to help sing an older favourite Bruises. Tommy told the punters that the night's performance was being dedicated in memory of Edward C. Zacharewicz, who died during the week after enthusiastically supporting many bands striving on the NYC rock scene for years. He spoke about the need for a scene and how great it is that all genres come together in NY to rock and have fun with mutual respect. At the end of the song he dropped to his knees, thankful to the fallen and those in front of him.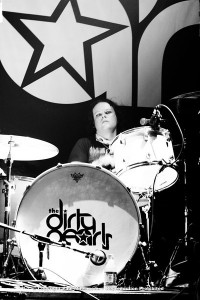 A last-minute inclusion to the album was a ballad titled You Got Me Where You Want Me and as the band slowed the pace, Tommy encouraged the crowd to just listen to its words. Effervescent drummer Marty E. Concussion, now proudly endorsed by Paiste Cymbals, caught his breath before his singer took some pictures of the crowd on a Flip camera. They then launched into the sweet sounding Love Sick Love, a contagious power-pop track on the new album that was originally released on their Volume 2 EP in 2008 as LuvSikLuv.
Bring On The Night was up next with Tommy London singing "Saint of the city on the prowl" and "Fast times at Rivington High" while the other Tommy soon reeled off a guitar solo from the steps at the side of the stage. The band treated the crowd to another favourite in Sucker For A Sequel that first appeared on their self-titled EP five years ago, with a refreshed version now included on this album. The amount of time that's transpired to finally release their full-length debut prompted their front man to tell the crowd, "This is our Chinese Democracy… except it has good songs on it."
Perhaps the strongest song on the album was up next: Who's Coming Back To Who, which had the crowd smiling and singing along, before they went into their main anthem New York City Is A Drug. With Tommy wearing the song's upright syringe logo – that's perhaps intentionally reminiscent of an NYC skyscraper – on the back of his sleeveless leather top, they finished their set on a high. After playing every song on the release, they thanked the crowd and left the stage, once drummer Marty had tossed a drumstick to the crowd.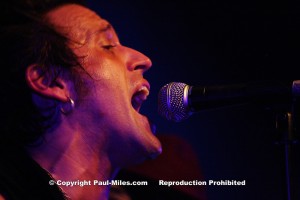 The Dirty Pearls have supported the likes of Kiss, Bret Michaels, New York Dolls and Andrew WK, and testimony to their hard work at making a gig more of an event and a party, it's easy to see why they've now sold-out this venue three times. The local crowd loudly demanded them back for an encore and soon Tommy London was back on stage, sporting the album cover t-shirt available from merch booth. The band launched into a cover of Aerosmith's Sweet Emotion with Tommy Mokas having some fun with his guitar and talk box. At one point during the song a woman in the front row removed her big guns from their holster and brandished them to Tommy's delight, who ended proceedings by hitting a mock home run as the band left the stage.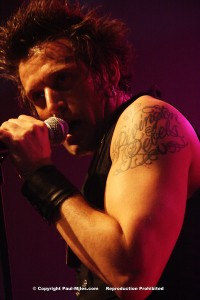 On the way out, I picked up a copy of the new Whether You Like It Or Not album, and as expected it contains heaps of fresh, modern rock songs that are just as good as anything new on the radio today and will stand the test of time. It was produced and mixed by David Kahne, best known for producing the 1995 Grammy Award winner for Album of the Year – MTV Unplugged: Tony Bennett, who has also produced the likes of Paul McCartney. And it was engineered by Joe Barresi, who has previously engineered albums by the likes of Kyuss, L7, Fu Manchu, Tool, and Wolfmother. So the sound has a certain stamp of pop sensibilities combined with a hard rocking edge to them, which is just my cup of tea: hard rock with memorable melodies that soon have you singing along. The album was also recorded at Avatar Studios in NYC, more famously known as The Power Station in years gone by where Madonna recorded her Like A Virgin debut, Bowie recorded Let's Dance, The Boss recorded Born in the USA, Roxy Music recorded Avalon, and the Stones recorded Tattoo You, to name but a few classics captured in this Hell's Kitchen studio. Tommy London recently started his own label Rivington Records that will release music from bands in the scene and elsewhere, with this album from The Dirty Pearls being the label's first.
No doubt the band and the Rivington Rebels kicked-on late into the morning, celebrating a great night, a great album, and a great release party. True to the band's promise beforehand of "be there, or hear about it later," I'm sure those in attendance will be talking about this night for quite some time. So get your copy of Whether You Like It Or Not and be sure to check out The Dirty Pearls for a healthy dose of real, live rock'n'roll.
About Paul Miles
Our U.S. Contributor Paul Miles (www.Paul-Miles.com) is the author of five paperbacks on the world's most infamous rock band: Motley Crue. The pages of his Chronological Cruewebsite (www.CrueTime.com) have been read well-over five million times. His best-selling book Sex Tips from Rock Stars was published worldwide (Omnibus Press, 2010www.SexTipsFromRockStars.com) and has been reprinted in foreign languages. Paul Miles is also a New York City-based freelance rock photographer, specializing in live music photography that captures the true spirit of rock'n'roll in action from some of the world's greatest performers.