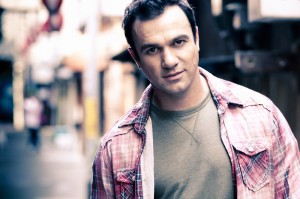 Shannon Noll  …. On the mend and preparing for his "A Million Suns" album tour
Following his recent dramatic withdrawal from 7's Dancing With The Stars with a back injury, Shannon Noll has been resting up, intent on being in the best possible shape for his forthcoming 'A Million Suns' album tour.  With four weeks until the tour swings into action, the popular singer has ample time to get himself "match fit" and is making excellent progress.
The 'A Million Suns' album tour kicks off on 29th June in Logan, QLD and rolls right through until November, traversing New South Wales, Victoria and South Australia, and heading to Tasmania for shows in Hobart and Launceston.  It's the biggest tour Noll has undertaken in four years and the official tour for this his fifth album.  'A Million Suns' contains the first single, APRA Award nominee 'Switch Me On', its follow up 'My Place In The Line' and most recent single, 'Living In Stereo', with its hot new live video.
SHANNON NOLL 'A MILLION SUNS 2012' TOUR DATES
JUNE
Friday 29 – Fitzy's Loganholme, Logan QLD – Tickets: 07 3209 8022 or www.fitzys.com.au/loganholme
Saturday 30 – Twin Towns Services Club, Gold Coast QLD – Tickets: 1800 014 014 or www.twintowns.com.au
JULY
Friday 6 – Revesby Heights Ex-Serviceman's Club – Tickets: 02 9771 4347 or www.heroshill.com.au
Saturday 7 – Rooty Hill RSL, Rooty Hill NSW – Tickets: 02 9625 5500 or www.rootyhillrsl.com.au
Friday 13 – Country Club Showroom, Launceston, TAS – GA – for tickets: 1300 795 257 or www.tixtas.com.au
Saturday 14 – Wrest Point Entertainment Centre, Hobart, TAS – GA – for tickets: 1300 795 257 or www.tixtas.com.au
Friday 20 – Mounties, Mt Prichard NSW – Tickets: 02 9822 3566 or www.mounties.com.au
Saturday 21 – Canberra Southern Cross Club Events Centre, Canberra ACT –  Tickets: 02 6283 7288  or www.cscc.com.au or www.foxtix.com.au
Sunday 22 – Young Citizens and Serviceman's Club, Young NSW – ticket details tbc
Friday 27 – Castle Hill RSL, Castle Hill NSW – Tickets: 02 8858 4800 or www.castlehillrsl.com.au
Saturday 28 – Wentworthville Leagues Club, Wentworthville NSW – Tickets: 02 8868 9200 or www.wentyleagues.com.au
AUGUST
Friday 3 – Dapto Leagues, Dapto NSW –  Tickets: 02 4261 1333
Saturday  – The Cube at Campbelltown Catholic Club, Campbelltown NSW – Tickets: 02 4625 0000 or www.thecube.net.au
Friday 10 – Mingara Recreation Club, Central Coast NSW – Tickets: 02 4349 7888
Saturday 11 – Penrith Panthers, Penrith NSW – Tickets: 1800 061 991 or www.penrith.panthers.com.au
Friday 17 – Marlin Hotel, Ulladulla NSW – Tickets: 1300 438 849 or 02 4455 1999 or www.moshtix.com.au
Saturday 18 – Belmont 16FT Sailing Club, Belmont NSW – Tickets: 02 4945 0888 or www.16s.com.au
Thursday 23 – Gympie Music Muster, QLD
Saturday 25 – Outback Quarry, Alice Springs (Shannon with band Squid Munchies), NT
Friday 31 – Wagga Wagga Civic Centre, Wagga Wagga NSW – Tickets: 02 6926 9688 or www.civictheatre.com.au
SEPTEMBER
Saturday 1 – Annual Moama On Murray Resort Concert, Moama, VIC – Tickets: 03 5480 3031 or www.stickytickets.com.au
Thursday 6 – Nautilus Theatre, Port Lincoln SA – Tickets:  08 8683 5088 or www.civichall.com.au
Friday 7 – Middleback Theatre, Whyalla SA – Tickets:  08 8644 7300 or www.countryarts.org.au
Saturday 8 – The Governor Hindmarsh, Adelaide SA – Tickets: 1300 GET TIX or www.thegov.com.au or www.moshtix.com.au
Sunday 9 – Sir Robert Helpman Theatre, Mt Gambier SA – Tickets: 08 8723 8741 or www.countryarts.org.au
Friday 21 – Taren Point Hotel, Taren Point NSW – Tickets: 1300 GET TIX or www.moshtix.com.au
Tuesday 25 – BHP Esso Wellington Centre, Sale, VIC – Tickets: Sale Ent. Centre Box Office  03 5143 3200 or www.ebbwec.com.au
Wednesday 26 – Capital Theatre, Bendigo – Tickets: Capital Theatre Box Office  03 54 346 100 or www.thecapital.com.au
Thursday 27 – Wangaratta PAC, Wangaratta, VIC – Tickets: Wangaratta PAC Box Office  03 57 228 105 or www.wangarattapac.com.au
OCTOBER
Friday 5 – Dubbo RSL, Dubbo NSW –  Tickets: 02 6882 4411 or www.dubborsl.com.au
Saturday 6 – Bathurst Panthers, Bathurst NSW – Tickets:02 6330 0600
Sunday 7 – Club Mudgee, Mudgee NSW – Tickets: 02 6372 1922 or www.clubmudgee.com.au
Thursday 11 – West Gippsland Arts Centre, Warragul, VIC – Tickets: WGAC Box Office  03 56 242 456 or  www.wgac.org.au
Friday 12 – Ballarat Regent Multiplex, Ballarat, VIC – Tickets: Regent Cinemas Box Office  03 53 305 555 or at 49 Lydiard St, Ballarat
Saturday 13 – Eastbank Centre, Shepparton, VIC – Tickets: Riverlinks Box Office  03 58 329 511 or www.riverlinksvenues.com.au
Sunday 14 – Lighthouse Theatre, Warrnambool, VIC – Tickets:  Lighthouse Theatre Box Office 03 55 594 999 or www.lighthousetheatre.com.au
Thursday 1 – Keith Michell Theatre, Port Pirie SA – Tickets: 08 8633 8500 or www.countryarts.org.au
Friday 19 – Chaffey Theatre, Renmark SA –  Tickets: 08 8586 1800 or www.countryarts.org.au
Friday 26 – Goulburn Soldiers Club, Goulburn NSW –  Tickets: 02 4821 3300
Saturday 27 – Albury Entertainment Centre, Albury NSW – Tickets: 02 601 3051 or www.alburycitynsw.gov.au
Sunday 28 – Australian Children's Music Foundation fundraising event – acoustic – Hillston Showgrounds, Hillston, NSW – Entry free – event runs 11am to 5pm.  Event information at –  www.acmf.com.au
NOVEMBER
Thursday 1 – Port Macquarie Panthers, Port Macquarie – Ph: 02 6580 2300 or www.portmacquarie.panthers.com.au
Friday 2 – Yamba Bowling Club, Yamba – Ph: 02 6646 2305 or 1300 762 545 or www.oztix.com.au
Saturday 3 – Sawtell RSL, RSL –  Ph: 02 6653 1577 or 02 6652 3725
All shows are on sale now, for further information head to:
www.shannonnoll.com.au
www.shannonnoll.net
www.facebook.com/shannonnoll
www.getmusic.com.au/shannonnoll
twitter: @Nollsie