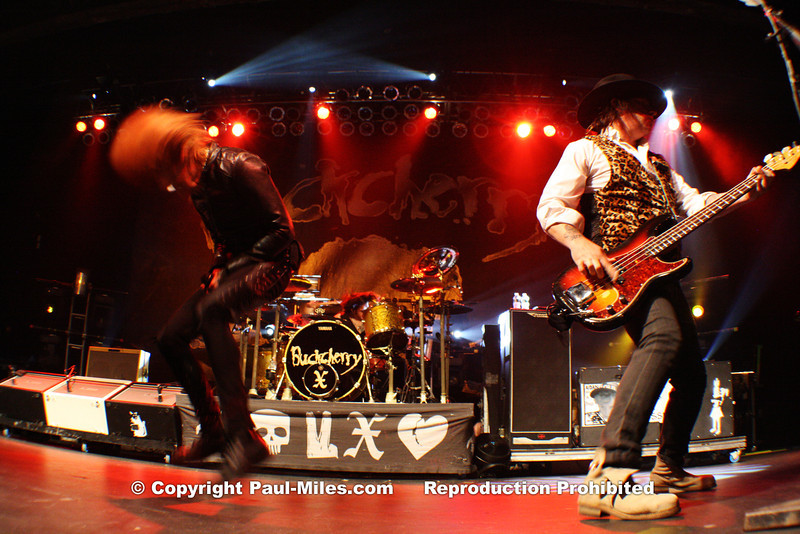 Buckcherry – Paramount, Huntington, NY, USA
18 May 2012, by Paul Miles
Photo Gallery:  http://rockshots.paul-miles.com/Music/Buckcherry-Long-Island-NY/23117936_PHWQFm
As the train from Manhattan pulled out and headed towards the leafy town of Huntington on the north shore of Long Island, I cast my mind back to the previous times I had seen Buckcherry play: a few shows around Japan back in 2008, then the last couple of times they swung through New York City. Each and every time they had delivered a tight, entertaining, high-energy rock show, so I expected nothing less again tonight. Arriving at the venue after openers Redlight King and James Durbin (the rock guy from American Idol), I picked up my passes that featured a big picture of Clint Eastwood and his massive pistol, captioned with "Go ahead, make my tour." I headed to the photo pit and could feel the crowd was ready for Buckcherry to make their night.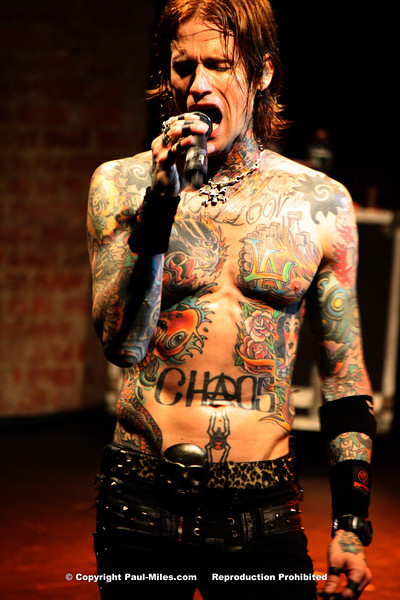 The house lights dimmed and a one-minute DJ mix of a jackhammer, James Brown, Run DMC, Sex Pistols, and AC/DC played as the band entered the stage to a loud cheer. Ever the rock star, front man Josh Todd asked the crowd, "Are you ready? Are you fucking ready?" as he brought the energy while moving across the stage in a zipped-up leather jacket and lace-up black pants trimmed with leather and studs. The large skull on his belt buckle seemed to dance as his hips writhed while shaking a tambourine during opening number Tired of You. Removing his aviator sunnies and familiar bandana, they moved straight into Rescue Me, another song from their 2008 Black Butterfly album, one that's no doubt familiar to players of the video game Rock Band. All Night Long was up next, the title track from their fifth studio album released a couple of years ago.
Buckcherry is an honest, hard-working band that tours relentlessly from their Los Angeles base to take their songs to rock fans – a growing fanbase thanks to their entertaining rock'n'roll shows, and they were certainly on song again tonight. As they played the fast-paced Broken Glass next, Todd finally removed his leather jacket mid song, exposing his heavily tattooed torso as he danced with the sting of a bee. The former Calvin Klein model is still in amazing shape and still has the voice to complete the package.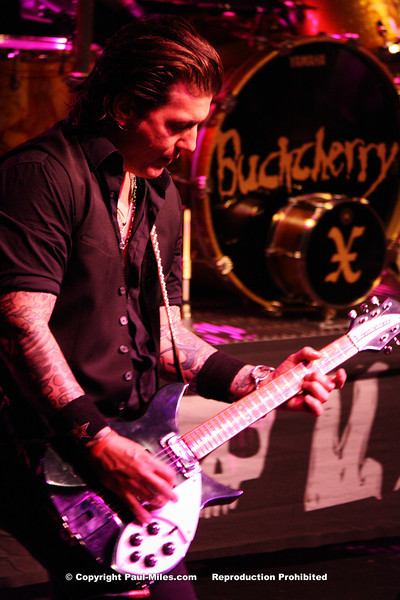 After leaving the photo pit and switching between vantage points on the balconies, I noticed lead guitarist Keith Nelson was also looking fitter than recent times, somewhat trimmed down and clean shaven again. Like Nelson, Buckcherry's other guitarist Stevie D (Dacanay) was sporting a red scarf with his black stage clothes and was also full of energy. Perhaps these reckless sons have found some new routines for the gruelling life on the road, I pondered, as the band played Everything from their 2005 platinum-selling 15, an album that deservedly drew huge commercial and critical success.
At the end of the song, Todd asked, "Have you ever been in a public place, minding your own business, maybe reading a novel, or some smut, right? Some kind of wonderful should cross your path. At first you smell the scent right away… like a wilderbeast. Then a voice says, 'Oh My Lord!'" This introduced another two songs from their most recent album in Oh My Lord and It's a Party, held tight by Buckcherry's rhythm section comprising hard-hitting drummer Xavier Muriel of Spanish roots, and the Italian-born bass player Jimmy "Two Fingers" Ashhurst, who also provided much of their back-up vocals from under his black hat and leopard print vest.
Maybe not as familiar with their last album, a small lull in the crowd ended when they moved into Next To You and then their breakout hit Lit Up from 1999. During the song's breakdown in the middle section, Todd explained, "Cocaine's pretty powerful right? All of a sudden you've got a lot more going on when you've got the cocaine. You could be an average dude and get some cocaine and get yourself anywhere from 8 to 10 that night… on the peg. All of a sudden you've got a lot more going on when you've got the cocaine – it's very similar to rock'n'roll. So how are we doing tonight? Is everybody feeling alright? Now why is that? You're at the Buckcherry show, right? You can be who you want to be at the Buckcherry show: what goes on here stay here OK – it's our little secret." The crowd responded by jumping up and down and going nuts as the song kicked back into gear to the chants of "Co-caine!" With the crowd on a high, the virtues of rock'n'roll excess continued with Slamin' – a song taken from their second album, and one about "big tits and a big ass" we were told.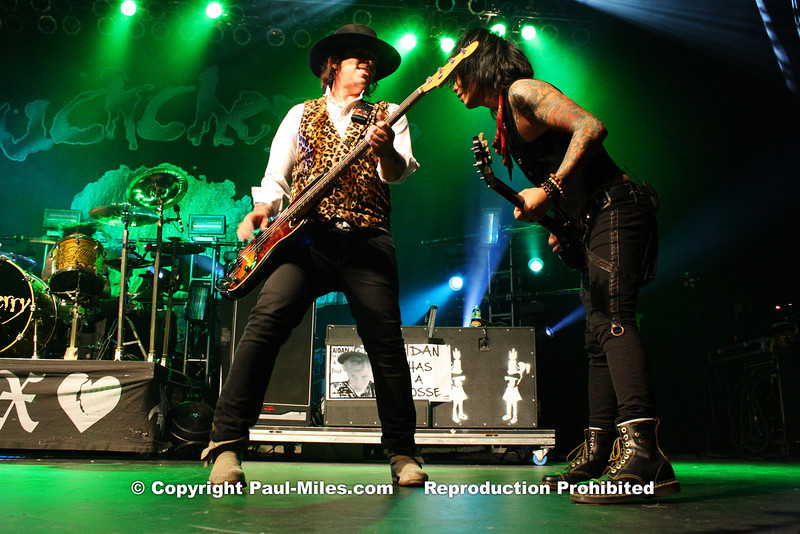 The band is putting the finishing touches to a new studio album to be titled Confessions due in the Fall, which is said to include a short movie with its release. Todd told us, "While recording the album, the people putting the Avengers movie together said we want some Buckcherry shit on the soundtrack." The band then played the new song Wherever I Go from this soundtrack, which came with a heavier groove and darker feel than their much-loved party anthems, and drew a thumbs-up response from the crowd. Their highest charting single to date was up next: the ballad-esque Sorry, which was Top Ten hit when released on the first album with this current line-up.
It didn't take long for the debauchery to return however, as Todd asked the audience what they wanted to hear. This soon led into the strip-club standard Crazy Bitch and the crowd erupted. Some inspiration for the song apparently came from Paris Hilton's use of a sex tape to gain stardom, and as the band weaved in Chic's old disco number Le Freak into the breakdown, Todd provided some sexually-graphic definitions of what a crazy bitch really is, before finishing the song and saying goodnight.
Coming back out for an expected encore, the smiling band launched into Out of Line and as the song ended, Todd dropped to the ground and laid on the stage with his black hat covering his face. Leaving a pool of sweat behind, he bounced up for a few bars of AC/DC's Rock'n'Roll Ain't Noise Pollution before the band kicked into Whiskey in the Morning, a song from ten years ago when the demons in his world were dancing freely with him. After a bow on stage and giving thanks to their audience, it was all over.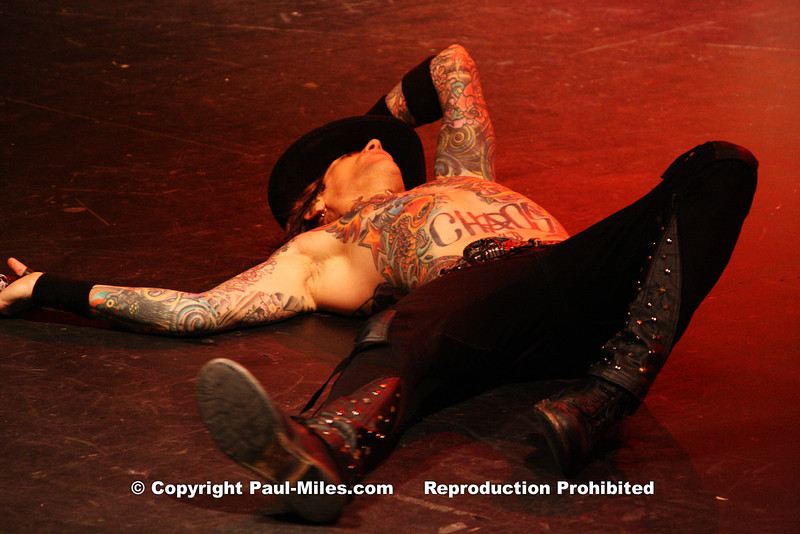 I thought back to when Buckcherry entered the scene at the turn of the millennium, when many rock fans that loved the excess of the over-the-top '80s were feeling deprived and really longing for the next big band to help move grunge and the blandness out of rock. Much hope was pinned on Buckcherry, and as the years have ticked by, they have now delivered a great catalogue of albums full of sex, drugs, rock'n'roll that crowds love to hear live. Tonight was another shining example, as they provided Long Island with an entertaining show to get their weekend off to a great start.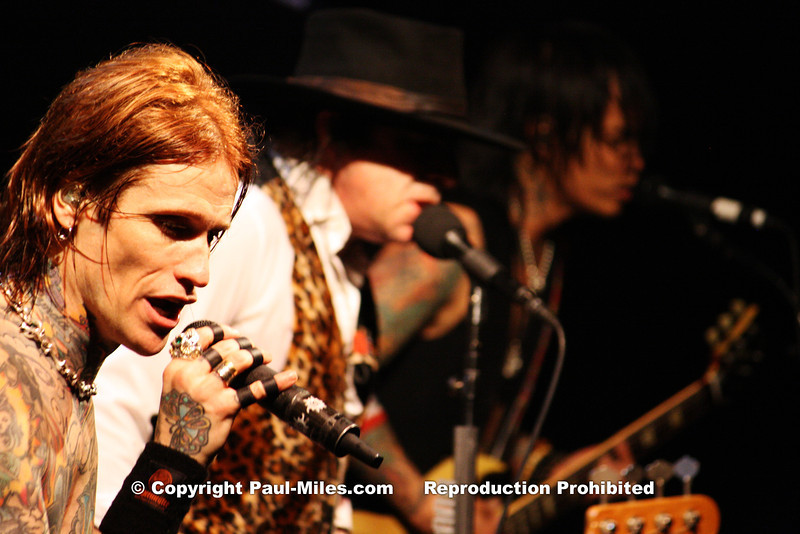 I headed backstage and caught up with the band and friends, before half of us moved into a decadent secret bar at the base of the venue, one with a distinct speakeasy feel to it, complete with table servers dressed in period costume. While enjoying some drinks and devouring tasty plates of grilled asparagus, jumbo shrimp, and wasabi tuna cigars served in ashtrays, I chatted with bassist Ashhurst and drummer Muriel about a range of topics, including where the band is at. They explained their eagerness to start playing their new songs live and the frustration of having to wait for the album's release first of course. Buckcherry is a well-oiled machine these days, keen to keep taking things to the next level. So until that new album Confessions drops, fans will have to be content to listen to their Live & Loud 2009 album, if they can't catch the band's show. Scoring a ride back to Manhattan in a friend of a friend's convertible Mustang, I certainly felt content thinking about the night and how it could not have been any more perfect – Buckcherry is certainly worth travelling to see.
About Paul Miles
Our U.S. Contributor Paul Miles (www.Paul-Miles.com) is the author of five paperbacks on the world's most infamous rock band: Motley Crue. The pages of his Chronological Crue website (www.CrueTime.com) have been read well-over five million times. His best-selling book Sex Tips from Rock Stars was published worldwide (Omnibus Press, 2010 www.SexTipsFromRockStars.com) and has been reprinted in foreign languages. Paul Miles is also a New York City-based freelance rock photographer, specializing in live music photography that captures the true spirit of rock'n'roll in action from some of the world's greatest performers.