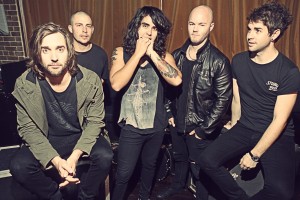 THE LAZYS … ready to hit the road with a new EP, 'Temptation Never Liked You'
Australian rock band The Lazys are hitting the road once again in support of their brand new EP, 'Temptation Never Liked You', with dates commencing mid January 2012. The Terrigal based five piece will also be joined by much-lauded Canadian rock band GrimSkunk at their Sandringham Hotel, Sydney show on 3rd February.
Aiming to capture their unique raw sound, the band mixed things up and decided to record 'Temptation Never Liked You' at popular Newtown music venue Notes Live. The project was then given to Matt Lovell (Silverchair, Cold Chisel, Eskimo Joe, INXS) who established the perfect balance between a band tracking in a studio and one belting their tunes out on stage.
Since 2007 the band has been touring their iconic rock show around the country, giving their fans and punters a blast! Circa 2011 and The Lazys have drawn on their honesty and angst to deliver another strong release, and like any good Australian rock band should, continue to work it live, lead from the front and rock hard!
With Every Pre Sale ticket you receive a FREE copy of the EP, so be sure to check out their gig guide and get your tickets today.
www.facebook.com/thelazys www.twitter.com/thelazys
'Temptation Never Liked You' available NOW on iTunes
The Lazys – Temptation Never Liked You Tour 2012
Friday 13th January – Entrance Leagues Club, Central Coast NSW
Tickets from Oztix 1300 762 545 www.oztix.com.au
Friday 20th January – Beetle Bar, Brisbane QLD
Tickets from Oztix 1300 762 545 www.oztix.com.au
Friday 3rd February – Sandringham Hotel, Sydney NSW – with special guests – GrimSkunk
Tickets from Zombie Dog Entertainment www.zombiedogentertainment.com
Saturday 4th February – Fitzroy Hotel, Windsor NSW – with special guests – GrimSkunk
Tickets from www.fitzroyhotel.com.au
Friday 10th February – New Market Hotel, Bendigo VIC
Tickets from Oztix 1300 762 545 www.oztix.com.au
Saturday 11th February – Cherry Bar, Melbourne VIC
Tickets at the door only
Friday 17th February – Spurs Tavern, Devonport TAS
Tickets at the door only
Saturday 18th February – Brisbane Hotel, Hobart TAS
Tickets from Zombie Dog Entertainment www.zombiedogentertainment.com