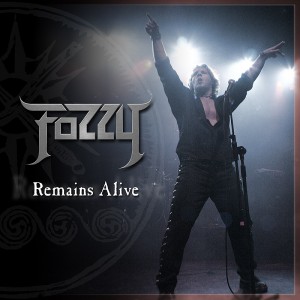 After a breakthrough year on the live circuit which saw the band perform 80 shows throughout the US, Europe, Canada and Australia including some of the biggest festivals on the planet, FOZZY have offered up a Christmas gift to their loyal fans by finally digitally releasing their debut live album "Remains Alive" via Riot Entertainment).
FOZZY who features former WWE Superstar Chris Jericho and Stuck Mojo mastermind Rich 'The Duke' Ward recorded ''Remains Alive'' in Brisbane on their ''Fozzy In Aussie'' tour of Australia in 2005 on the back of the ''All That Remains'' album.
The Line up on that tour was Chris Jericho (vocals), Rich Ward (guitar & vocals), Sean Delson (bass), Mike Martin (guitar) & Frank Fontsere (drums).
''Remains Alive'' is the first live recording for FOZZY that captures the intensity of the band's live show, which they are renowned for.
FOZZY have commenced writing for the follow up to 2010's successful release ''Chasing The Grail''.
''Remains Alive'' is available World Wide via iTunes.
Click here to get it in Australia, USA, Canada, UK or Germany
The tracklisting for ''Remains Alive'' is as follows
1.     Nameless Faceless
2.     Don't You Wish You Were Me
3.     Daze Of The Weak
4.     Wanderlust
5.     Crucify Yourself
6.     End Of Days
7.     Freewheel Burning
8.     Eat The Rich
9.     Ignition
10.  Feel The Burn
11.  With The Fire
12.  To Kill A Stranger
13.  Enemy

www.riotact.com.au
www.fozzyrock.com